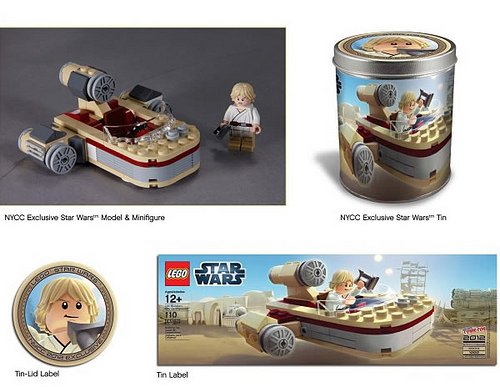 New York Comic Con has spilled the beans about the upcoming exclusive tin from LEGO. This time around the focus shifts away from the villains and the lucky attendees will have a chance to pick up this sweet chibi model for the usual $40.
LEGO® Star Wars Exclusive for New York Comic Con
Help Luke Skywalker build his Chibi Landspeeder and see where his next adventures lead.
This LEGO® set, the third in a series, was produced exclusively for the 2012 New York Comic Con. Featuring a Luke Skywalker Minifigure and his buildable landspeeder, the set is packaged in an exclusive collector's tin. Each tin in this limited run of 1,000 sets is individually numbered. Limited quantities will be available each day for sale through the course of New York Comic Con, on a first come first served basis.
Thanks for the heads up nyjpapi!