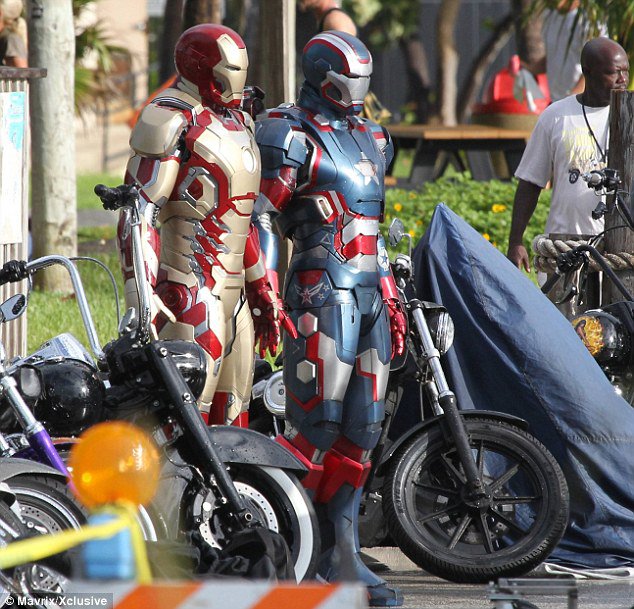 If you're a fan of the Marvel Cinematic Universe movies, then you may be anxiously awaiting the third installment in the Iron Man franchise due to be released next year. The rumours surounding sets based on the film being circulated seem to be pretty well accepted as fact even though we have no official word on the subject from LEGO themselves. If we do get a series of Iron Man tie in sets similar to this years Avengers release, then each new picture and leaked bit of info could translate into LEGO form. Speculative Spoilers Ahead, Read At Your Own Risk.

I'm not a fan of the new Mark XLVII armour pictured above even if I will admit to it looking a *tiny* bit better in the light of day, so I originally thought I'd have a shot at skipping any possible set it could be in (unless it's an outstanding set with a dog of a figure). The little hip tattoo and shoulder mounted weapon on what was originally thought to be the Iron Patriot (and still could be named as such) seem to confirm that we may not see a classic black and silver War Machine back for this sequel. Fortunately for me, I really like the stars and stripes look, so I'd be happy with a figure based on this version. For now…
If figures based on these suits do end up being produced I, along with many others, will most likely have to get them whether I like them or not. Owning one or two suits you're not fond of is probably a price I'd be willing to pay to have my own official LEGO hall of armour. With villains ading up and rumours of multiple suits running rampant, there could be a lot of material to draw from for this movie. I just hope they don't try to cram too much into it and pull a Spider-man 3. If that spangly suit is produced, I will have to have it just because I'm a huge What if? fan and love this cover.
One of the rumoured sets has already been removed from the 2013 Super Hero list on Brickset, so who knows where the unseen sets will land. The first IM3 teaser is due October 23rd so we may get a nice glimpse of the characters that could appear in sets, like the Mandarin. With any luck and little doubt, we'll see some news come out of NYCC and be able to put some of these rumours to bed. Feel free to weigh in on your opinions of the new suits and what you'd like to see from the rumoured sets.
I'm going to start saving now, just in case.