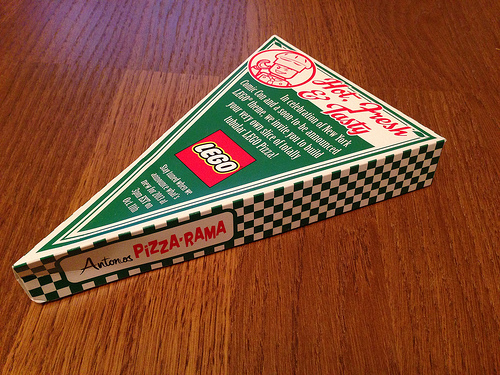 The rumors are true: LEGO has a Teenage Mutant Ninja Turtles license.
I received the above promo in the mail today and thought it was merely a promo piece for their first ever booth presence at New York Comic Con that kicks off tomorrow. Upon closer inspection, however, the bottom of the pizza slice box says "Box design and printing, Casey Jones LTD." and it all clicked together, pretty much confirming what is going to be unveiled tomorrow at NYCC.
Open the box up and you get a nice custom printed instruction booklet and a ziploc bag of parts to create your very own pizza slice. And of course, this wouldn't be America without the lawyers getting their disclaimers in there: "LEGO pizza slice is for amusement, not for consumption." 'Cause you know some kid is going to try and eat it unless told otherwise.
This is honestly one of the smartest promotional items LEGO has ever done. There's nothing spectacular about the actual build or the final model, but the packaging design and the concept behind it is nothing short of genius. I tip my hat to you, LEGO. Of course, it would be better if it had some sort of exclusive Casey Jones minifig included, but nonetheless, it was a nice surprise.