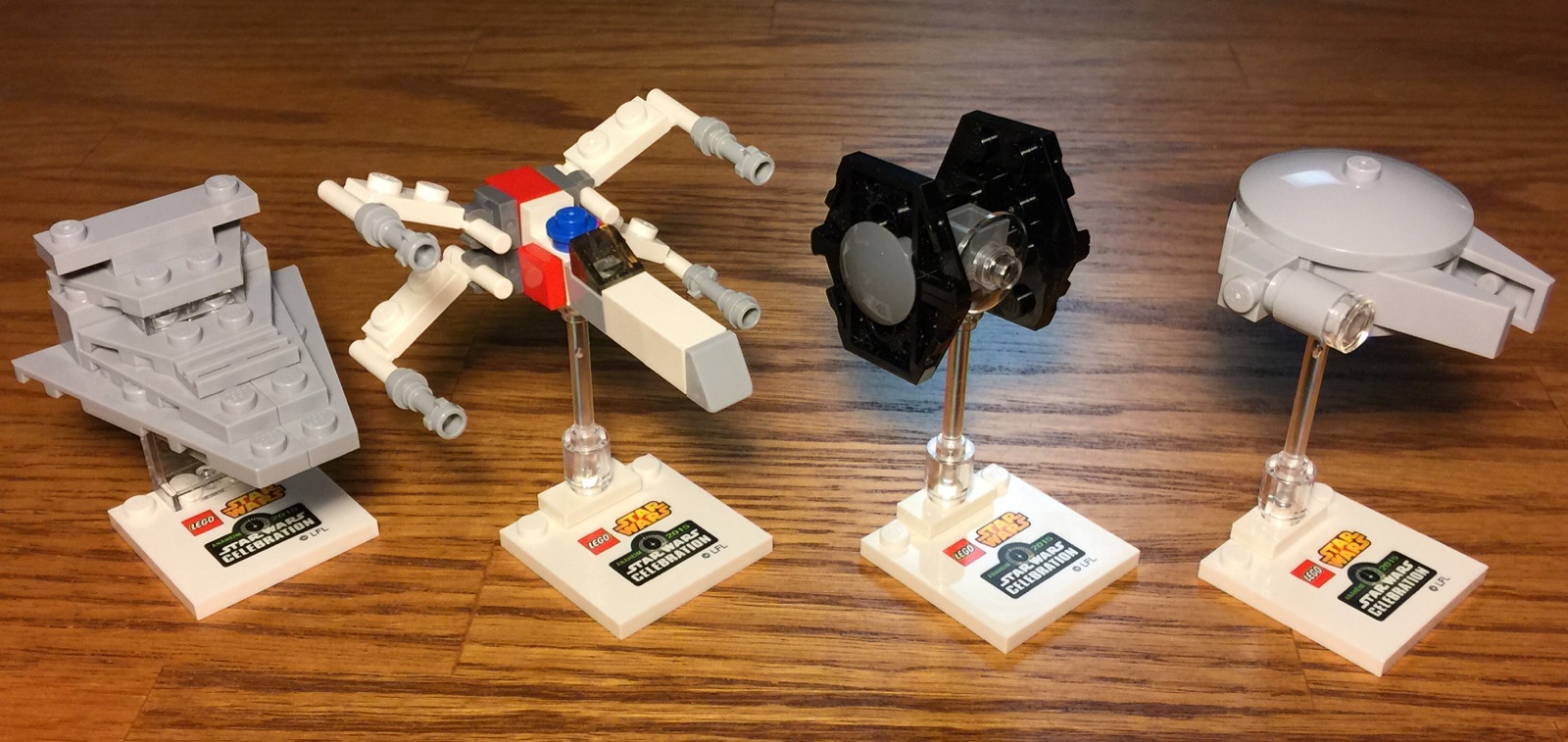 I promise this is the last celebration post.
For various reasons which I won't get into, I was unable to attend Celebration. I was bummed but such is life. I relied on Instagram and pop culture news outlets to get my fix. However, FBTB fan Mos Eisley was in attendance and I asked him to give me a summary of what he experienced. The reason for this is to see how good or bad a person's booth experience would be. Their history at San Diego Comic Con has its high points and low points and I, like I do every year, hoped that things improve. This is what he had to say and my reaction and comments follows.
Another convention has come and gone. This time it was Star Wars Celebration VII, which finally made its way back to California after nearly 8 years since it was here for CIV in Los Angeles. As usual, the LEGO booth was among the more popular stops thanks to its exclusive Tatooine Mini-build set, daily micro builds, and LEGOfied Star Wars movie posters. LEGO Systems, Inc. actually had two large booths this year. One booth was for the usual SDCC style layout – the front portion of the booth had large television monitors for showing various LEGO content, new product reveals, and places to help build the world's largest Darth Vader out of LEGO bricks, while the back section was reserved for the store. The second large booth was only a short distance away and half of it contained various large models such as Darth Maul, the photo-op TIE Fighter and the complete collection of Star Wars minifigures, while the other half contained 4 tables for the micro builds and another table for the poster giveaways.

The first stop for many visitors each day was the main LEGO booth with the store, with the hope of getting their hands on the exclusive Tatooine set. Before I go any further, I want to say what I always say about the LEGO booth at these type of conventions, and that is that they never seem prepared for the onslaught of rabid exclusive hunters that always come their way first thing in the morning. If this was their first show I would understand it, but it's always the same no matter where they are. I've visited their booth at Celebrations, NYCC and SDCC, and it's as if they make absolutely no effort to learn from their previous experiences. While NYCC is quickly reaching SDCC levels of chaos, they aren't quite there yet and Celebration Anaheim wasn't even close. What I found most surprising is that they actually let people line up well before the show floor opened. This kind of happens at NYCC, but at SDCC there is no lining up before the show floor opens and they go out of their way to try to shuffle the starting locations so that the vendors who are trying to line up early get fooled. On Thursday morning, there was a line of maybe 30 people around 10:00am, and the doors didn't open until 11:00am. Instead of making the people leave, since they obviously shouldn't have been lined up yet, they went ahead and passed out tickets (the ticket allowed you to come back any time during that day to purchase the exclusive) to all the people in line so that they would get out of line. Rewarding people for doing the wrong thing doesn't seem like the best idea to me, but I don't work there so what do I know.

Thursday was the only day they passed out tickets early like that, but every day was the same with exhibitors with regular badges lining up way before the doors opened. Celebration has VIP badges, so each day they would make sure those badgeholders got their exclusive tickets before any tickets would be distributed to regular badgeholders. Needless to say, they ran out of tickets very quickly each day. If you weren't to the LEGO booth within the first 5 minutes or so of the show opening, you probably weren't going to be getting a set. Thursday was the easiest day, with each following day being progressively tougher. I'm still not exactly sure how many sets were produced since I never saw it printed anywhere, but they didn't pass out the same number every day from what I can tell. On Sunday they had much less sets sitting on the store shelves and they ran out of tickets much quicker than any other day. If there were 1,600 sets produced, divide that number by 4 and now you know how many sets to sell each day. But again, I don't work there so there must be some other algorithm they're using to figure out the distribution per day.

While that madness was going on at the main booth, the play area booth was where you would go if you wanted to build the daily micro build. The builds themselves were nothing spectacular, but the little printed plate that served a base for the build was great. So often we get stickered parts in sets that would be so much better printed that it's always a pleasant surprise to come across a treat like this. Unfortunately, cool pieces like this can't be left alone for the general public to be trusted with. For a good part of Thursday, the building tables were unattended by LEGO employees. The tables just had cups of parts and the instructions needed to complete the build. The last element you would get was the printed plate. The employees soon discovered that some people were taking handfuls of the various elements, especially the printed plates, and they probably wouldn't last the show if things continued that way. By the end of Thursday there was an employee at the end of every table watching the guests as they took their parts. Some of the employees went so far as to actually hand people their printed plate so they didn't take any extras. The lines for the builds and the posters were both very short first thing in the morning while people were running around getting their LEGO exclusives, Hallmark ornaments and Funko stuff, but it didn't take long for the lines to be at least 20-30 minutes to get posters or complete a build.

All in all, I'd say the LEGO booth was run well enough. It was definitely less chaotic than other shows, but that's just because of the venue, not really because of anything the staff did. I noticed that most, if not all, of the regular employees working in the store portion were new to working events like this. I saw the same supervisors that are at all the other shows. I can't blame the new staff members for not knowing what to expect, but you would think that the supervisors who have done this dozens of times would get their staff a little better prepared. At this point they should all know how to properly run a line. Another small detail is that the first day they had the exclusives sitting unbagged on the shelves behind the registers. As people paid, they would bag the set and move onto the next transaction. The people buying exclusives first thing in the morning aren't shopping for anything else. After that first day they had all the sets prebagged on the shelves so that things went a little quicker. Now only a day was wasted with the sets not being bagged ahead of time, but they do these events two or three times a year, how is this stuff not just part of the process at this point?

Lastly, I hate to say it, but I always find the LEGO employees at these events to be some of the least friendly people at the cons. Most of them don't smile and they seem to have little to no interest in having any sort of contact with you at all. I understand that it must get tiring getting asked the same questions 2,000 times a day, but you have to know that's how it's going to be going in. It's not as if they get progressively less friendly as the show continues, right out of the gate they're as uninterested in being there as they are on Sunday afternoon. So many employees of the other large companies are so much more engaging and genuinely happy that you're interested in their product. I guess TLG just figures we're going to buy their products anyway so there's no reason to waste time with pleasantries.
For those of who may not know, the retail portion of the booth at San Diego Comic Con is run by LEGOLAND California's retail team. But it sounds like that was not the case at Celebration and would guess that they used employees from the Downtown Disney LEGO store. My experience at LEGO's booth during last year's Comic Con can be summed in one word: shock. I'd rather not get into it right now because a) it was a long time ago and b) it wouldn't be fair to pile on the hate. This is about Celebration so when Mos Eisley told me that the retail crew was unfamiliar and seemingly all new, I had hope that things would be run better but from this account, it seems like there could still be room for improvement.
Regarding the Tatooine mini build sales, I've read various reports on how mishandled it was in that it was not made clear to people who got in line late that if they did not have a ticket they would not be able to purchase a set, which I'm sure left many people disappointed for waiting in line for nothing. I echo Mos Eisley's sentiment in that the organizational team has had enough experience with conventions to know what to expect and to take measures to mitigate any potential headaches and also to better prepare their team members on what to expect.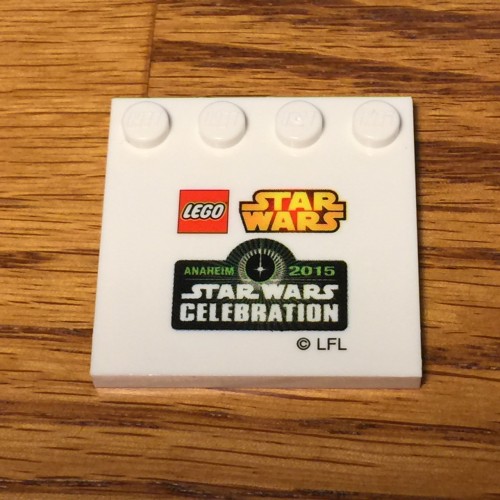 And those specially printed modified tiles that came with the mini build? Mos Eisley wrote the following in a separate message:
"Yep. A friend was behind a guy in line for the builds and he had a Ziploc bag full of the special plate. They were being strict with those so she told him he might want to put that away. Shortly after an employee walked by, saw the bag and just took it from him. Now should he have had that bag of plates? No, but now that he did, I don't know about just taking them from him. For all that employee knows he bought those from someone else."
Seems like a rude and drastic measure to take against an attendee. If you ask me, once the plates are in the hands of an attendee, its theirs. Just because LEGO was shortsighted and had a flawed distribution method doesn't give them the right to take back what they willingly left out in the open for anyone to come and grab.
I waited a few days before posting this because I reached out to LEGO to give them a chance to respond. I sent them the contents of this entire post and this is what they had to say:
"We value and appreciate any and all feedback and are passing it along to the appropriate parties."
Nothing more, nothing less, and I expected as much. I didn't expect them to address every single line item but if there is one thing I can say about LEGO that I respect and trust is that they do take feedback seriously. Do I still hate on LEGO? No, because I like the product, I like the company, I like what they do, and from all accounts it sounds like they had a well-run booth despite the few gripes reported above. So I'm willing to give them a little more leeway before I quit the hobby entirely and burn my collection of bricks down to the ground. I just wish they treated their fan base better and were smarter about preparing for shows. It's not that difficult.