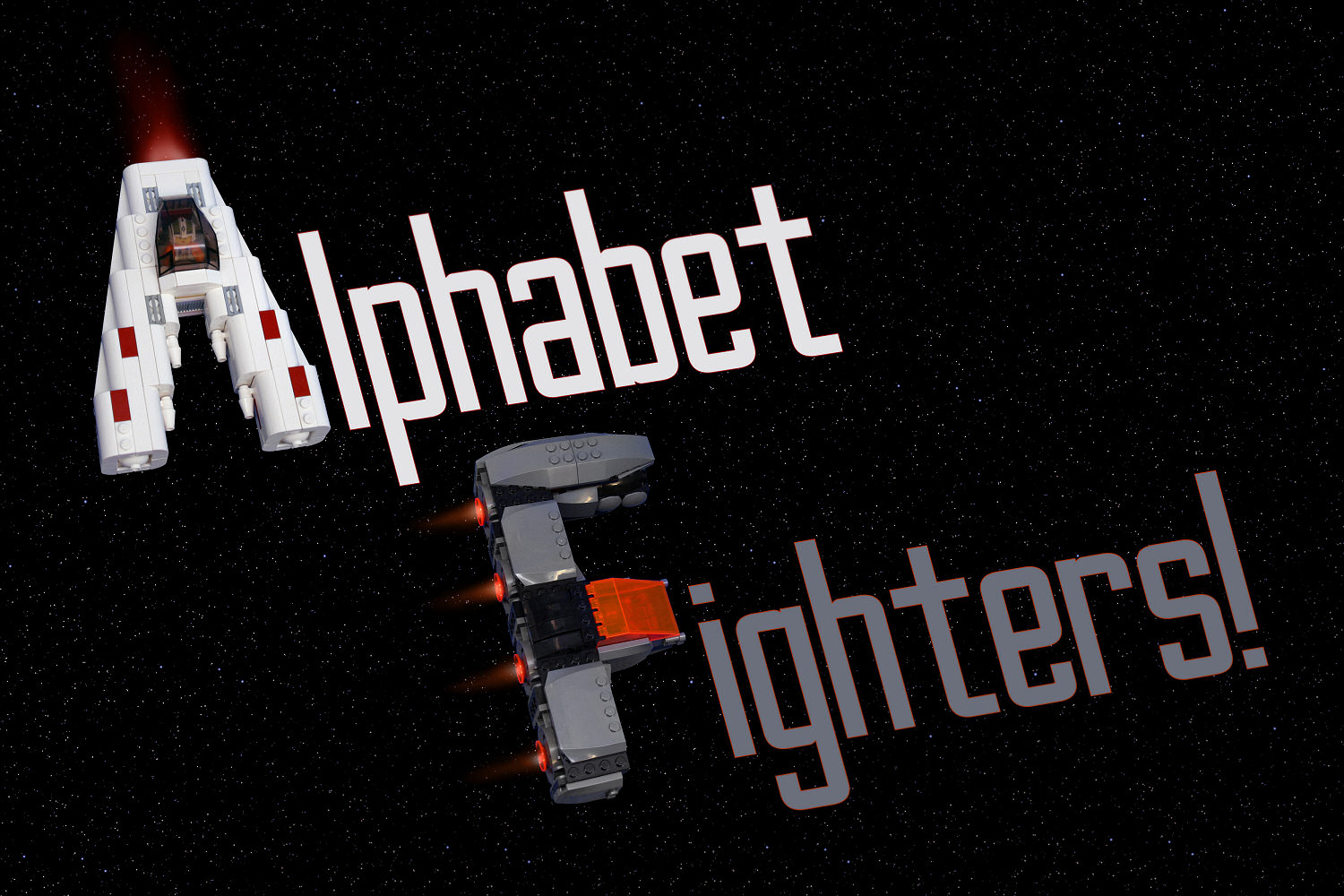 It's time to launch our final contest of the year. We've had this one in the works for some time now: a new twist on our annual Moc Madness Tournament that will really put you builders to the test. The theme itself is a classic for Star Wars fans and a perfect way to try out the new format. Please see the full rules for the latest crazy scheme and sign up in the forum if you want to participate. 
 The Challenge:
You will be building a series of letter-based starfighters to compete head to head in true tournament style. That's right. Not just one ship, multiple starfighters. Each is to be a small one man fighter with an enclosed cockpit. Astromechs optional. The letter must be plainly apparent from at least one view (in case any disputes arise we'll take a quick staff vote and make a ruling to keep the contest on schedule). No big deal right?
The Format:
This is the new part so pay attention. We'll start with a sign up phase where you are to create a minifig pilot and submit a photo of it to this thread along with a name for him/her/it. Back-stories are optional though recommended. The minifig you submit will be your pilot throughout the tournament so they must be able to fit each ship you build, but you won't start on the ships just yet. Sign ups will be open for about two weeks or until we get 64 entries, whichever happens first. The deadline for sign ups is November 16th. Afterwards we'll randomly seed everyone into the tournament bracket, which will be unveiled on Sunday night, Nov 17th. That's where the real fun begins:
 Every bracket will have a letter assigned right from the start. As soon as the brackets have been revealed you can start building your starfighters. You will have one full week to build before your first submission is due. Again, you must use your pilot submitted for the sign up phase.
 Each pair will have their own thread to submit photos of their models.
The build deadlines will be 8pm Pacific time on the following Sunday night for the first round and Wednesdays for all following rounds, at which time the threads will be locked and the polls will start.
 The polls will last for two days only. Winners advance to the next round.
 Each new bracket will have five more days to build new ships based on a different letter. Go to step 2 and repeat.
The final round will have a winners and losers bracket as usual.
If we get a huge rush of sign ups and hit 64 before the 9th we will start the bracket play a week early. If we end up with more than 32 but less than 64 entries we will have some three way battles in the first round to balance things out. Since each of the brackets will have a letter randomly assigned at the start of the tournament, everyone will know each challenge they'll have to face before any of the polls are decided. As stated there will be five days between polls allocated as the "build phase" for each round, however, you can start working on any or all of your ships at any point if you see fit. As long as you submit the correct model to your assigned thread by each deadline it's all good. If you're still worried about the tight schedule, let me give a little perspective: back at Bothcon 2011 we had an alt model alphabet fighter contest with a one hour build phase and that went just fine… so five days with your whole collection at your disposal should be enough time. Also, both of the models in the banner took less than three days to complete, and considering how laughably slow I build this can hardly be considered a challenge at all.
The Prizes:
1st place – choice between ucs x-wing, b-wing, and r2d2
2nd place – choice between the remaining two ucs sets
3rd place – the unclaimed ucs set
Standard Contest Restrictions apply.
No more than one entry per person (that means only one pilot, of course everyone is building multiple ships).
No modified parts or cut stickers.
No unofficial elements.
No pre-existing or virtual models.
No changes allowed after the deadline.
Submission Guidelines:
Simply post your minifig sign up photos in a reply to this thread before November 16th.
You must have a forum account to enter. Entries by proxy will be not be allowed.
Do not post non-entry photos to the contest thread unless you want to be disqualified.
You must use Flickr to host your entry pictures because we rely on the built in image resizing feature for the polls. If you do not have an account you can sign up for free. Once you've uploaded your photos you will need to embed them in a reply here to submit your entry. To do so:
go to the flickr photo page for your image
click the Share button at lower right corner of the photo, it's a rectangle with an arrow swooping out of it
select the Grab the HTML/BBCode tab on menu that pops up
check the bubble next to BBCode  and select Medium 500 or 640 in the field above that
click on the code in the text box to select and copy it
paste that into a reply in the forum thread on fbtb.net
do  not  add  any  more  code  tags
click Preview to verify that it worked, then Submit. If it didn't work, PM Don.
Photography note: be sure to submit the best pictures possible. Color and contrast correction is recommended if necessary. The only other image enhancement allowed is replacing the background with either a solid color or simple gradient. Your photo cannot be altered in any other way. For example; no composite views, special effects, text, graphics, or scenery will be permitted. Remember, the contest is about the models – not your image manipulation prowess.
Questions? Leave them in the contest thread and we'll answer as best we can.
— Rull clarifications below! —
Your sign up photo needs to be just the pilot on a basic backdrop so I can use these as identifiers in the contest bracket image. The less clutter the better. If you want to put them in a mini scene or even build a vignette to go with their backstory, that's totally fine, but just include a link to that shot (you can even start a moc showcase thread if you do make a little scene for them) here if you do and only embed a simple shot for your sign up post.
Format updated to reflect the Thanksgiving extension. Here's a list of all the deadlines to help out:
Round 1: builds – Nov 24th, polls – Nov 26th
Round 2: builds – Dec 4th, polls – Dec 7th
Round 3: builds – Dec 11th, polls – Dec 13 – sweet sixteen round
Round 4: builds – Dec 18th, polls – Dec 20 – elite eight round
Round 5: builds – Dec 25th, polls – Dec 27Â  – final four round
Final round: builds – Jan 1st, polls Jan 3rd – winners and losers brackets
Subject to change as needed, but any extensions will be announced. Don't count on any more though.