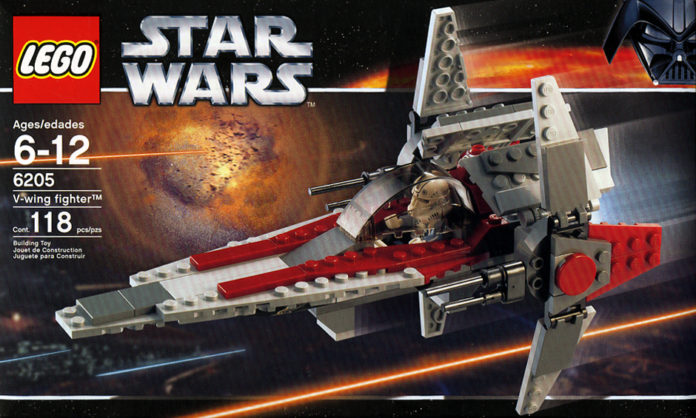 The LEGO Star Wars V-wing fighter is probably the last Revenge of the Sith set we'll see for a while, seeing as to how it's the ONLY Episode III to come out in 2006. And rather than salute the line by going out with a bang, it more resembles a sputter than anything else.

The ship turned out to be a lot more solid feeling than what the initial pictures convey. The back of the ship is bulky and robust. There are three sets of movable wings, but only one set features click hinge plates to position them and keep them in place. The other two sets of wings use clips on handle bars, and without the exactness of click hinges, can easily be knocked out of place. It can be a bit nerve-wracking if you're the type to display your set and want the wing flaps to look nice and even. It took me a few minutes to set up the wings they way I wanted for the photos but, yet again I remind myself that this is LEGO and modifications are easily accomplished.
The 4 wings can fold down against the ship, and by doing so gives enough clearance for the landing gear to allow the V-wing rest on the ground. I have no idea why I saved a rear view of the ship while grounded, but there it is. The bottom of the ship is nothing to write home about. The landing gear is really simple and doubles as a finger grip for extreme swooshing action. It really is the only place to really grip since the inverse sloped bricks are a little difficult to hold.
Even though the ship is designated with a letter 'V', I fail to see any semblance of a 'V'. Lucas lost me at 'B' and 'A' to be honest with you; the shape looks more like the design was inspired the Sith Infiltrator.
First debuting in the Ultimate Space Battle set, the dark red droid makes an appearance. I'm pretty sure everyone now is just waiting for the body and legs to be made in dark red. You also get a clone pilot figure. The troopers in the LEGO Star Wars line have been some of the best minifigs ever made by the company with lots of detail and accuracy. I mean, just look at the helmet.
The LEGO V-wing is a neat little set that at first appears to be a tad flimsy with plate construction taking up the majority of the bulk, but in the end feels solid enough to fly around the room. If you like setting up epic space battles, you should pick up a couple of these and at just $9.99, you can't afford not to. It's also not too shabby for parts, where you get a some bley/dark bley and dark red bits, the majority of which are in plate form. The final score might seem a bit low; but like I said before, "it's neat."
Price/Parts ratio: 9/10
Parts Selection: 6/10
Minifigs: 5/10
Construction: 4/10
Design: 6/10
Swoosh Factor: 10/10
Reviewer's Tilt: 5/10
Final Score: 6.42
Images used in this article: