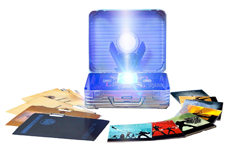 For those of you who pre-ordered Marvel Cinematic Universe: Phase One – Avengers Assembled (10-Disc Limited Edition Six-Movie Collector's Set) [Blu-ray]
from Amazon, there is a bit of news regarding its release. According to VideoETA, Disney pulled the listing due to a legal dispute regarding the design of the suitcase used to house the set. Amazon still has the page up but aren't accepting any more preorders at this moment. It's only a matter of time until the design of the case is changed or an agreement can be made but being this close to the release date though, I'm thinking the latter will most likely happen. Stay tuned here for updates.
The Avengers arrive on Blu-ray/DVD on September 25th, 2012.
Thanks to Morgan19 for the heads up.