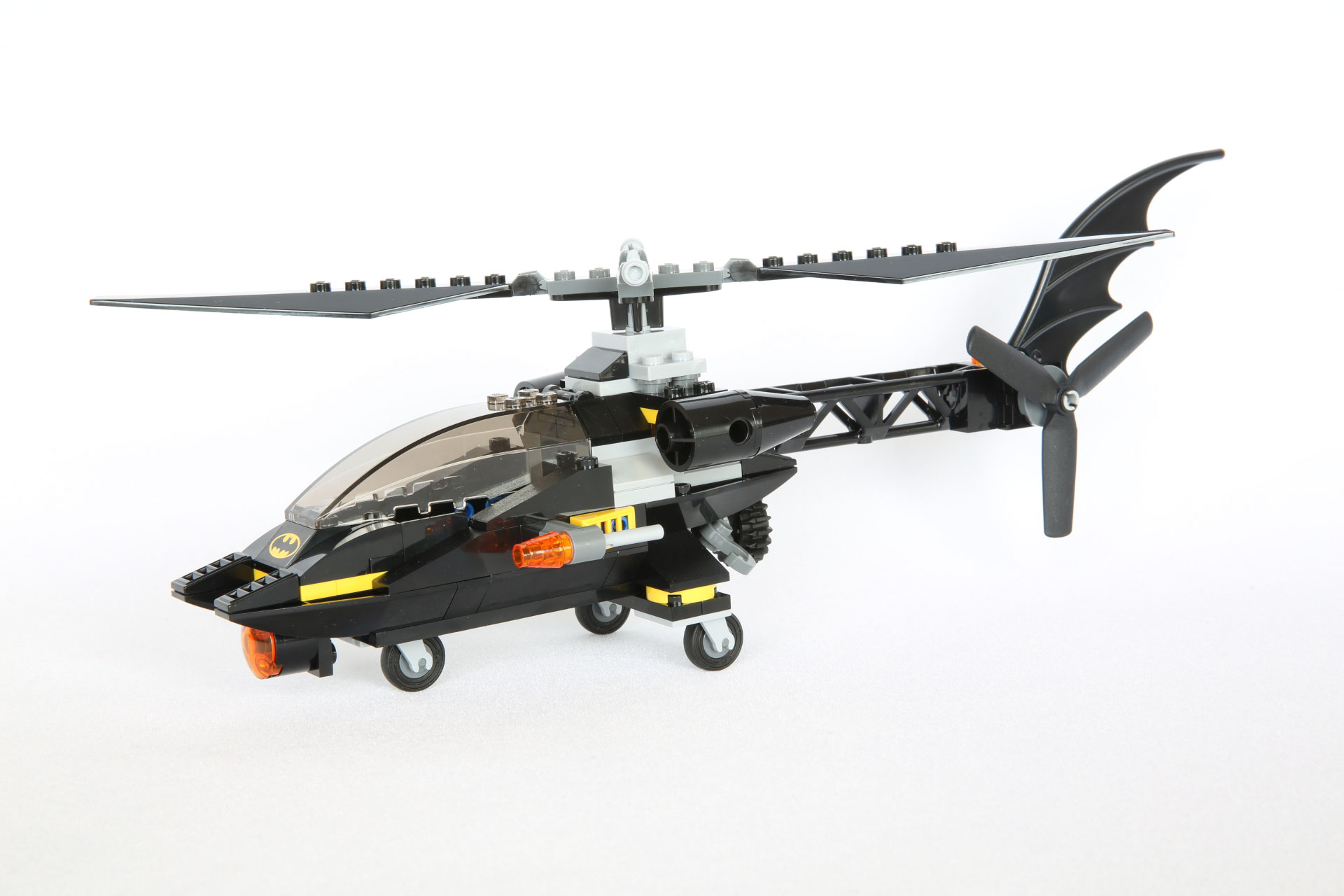 Batmobile. Bat Ice Sled. Batwing. There was one major Bat-vehicle that was missing from the first couple of waves of DC Super Heroes and it was the Batcopter. New for 2014, 76011 Batman: Man-Bat Attack comes in to fill the gap and it does not disappoint.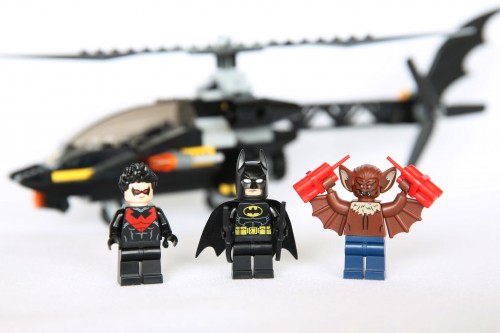 Weighing in at a mere 184 pieces, it won't win any awards for price per piece ratio. You do get three minifigs out of this set: a pretty standard issue Batman in a black outfit, and newcomers Man-Bat and Nightwing in red.
There's nothing new with this Batman that you probably don't already have in your collection assuming you bought any of the other previous Batman sets like 6864 The Batmobile and the Two-Face Chase or 6863 Batwing Battle Over Gotham City. He does have the new style cowl which is slightly and almost unnoticeably different from the previous version. I STILL maintain that it's a dumb design especially with the cowl off since the minifig head has a permanent white '80's style headband printed on it, and on both expressions. I understand the aesthetic that they were going for, but it makes the minifig head pretty useless beyond using it with the Batman mask, unless you were building some sort of '80s physical fitness scene and needed a minifig jogging or doing step aerobics. With the prevalence of double-printed heads, I wish they would redesigned the head so that one side had more of a white visor printed on it like Catwoman's head element, and then the other side have a normal face for Bruce Wayne. Given the incremental changes that can take place with character minifig over time, this may still happen.
Man-Bat is one of the two new figs for the line introduced in this set. To be perfectly honest, I'm not familiar with the character. All I know was that a scientist created some sort of serum that had a side effect of transforming him into a bat-like creature, hence the name Man-Bat. I guess he would be the antithesis of Batman for obvious reasons. Man-bat uses the same bat minifigure found in Collectible Minifigures Series 8 and from 9468 Vampyre Castle from the Monster Fighters theme but with a unique paint scheme for both the torso and head. The head is double printed with a hilarious sad face opposite the aggressive, angry face. I can imagine Man-Bat speaking like the Hulk, with a limited vocabulary, saying, "Man-Bat have no strawberry ice cream. Man-Bat sad."
Nightwing is all new. He previously appeared in the initial LEGO Batman line way back in 2006 as part of the original Arkham Asylum set, 7785. He was blue back then, but is done up in a red color scheme thanks to DC's New 52 initiative. His head is double sided, with one side having that signature smirk all super heroes seem to be stricken with, while the other "aggressive" side seems more like he's just disapproving of a bad idea he just heard. He doesn't come with any of his signature batons/fight sticks, but is equipped with a jet pack.
You actually build the jet pack last and stick Nightwing right on the bracket plate on the underside of it. The underside is ugly as sin with no detail added to it. The flip side looks much better due in part to the sticker and also because there was thought put into the actual design. There are two trans-orange cones plugged into the bottom of the bracket plate meant to simulate thruster exhaust. They make it impossible to stand the jet pack up so I had to improvise with some of the extra pieces to take a photo of it standing up. Removing them helps, as it will stand on end, but with a slight forward slant thanks to the black element on the other side.
The Batcopter is actually pretty nice save for one niggling defect and that is the cockpit is not fully enclosed. You might be able to modify it if you're so inclined but it's a minor issue and the only real fault. The cockpit otherwise is nice and roomy allowing batman to sit and lean back with plenty of headspace for his cowl and wide enough so that his cape doesn't get crumpled. The only other sticker in the set of Batman's emblem appears on the front just below the windscreen.
The Batcopter's armament consists of just two flick fire missiles. There is a tow cable with a technic gear winch on the underside near the rear of the fuselage adding a little bit more playability to the set overall. The Batcopter rests on three wheels, the rear two being a plate lower giving the Batcopter a very slight slanted look when alit, making it look aggressive even when not in flight. There is a single wing element for the tail fin, giving the Batcopter its trademark Batman look cause what's a Bat-vehicle without a giant wing sticking out somewhere? There is what I can only assume is a spotlight under the nose of the Batcopter, except the lens is trans-orange and not trans-clear.
Overall, the Batcopter is nicely built and a worthy addition to the Batvehicle line up we've seen thus far. I do wish there was less gray and more black though but even that's not enough to detract from an otherwise excellent set. It was a fun build and for a $20 dollar set, you really can't go wrong.
You can buy 76011 Batman: Man-Bat Attack soon from all major retailers.