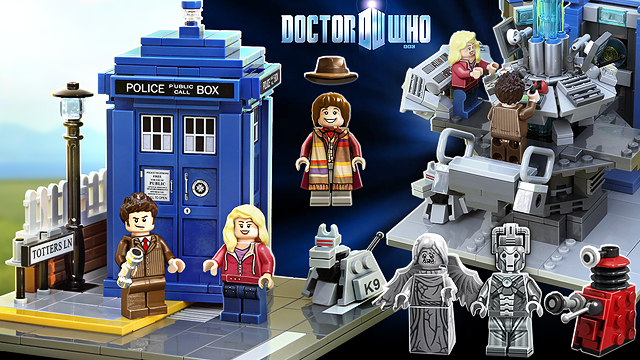 When CUUSOO announced they would be accepting Doctor Who submissions, I knew the flood gates were opened. After the first Who project made it through to the review stage, I figured it wouldn't be long before more joined it and here we are. While the first project had great ideas for a multitude of figures, I don't think it came together well as a cohesive set. Too many things were still up in the air when it achieved 10,000 votes and the set idea seemed rushed and not well thought out.
This set has a much tighter feel and AndrewClark2 did a really good job addressing some of the details that I have little doubt kill many projects at the review stage. He's provided a couple of different minifigure options and made it clear he is fine with LEGO making the choice as to which are included. The concept sits at just over 500 pieces and that is with the full consul and Totters Lane base. He has suggested that the lower section of the TARDIS consul could be scrapped to bring down the parts count and I say the Totters Lane part could also be stripped to reduce cost. If I had to choose which one to keep, it would be the street scene of course. The suggestion that many fans may buy two sets to be able to display in both configurations is a nice touch. Keeping the figure count low and basically admitting multiple concessions to appease many potential issues LEGO may have are very realistic and well thought out and I personally like the design of the TARDIS in this one. It opening to become the backdrop for the consul works really well and I can honestly say that I would buy this one. It is the front runner for me even over the BTTF train, which I still maintain is just far too obscure.
Congratulations Andrew! Well played and we'll see how this all pans out in the next review stage. Still time for more Who to make it through.