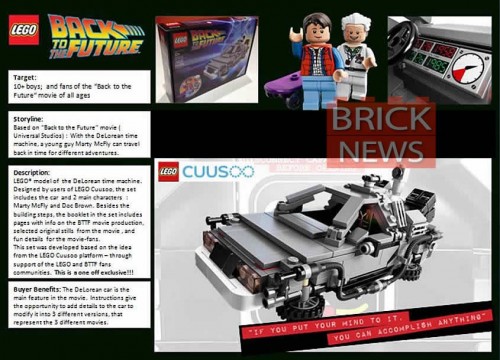 But the model still looks like crap.
UK-based Brick News has gotten a hold of what appears to be an internal document detailing talking points and showing the complete set of 21103 Back to the Future Time Machine. It does indeed include Marty McFly and Doc Brown and a skateboard. No sign of Einstein however. The document makes a point that a user can customize the time machine into one of three models based on the three versions of the vehicle from the three different movies. There is also a small thumbnail of the packaging and a picture of the dashboard showing the travel dates. Brick News is also reporting that the UK price of the 21103 is set at £34.99. Still no word on a US price. The set is scheduled to go on sale on July 18.
And if you're like me and everyone else who's laid eyes on the set and wish it looked more like source material, Masashi, who created the original Back to the Future LEGO CUUSOO project, has another project of a UCS-type, remote control, power functions DeLorean.
via Brick News