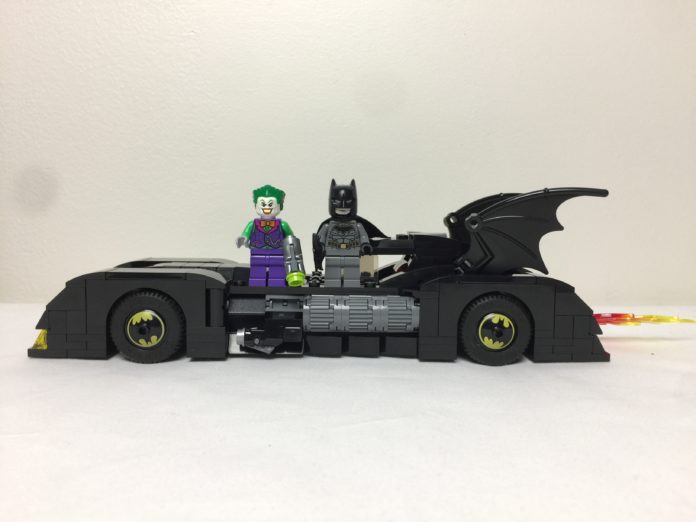 When I first saw pictures of the new LEGO Batman sets, there was one set in particular that I thought was the best of the bunch. It's this one right here: 76119 Batmobile: Pursuit of The Joker. So while I was at Comic Con a month and a half ago, I picked one up to help meet the minimum to buy me an exclusive set fully intending to do a review. And so here we are.
The Minifigs
76119 Batmobile: Pursuit of The Joker is as simple and uncomplicated as they come. In it you get Batman, Joker, and the Batmobile. Joker is donned in his classic comic book colors of purple and green. His head is double-sided and he carries a stud-shooting gun. It might seem ridiculous that he, alone with his gun, would go up against the Batmobile, but this is the Joker and he's prone to antics like this.
Batman looks fine. He has a double-sided head where one side is Serious Batman and the other is Smirking Batman. He has back printing for his back six-pack and that newish style clothy cape. The printing on his front is a little too busy in my opinion, too detailed for a minifig. Half of those lines don't even make any sense.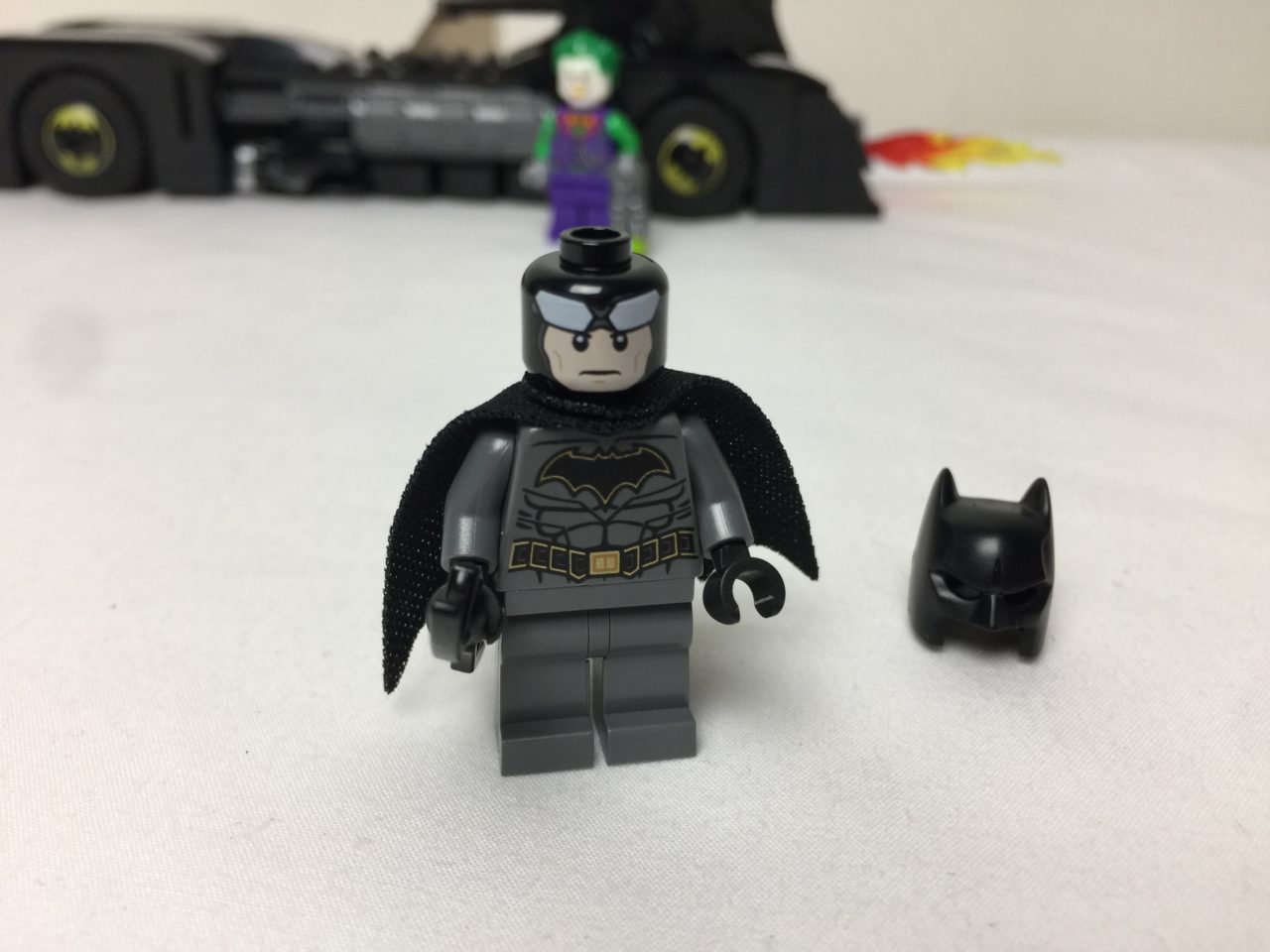 Bruce Wayne looks stupid as always. Way back in the day, when I first saw the Batman figure before it was released and how there was white printing on the forehead and how the eyes of the mask were set higher so that when it was put on you just see whites for eyes I thought it was genius. It gave Batman that comic book look, and still fit on a minifig. So at the time we just had to accept these weird printing spots on a minifig head. Putting a hair element on top sometimes hid the white spots but it never completely covered it, but it was passable.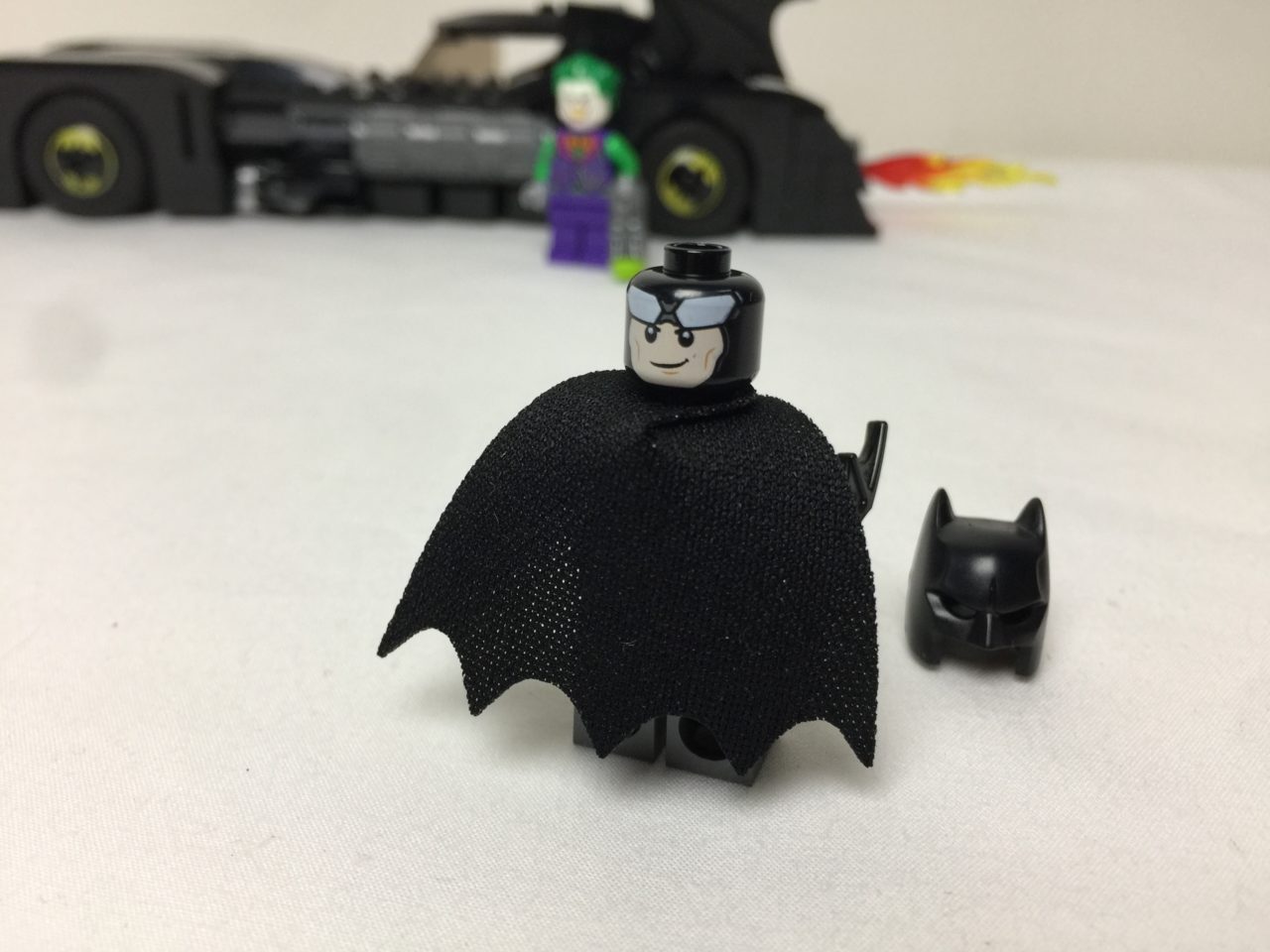 Mind you when all of this was happening this was LONG before double-sided printing on a minifig had became the norm. But now that we have such luxuries to allow our minifigs to express themselves in more than one way, LEGO should have gone back to the drawing board on how to print Bruce Wayne's head. One side should just be his face, and the other be a masked face where the white spots are lower where they should be, i.e. over the eyes. Clearly the steel mold used for the mask has been retooled otherwise we wouldn't be getting these chinless ones like we do now. It seemed like a hugely missed opportunity to fix what I now think is the ugliest execution of a minifig. The heads are worthless by themselves and only make sense when used with a Batman mask. And now the face is printed on an all black head element to give the Batman that all-dark look (tangent: I wish they did this with TIE Fighter pilots. Having that little bit flesh peek out from under and especially the back of the helmet is jarring).
The Batmobile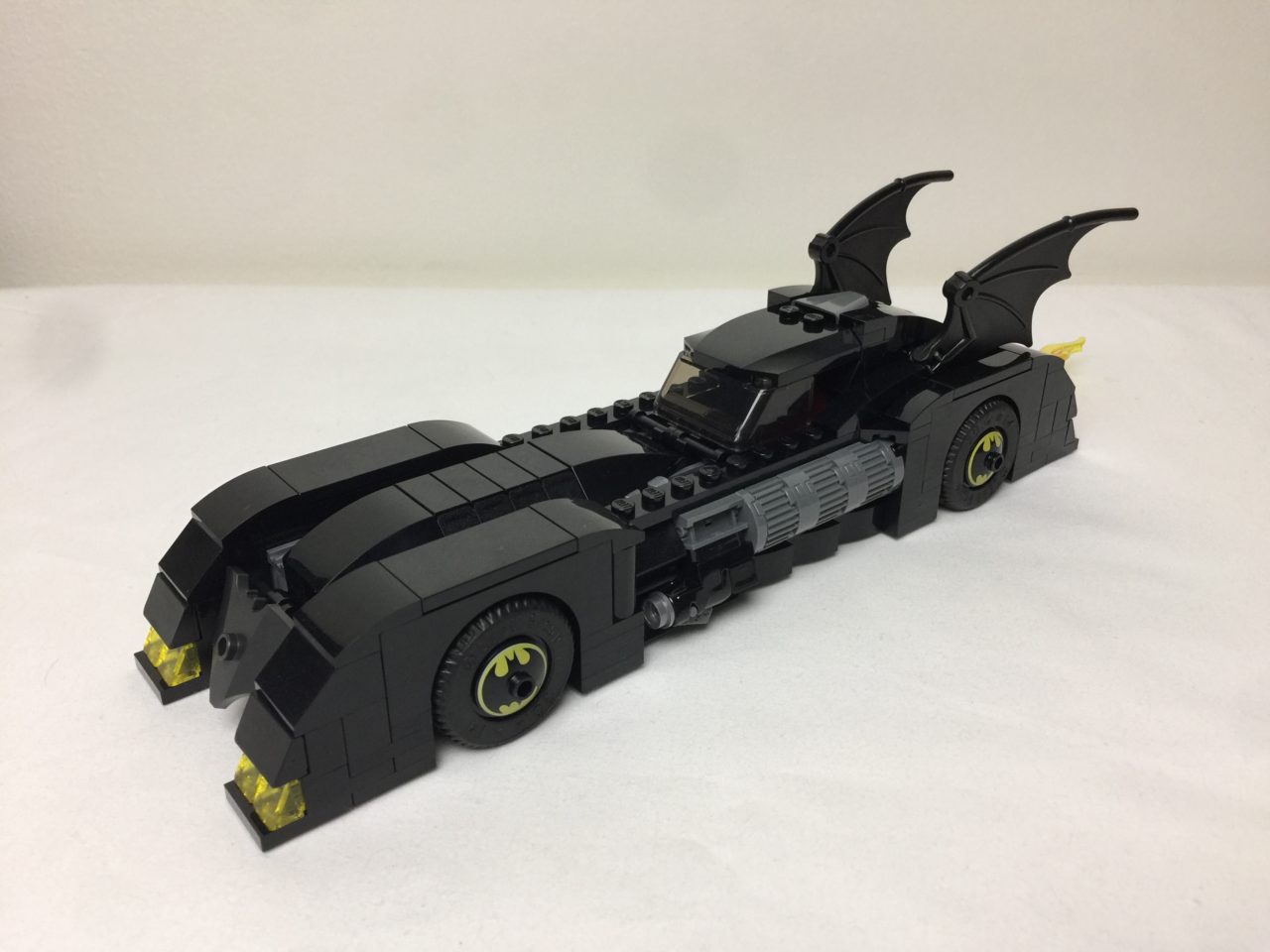 Anyhoo, on to the real meat of this set. The Batmobile! This thing is long and hefty. You can definitely the weight and the value you get for your money.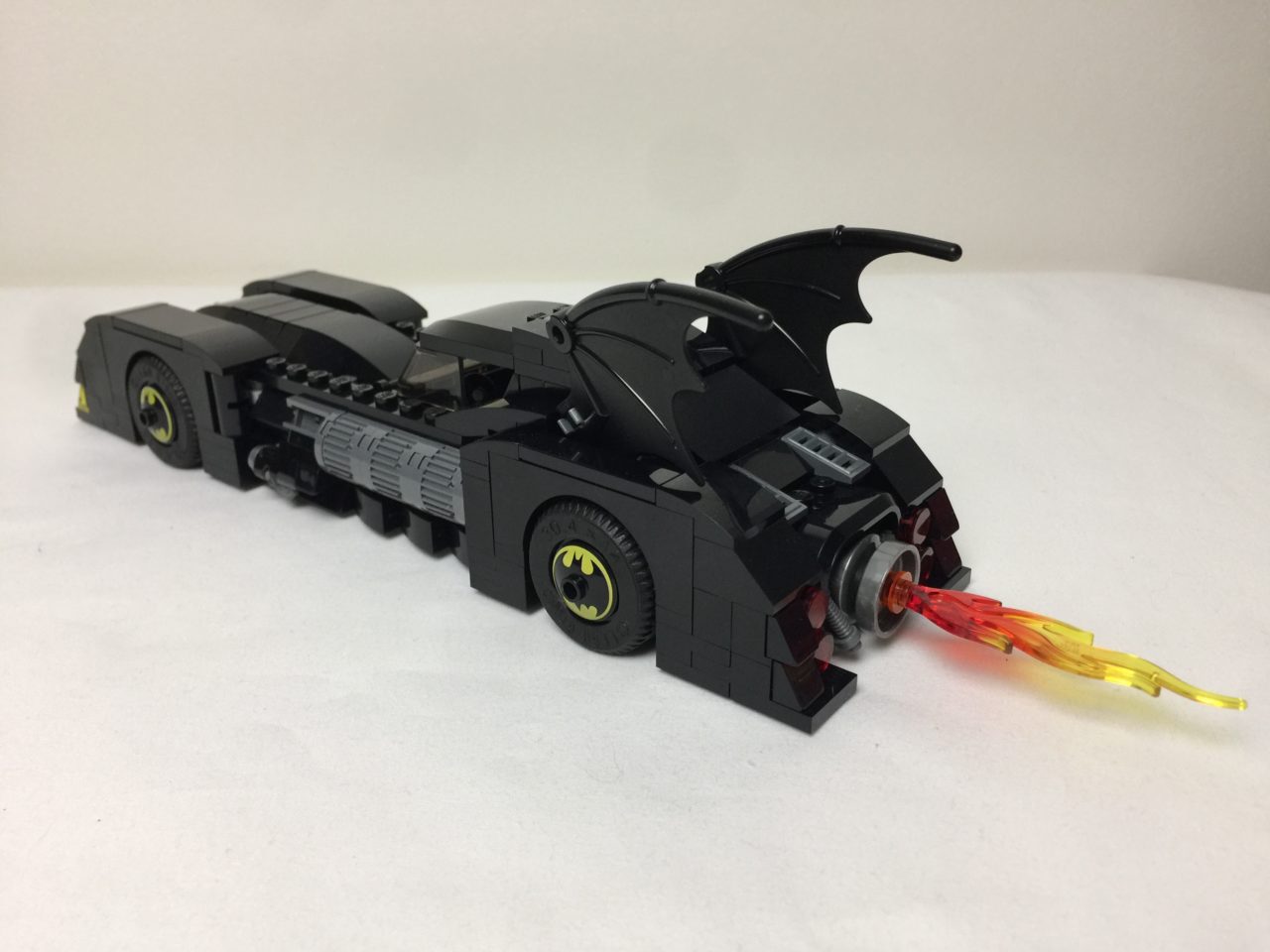 Built all in black and very very very dark grey, it's got the signature pair of fins in the back followed by a gigantic flame coming out the exhaust.
The fins are positionable in the all sorts of weird ways but they look best pulled all the back and tilted up against its slot barrier.
As far as play features, it's got the standard, flip-foward, opening cockpit. I do wish they could figure out a sliding mechanism so the hatch can slide forward.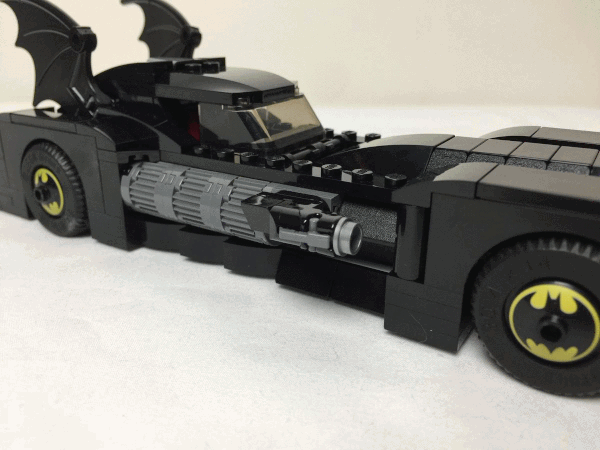 There are guns that flip up and down, one on each side.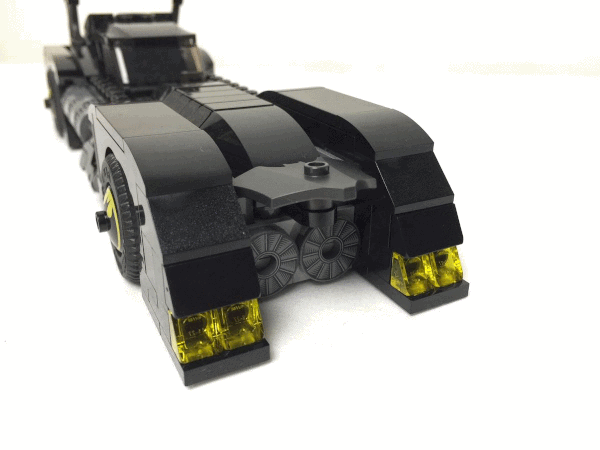 There's also a front flap to expose turbines for an added boost. Those are just printed 2×2 round tiles.
The giganto flame coming out of the exhaust is rigged up to the rear axles. Move The Batmobile forward and backward and the flame spins. Kinda neat.
The Inspiration
I'm still selling my stuff, and during my last pick up appointment, I came across this thing: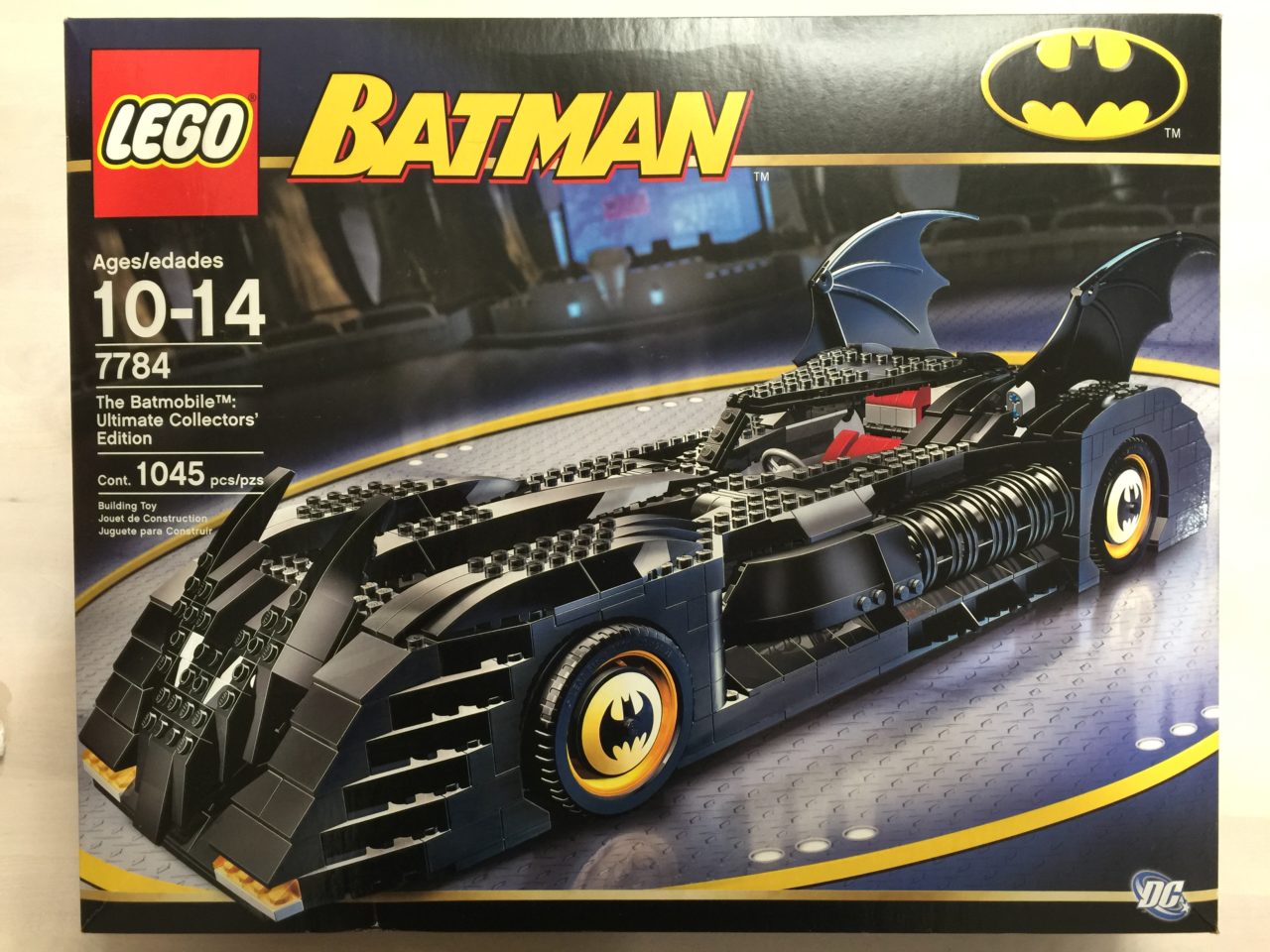 Look familiar? Well, it should because this was the original model that 76119's Batmobile was based on. This was released way, way back in 2006 when LEGO Batman was its own line. This was an original design by The LEGO Group, not based on a pre-existing rendition, and one that I wasn't a huge fan of. 7784's Batmobile served as the blue print to what we get in 76119: the big bat-shaped head on the front, the tilted fins in the back, spinning flame, the circular barrel-shaped things on the side, right down to the red seats: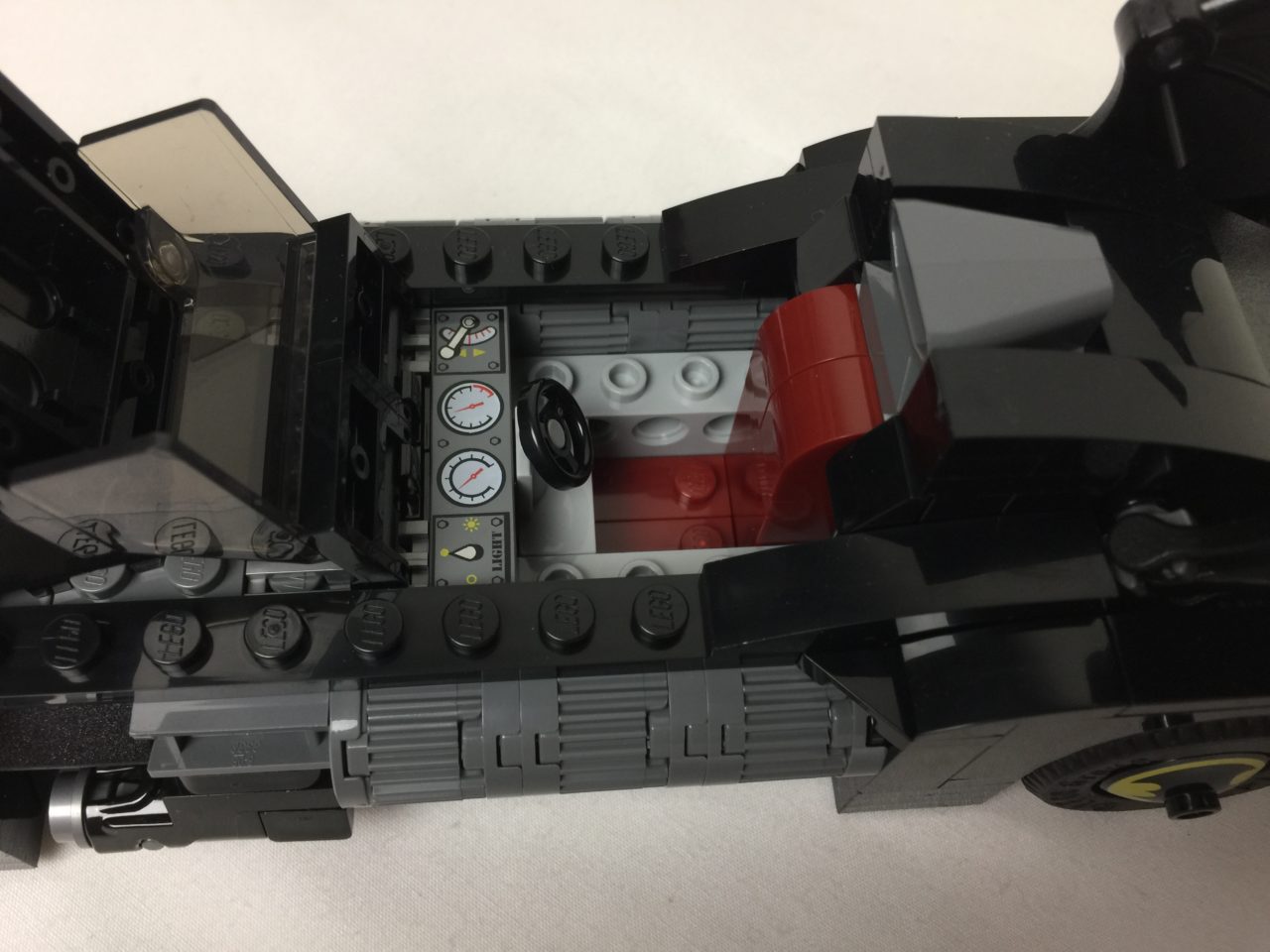 You'd have to be blind, ignorant, and stubborn to not see the similarities.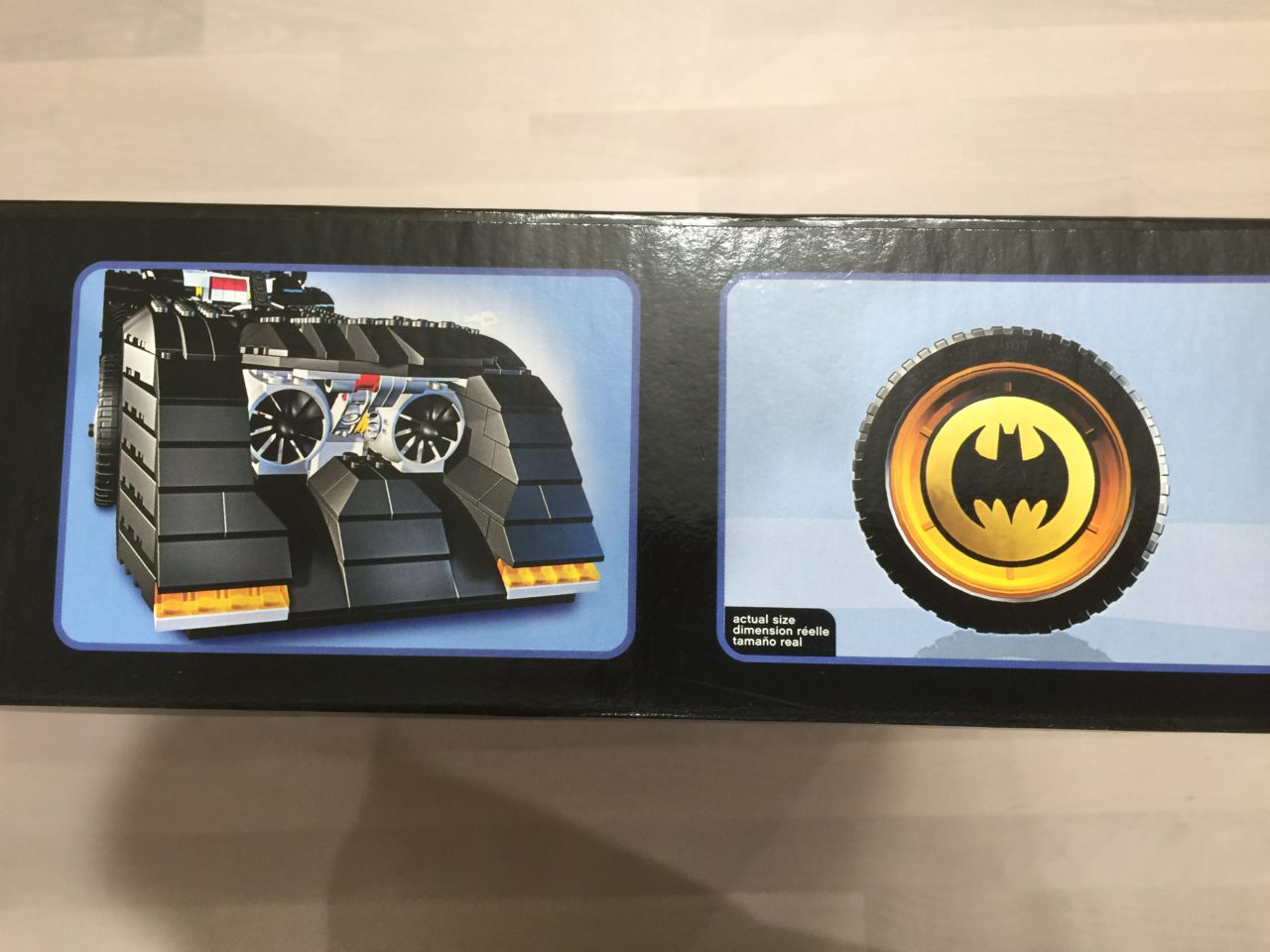 Another picture from the top of the box shows off two features that are also present in the new System-scale set: flip up Bat-head with turbines behind it and Bat symbol hub caps.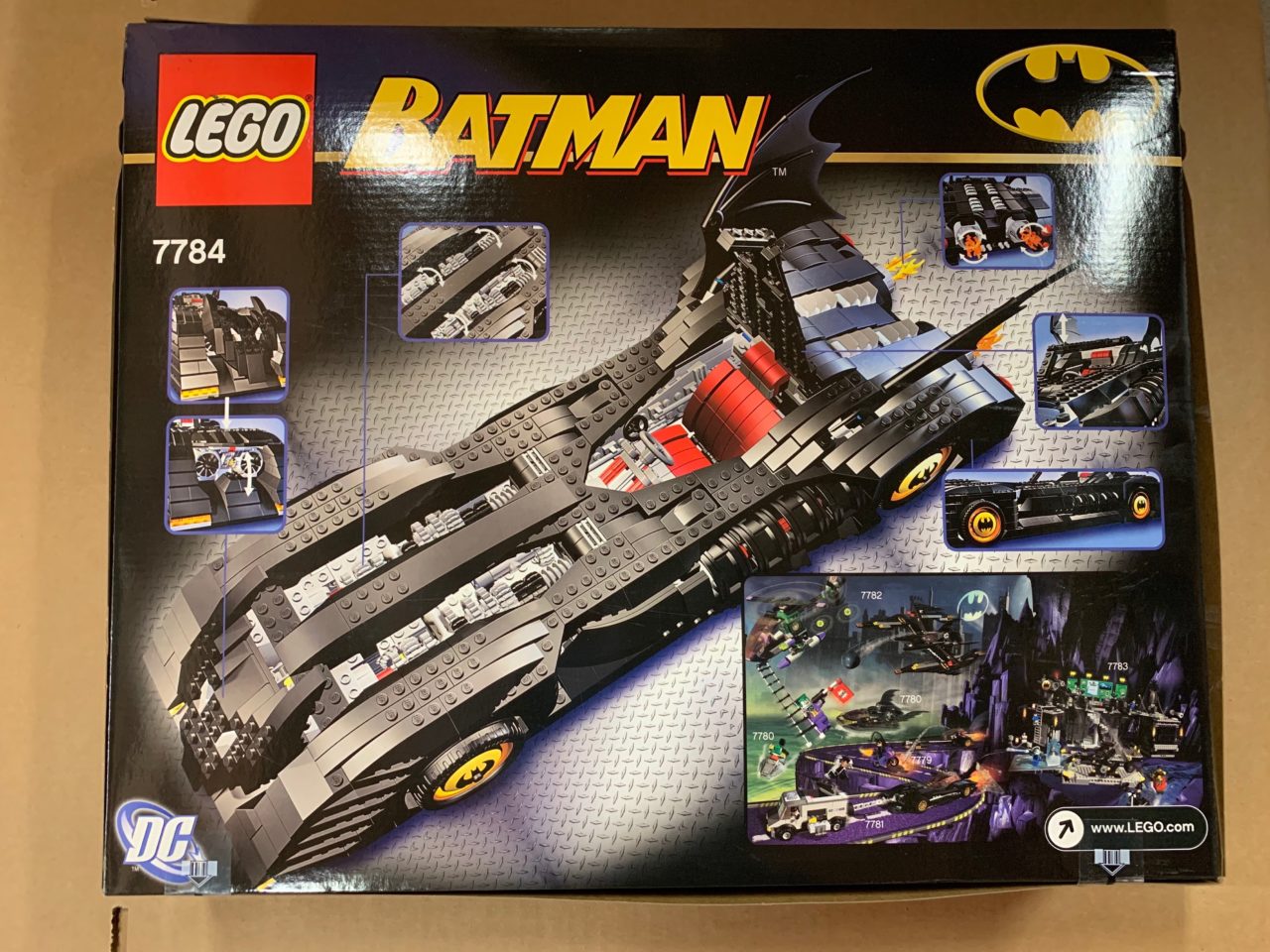 The back of the 7784 box shows a few more features that couldn't be replicated at the smaller scale, such as the gears and axles under the hood and the double flame exhaust. Still, you can see the relevant parts that were translated into the smaller model.
Is this LEGO being lazy? Absolutely, because rather try and design a new model, someone on the design team was told, "Here, make this smaller." But despite that, the final product is just fine. Batman sets will never not include a villain and getting Joker included in this set is about as basic as a Batman experience in a box as you'll get. At $29.99 MSRP, it won't break the bank either and you would do well to pick up an extra or two to give as gifts for your kids' friends who will eventually have birthday parties that you and your kid will be invited to.
The set is just fine and I can't find any faults in it other than Bruce lamehead Wayne. Final score is a four out of five stars. I'm knocking it down a star for the stupid minifig head. Yes, it irks me that much.
Buy 76119 Batmobile: Pursuit of The Joker
Amazon has this set on sale for 17% off as of the time of this writing, just $24.99 (down from $29.99 regular MSRP).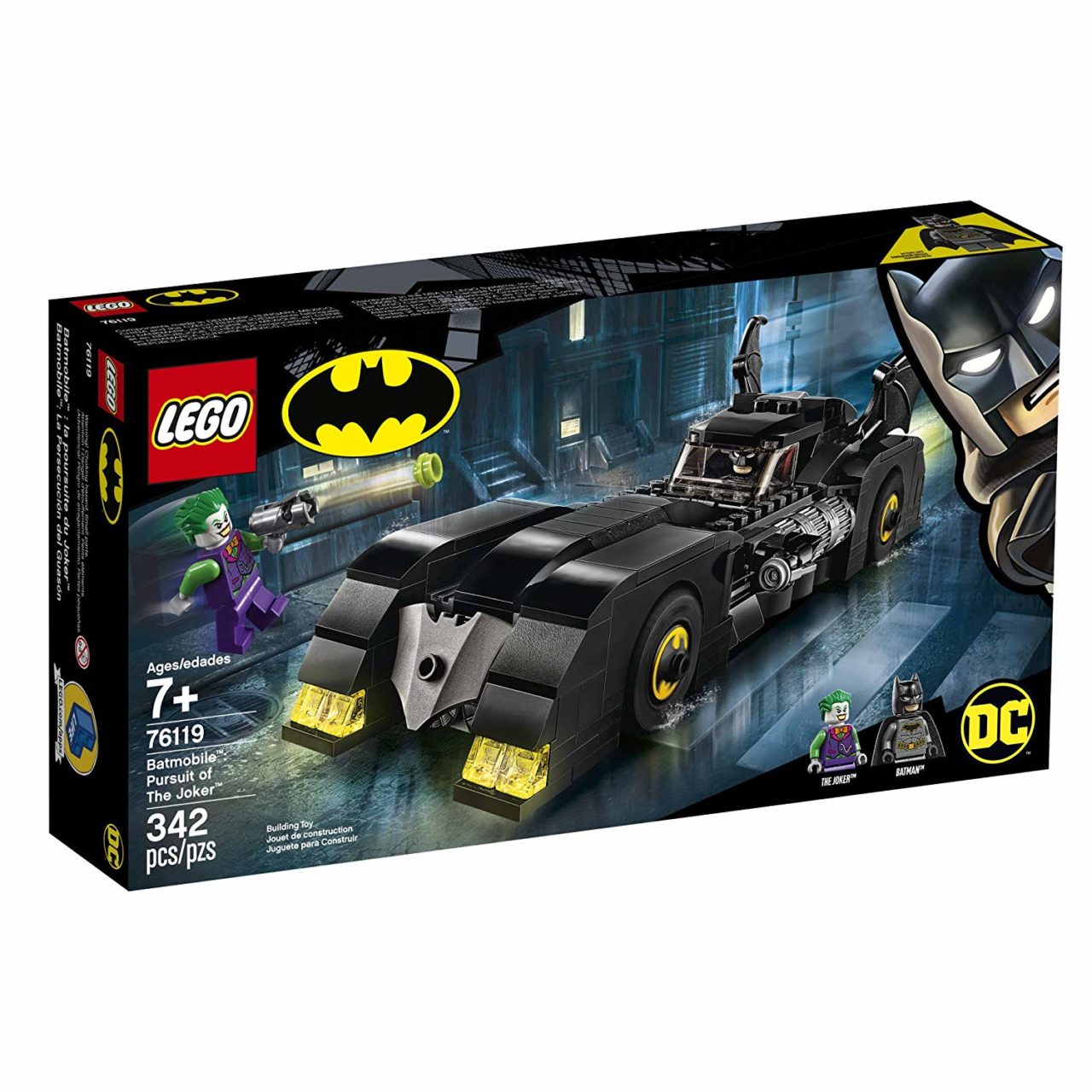 Will It Fit In A Ziploc Freezer Bag?
Yes.
All Of The Pictures
Win My Review Copy
As per my usual fashion, I'm giving away my review copy of 76119 The Batmobile: Pursuit of The Joker. Want a chance to win it? Send an email to giveaways@fbtb.net with LAMEHEAD as the subject line and your complete mailing address in the body. Giveaway is subject to FBTB's standard giveaway rules. The entry period is open from the time of publication until 11:59pm Pacific Time September 30th, 2019. Your prize may or may not include every one of the extra, leftover elements.
Good luck!
Help Keep The Lights On
Like the review? Consider helping FBTB keep the lights on by donating, becoming a subscriber, or shopping through one of our affiliate links. We get little support from LEGO these days so we rely on ads, affiliate fees, and donations to keep going. 100% of the money goes towards operational costs and set purchases for reviews, giveaways, and contest prizes. Thank you for your consideration.
And for the record, LEGO did NOT provide a review copy of this set.