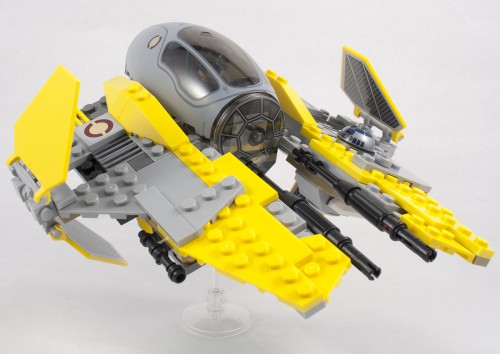 Quick, what's yellow, flies, and is a totally unneeded re-release? Okay, I'm sure there are more than a few smart… um, alecks… that probably yelled "Naboo Starfighter!" at their monitor (and at least one who had to be different and said something about a lemon catapult), but for the rest of us, it's Anakin's Jedi Starfighter, I mean, Interceptor. I suppose that's technically correct (the best kind of correct), as these ships are based on the Eta-2 Interceptor, but it makes finding them difficult when searching because all of them except this one and the green one before it are called Jedi Starfighters.
That green one is really the big problem with this particular release, though, as you can still find them on a few shelves and it was just retired a couple of months ago. It was a Target Exclusive, which made it a little harder to find, but wasn't exactly a knockout set by itself. To be fair, this version is nine years past when the original was made, and the Eta-2 fighters haven't been the weeds that the Delta varieties have been, but still, it feels like they could do something else (like that Obi-Wan's version, or maybe make the Hyperspace ring again).
At $25 and 223 parts, this is basically the new "budget" level set. It's also a crowded price-point in the early releases, with Grievous' Wheel Bike, the V-Wing Starfighter, and the Droid Fighter all in the lineup and running the same amount. I guess $25 is the new $20. The original included a Droid Fighter and Anakin's fighter in just 202 parts, so obviously there have been some updates done. So the real question is how does this live up as a re-release of that set?