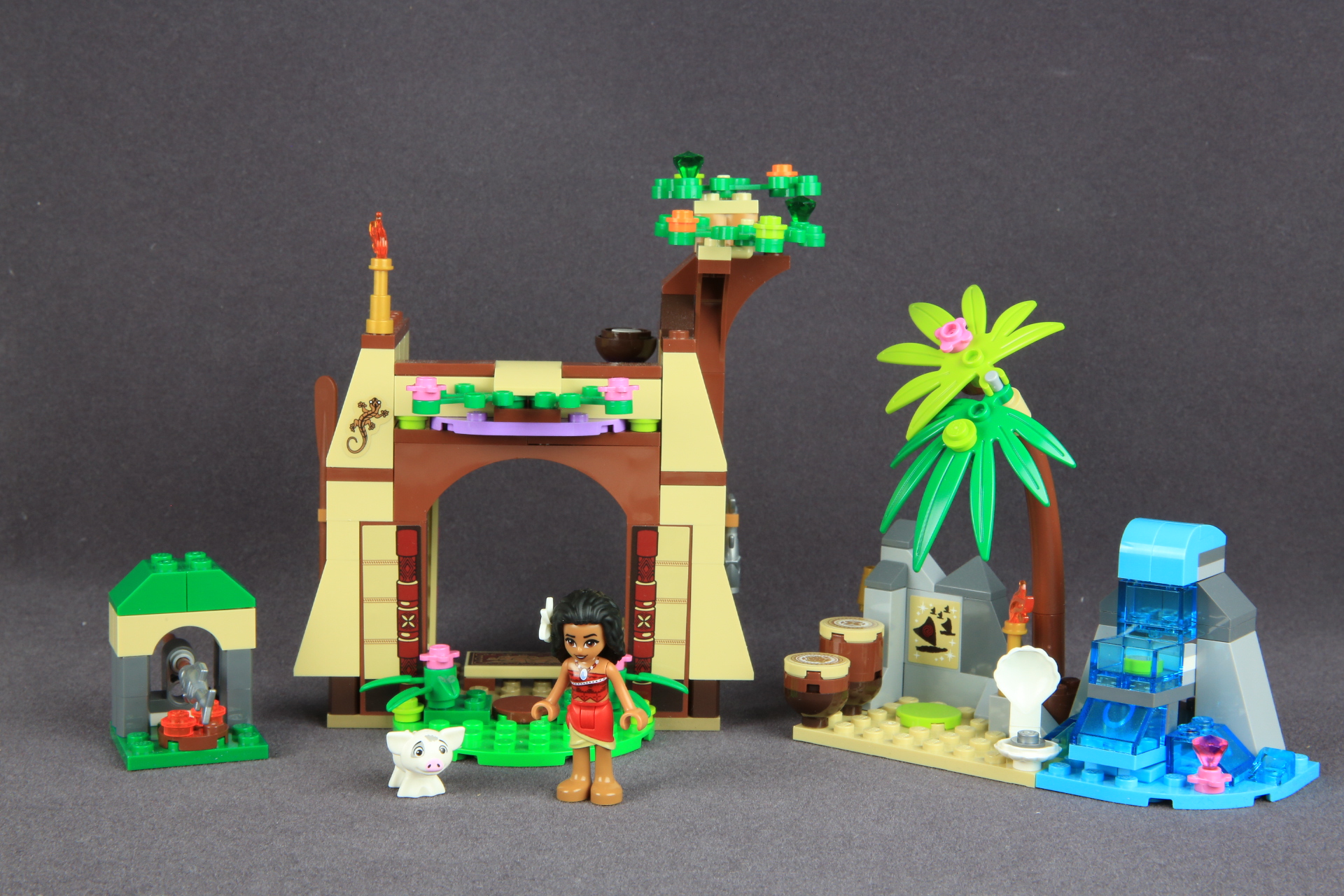 Did you guys see Moana? Did you like it? As an adult male, I have to admit that I LOVED that movie. My wife thinks it's strange that I liked it so much. I think I liked it better than my daughter. Clearly, I am not in the target demographic for that movie, and there's some gigantic plot holes that are too big to ignore, but I rather enjoyed it. The LEGO sets based on the movie, however, not so much. If I had reached a certain emotional high from my enjoyment of the movie, then 41149 Moana's Island Adventure is the exact opposite and had me crashing down into a state of utter disappointment.
Now, see, when I approached this set to review, I try and take the scope of what it is trying to accomplish and then see how it was actually executed. And given the source material, there aren't a lot of options of what would be viable as a set. 41149 Moana's Island Adventure attempts to recreate Moana's island life before she set sail on the open water and just fails miserably.
You get three very small vignettes: a cooking fire, a ocean spirit / drum area, and a Moana's hut. And let me just say that I hate sets like this. A bunch of small builds that don't really (physically) connect to each other that eventually end up getting scattered and mixed in with other sets using the same approach and then you get confused as to what came with what set and I could go on but I'll stop myself here. Putting that bias aside, let's take a look at each of the builds:
The cooking fire is … weird, for the lack of a better term. It has a spit with a fish on it, but Moana has to stand on the other side of a gigantic barrier in order to turn the spit. How does she know the fish is fully cooked? This little build is the most superfluous aspect of the whole set and doesn't really add any value. It's been awhile since I've seen the movie but I don't recall Moana ever grilling any fish on an open flame, so it's not even movie accurate.
If there is one section of this set that epitomizes the attempt to do too much, the ocean spirit / drum area would be it. You build a set of drums, a tree, and a representation of the ocean spirit passing the heart of Te Fiti, neither of which were anywhere near in proximity with each other. And even if they were, they wouldn't warrant being made into a buildable area. The ocean spirit does have this drawer that slides out when you push on it through the back; it reveals the heart of Te Fiti which is a printed 1×1 round tile.
Now we get to Moana's hut. It's a two-level hut featuring some nice details: a sleeping mat, a small circular rug, and a bowl up top, a skinny ladder on the side, and a table with a mural, a bag, and a pineapple on the lower level. Some stickers decorate the outside along with some foliage. It doesn't look like much of a hut to be honest; it's not very robust and it more resembles a gateway or an arch that was made into shelter that just so happens to have a tree growing out of the side of it.
I wish the parts budgeted to make the two smaller areas were reallocated to make the hut better instead. The hut represents a lost opportunity in that it should have been the set's singular focus. It could have been made larger, with some more details that could have made it actually look like a hut. The drums from the aforementioned water / drum area could have been included and that would have made more sense. The heart of Te Fiti could have just been put inside the bowl or held by Moana in her hand, or not even included at all since you get the heart element in 41150 Moana's Ocean Voyage. And the cooking fire, again, is pretty worthless. These uninspired areas are, to me, just a waste of parts.
The Moana minidoll is as good as you would expect. Her hair element seems too tame compared to the on-screen counterpart but does the job adequately. Her top has a nicely detailed pattern printed on it and her skirt / leg assembly has a red on tan pattern. Her top pattern is slightly different than the Moana minidoll you get in 41150 Moana's Ocean Voyage and the skirt's colors are reversed, making each version unique to their respective sets.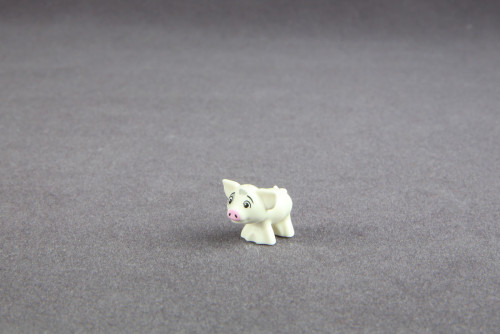 Pua, Moana's pet pig, is also unique to this set and features patches of grey hair on the head and body. Pua would actually be the ONLY reason to pick up this set, and even then that's kind of an expensive investment for just one pig.
If you can live without the pig, you can live without this set. There are only two sets made for the Moana movie tie-in and you're better off putting those 25 bones towards the other one or even buying the DVD/Blu-ray/digital copy of the movie when it comes out. It just tries to do too much with a miniscule piece count (205 pieces) and fails on all fronts. Given the source material, this set could have resulted in a decent hut but it's not. I've seen what LEGO can do with homes, cabins, and the like from various other themes like Friends and Creator. Maybe that set my expectation too high but 41149 Moana's Island Adventure doesn't even come close to the quality and level of detail found in other sets. 41149 Moana's Island Adventure retails for $24.99 MSRP, a price point that is a bit lower than the standard dwelling-type set but that's not really an excuse for how disjointed and lackluster everything is. Out of the two Moana sets made, this is the one to avoid and unfortunately receives a rating of 1 out of 5 stars.
But hey, don't let my opinion sway you. Maybe you want to find out for yourself how bad this set is, or maybe you're a completist and maybe you want a link to the set anyway. Pick it up on Amazon or LEGO Shop@Home if you want.