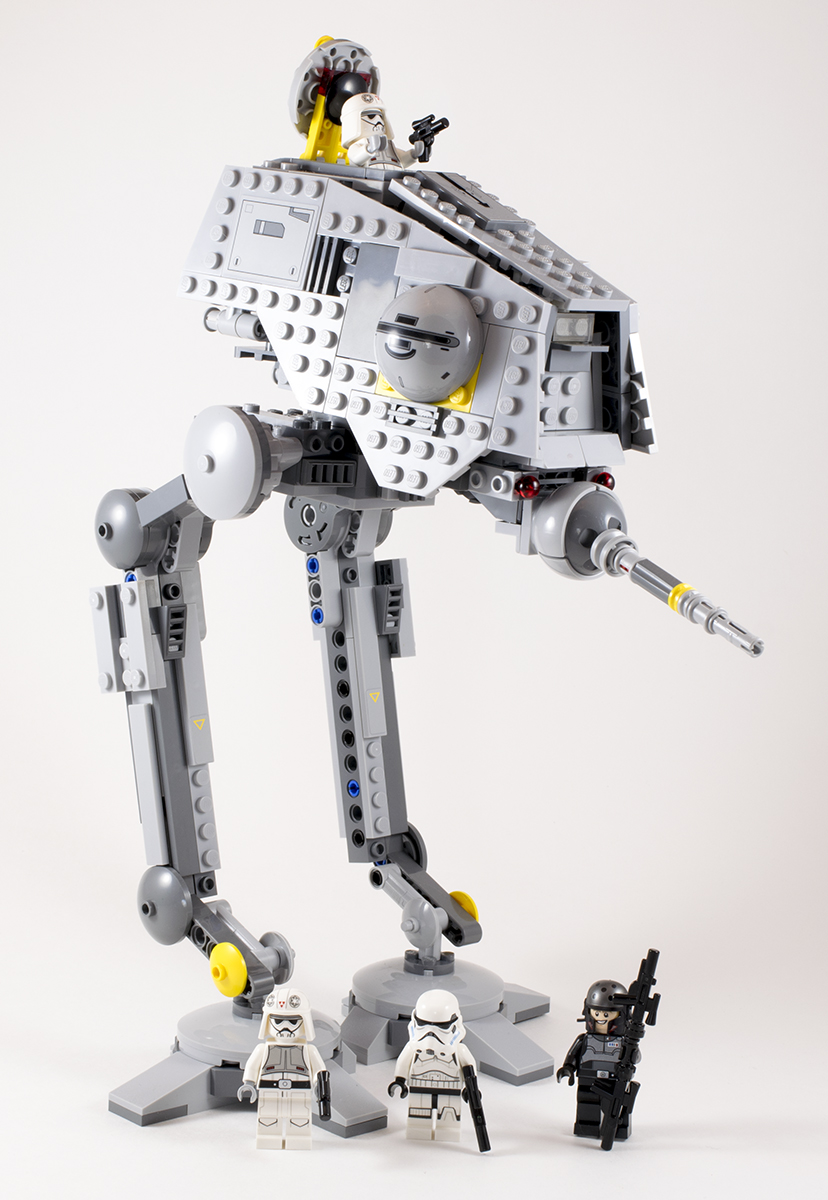 In all of the years I've been writing for FBTB, a few things about me have been well established. My humor is sarcastic, occasionally witty, and often outdated. I probably use more words in my posts over the course of a year than the rest of the staff combined; I'm not afraid to express my opinions even when I know they're going to be controversial; I wish that I owned a pair of Unikitty pajamas; and I often put completely random things into my lists. And when it comes to reviews, the two things I always sign up for are Jedi Starfighters and Walkers.
I love my walkers. Reviewing 75083 AT-DP was a given, the first really "transitional" set from Star Wars Rebels based on concept art from the original trilogy. Interestingly, this isn't based on concept art by McQuarrie, it was done by Joe Johnston. If that name sounds slightly familiar, it's because he was the director of Captain America: the First Avenger. Apparently, he was also responsible for Boba Fett's general look in Empire and was a concept artist at Lucasfilm for the original trilogy. I'm sure I should probably know that, so let's just add it to the long list of things I should know but didn't (please see Ken if you'd like a copy of the list).
Since my last review of a Rebel's set, I've finally gotten around to watching all of the episodes (if I could go change my review on that Ezra's bike set, it'd be to be even more harsh about LEGO's representation of Sabine). The AT-DP walker is one of four Imperial ships/vehicles that figure prominently in the cartoon (the others being the Troop Transport, TIE Fighters, and the Inquisitor's Advanced TIE). At $50, this isn't a cheap set, but who knows, maybe it's hiding some secrets in there that justify the price.
Actually, that's sort of a theme in the 2015 Star Wars sets… excluding the Battle Packs (and the UCS sets), all of them feel overpriced. Knock $10 off this set and it'd get a whole lot better; the same applies to the Wookie Gunship (except probably more than 10), Anakin's Custom Speeder (which I'll be reviewing in the near future), TIE advanced prototype, and Troop Carrier are all undersized for their price point. On a 20-25% off sale, they all feel a lot more "worth it." That or maybe they're just trying to ease the hit of Jurassic World sets a bit.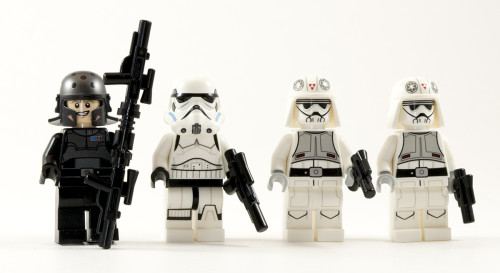 The minifig lineup adds one important character, Agent Kallus, who was one of the two competent antagonists of the first season. We also get a Stormtrooper (or Bucketheads, as they're referred to in the show, where their aim is even worse than normal), and two AT-DP pilots. This is a nice change from the recent trend of splitting the good/bad guys between a set and focusing just on the Imperials.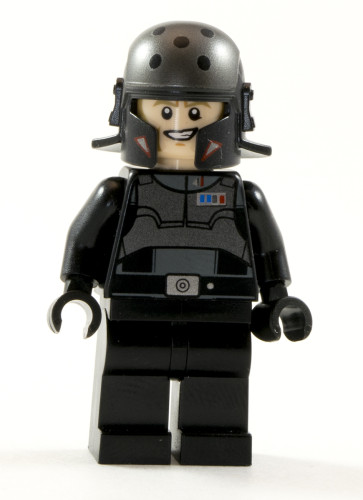 Agent Kallus is an interesting antagonist, in that he's actually capable, legitimately menacing, and also intelligent (unlike what they turned Grievous into in Clone Wars). Sure, he's ineffective in the sense that Disney isn't going to kill off their carefully developed characters in the first season so you know they're not really in danger. As a minifig, we get an armored Imperial officer torso (awesome), a weird looking helmet (okay), and a minifig head with muttonchops (swoon).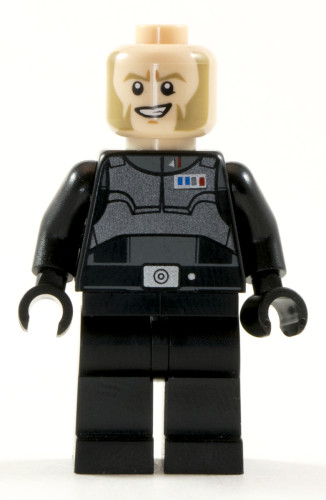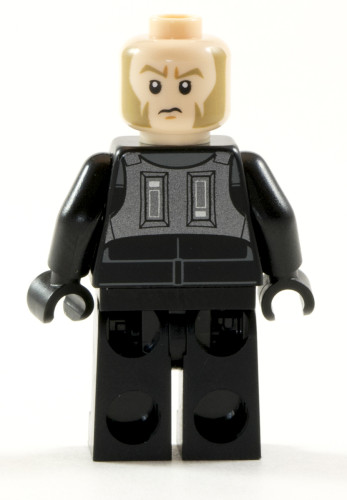 It's hard to peg down the face as being accurate, though. I remember Kallus smiling exactly one time, and it was when he was taunting Zeb that he took his gunstaff during the genocide and cleansing of Zeb's world. So… he's a good imperial and also a psychopath. Speaking of the gunstaff, in the show it's actually a pretty interesting little weapon. The LEGO form is still hideously ugly and stupid looking.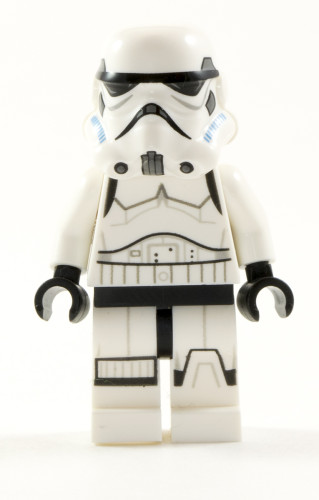 This is a stormtrooper. In Rebels, they're called bucketheads. He's been reviewed here and here. I have nothing new to add.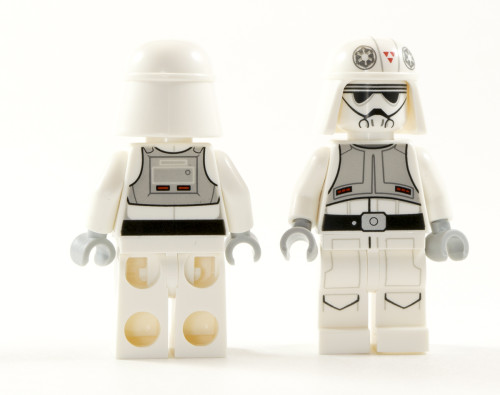 The AT-DP Pilots are a bit more interesting, since they're a nice evolution between the clone pilots and the AT-AT or AT-ST pilots from the OT. The helmet is a repaint of the trooper helmets, and the armor design is pretty slick. I also like the printed legs, even if the printing doesn't exactly line up. Getting two is kind of a bonus, since I could see having these in a bit more bulk for some custom stuff or other walkers. Also, I wish more minifigs had that glorious belt buckle.
I may have officially acclimated to Texas with thoughts like that.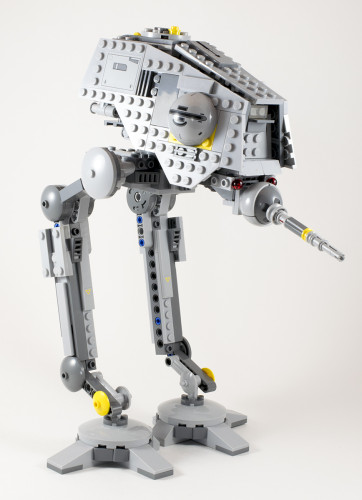 The last walker we got, the AT-AP, was a surprisingly good set. This seems like it's the evolution between that set and an AT-ST… but it's a pretty underwhelming build, honestly. It's a very rigid thing with only a couple of articulation points in the legs. That limits the pose options.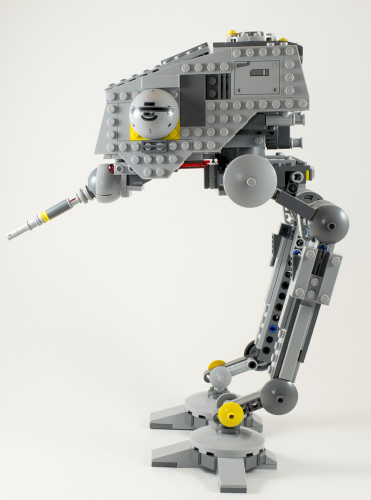 The look is pretty good, especially towards the reference material. Sure, that's smoother, but this is LEGO. The front in particular is a good representation, and those side domes are nice. I do question the viability of a weapon that only has, at best, a 135 degree arc on the forward of an armored walker and a general inability to turn around effectively.

The interior has room for both pilots, and the little hatch is a nice touch. There are a couple of stickers that give a view to either side as well, and the whole thing is very sturdy. As a shelf display, it's a decent vehicle, especially if you felt like doing a Rebels display (maybe the escape from the academy).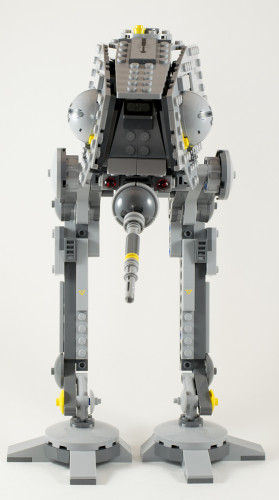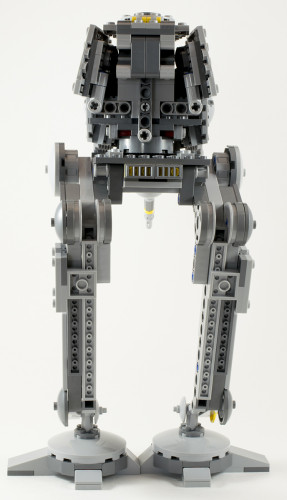 Unfortunately, by the time you're done building it, you're still searching for the value of this set. It's probably a better buy than, say, the Wookie Gunship, but unless you really want this vehicle (or you want Kallus). There are a few interesting parts, but nowhere near enough to justify the price tag. Ultimately, that makes this set a "get on sale" sort of set. It's okay, on a sale it'd be above average, but it's simply not a standout compared to earlier walkers or some of the other currently available stuff. That's a 3 out of 5, bolstered by a decent selection of minifigures. On sale, this may be worth pulling the trigger, but I can't suggest it for full price.
What I liked:
Focus on just Imperials gives some minifig value to the set
The look of the vehicle is great, and is an important addition to the Rebels build
Kallus is a welcome minifig, as he's a legitimately menacing villain that was actually quite important to the first season (and will likely be in the second season as well)
Some nice printed parts and piece selection, even if the thing is mostly technic
What I didn't like:
The piece-count is misleading, since a lot of it is pins, tiny parts, and repeats. This set, like most of the early 2015 Star Wars stuff, feels about $10 too expensive and a lot smaller than it should be
That gunstaff is just so stupid in LEGO form…
Not a lot of options for poses and positions, the legs are a lot more rigid than other walkers
Verdict: This is a pretty solid set on a sale price, and a vehicle that features prominently in a lot of Rebels episodes. You can pick it up right now at LEGO Shop@Home