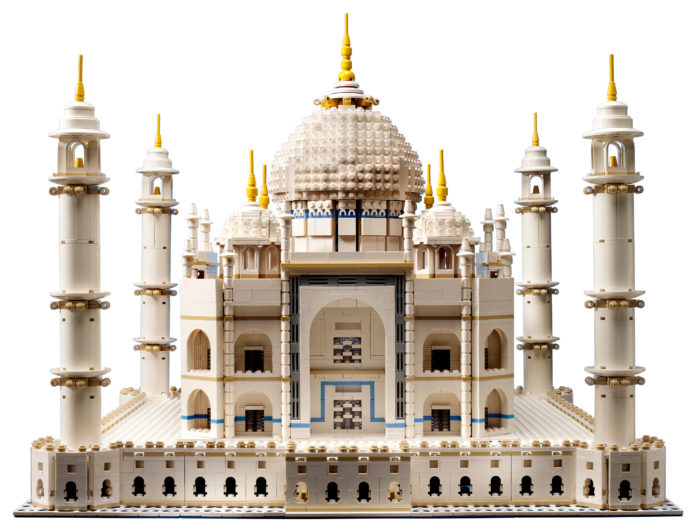 It's like its 2008 all over again. There's a UCS Falcon, and now 10256 Taj Mahal, a re-release of the original 10189… except in 2008, you could actually buy the Falcon. I'm guessing LEGO will probably make, like, three of the new Taj, and then say, "Oh hey we didn't realize there'd be such a demand. Don't worry. We'll make more." And then make you wait for weeks/months. This is assuming people actually buy this thing.
I have nothing personal against the Taj Mahal; it's never cut in line in front of me, or forgot to pick up after their dog, I just don't find it very appealing. I'd like to think I appreciate architecture and design more so than the average Joe, but this one doesn't move my needle at all. I don't know why.
But given the crazy aftermarket prices on this thing, the demand is still very high. Hopefully, anyone considering picking one up will see the news of the re-release from whatever LEGO news source happens to come across their daily lives and save some money.
It is more or less an exact replica aside from packaging, a different colored axle, and numbered bags (Hallelujah for that!). The price has gone up to $369.99, just $70 over the original's $299.99 price tag. And the piece count is higher by 1: 5,923 vs 5,922 for the original. I'm actually pleasantly surprised it's not more.
10256 Taj Mahal will be released on November 1st, 2017 on LEGO Shop@Home and LEGO Brand Retail stores.
All The 10256 Taj Mahal Pictures
10256 Taj Mahal Press Release
10256 Taj Mahal
Ages 16+.  5,923 pieces.
US $369.99 – CA $449.99 – DE 329.99€ – UK £299.99 – DK 2699.00 DKK
*Euro pricing varies by country.  Please visit shop.LEGO.com for regional pricing. 
Discover the architectural wonder of the Taj Mahal! 
Build and discover the Taj Mahal! The huge ivory-white marble mausoleum, renowned as one of the world's architectural wonders, was commissioned in 1631 by the Emperor Shah Jahan in memory of his wife, the Empress Mumtaz Mahal. This relaunched 2008 LEGO® Creator Expert interpretation features the structure's 4 facades with sweeping arches, balconies and arched windows. The central dome, subsidiary domed chambers and surrounding minarets are topped with decorative finials, and the raised platform is lined with recessed arches. The model is finished with ornate detailing throughout and intricate tilework around the base. With more than 5,900 pieces, this set is designed to deliver a rewarding building experience and makes a great display piece for the home or office.
LEGO® interpretation of the real-world architectural wonder, the Taj Mahal.
Relaunched 2008 model, featuring 4 facades with arches and arched windows; central dome, 4 subsidiary domed chambers and 4 minarets, all topped with decorative finials; raised platform lined with recessed arches; ornate detailing throughout; and intricate tilework around the base.
Divides into 7 modular sections for easier transportation.
Put your LEGO® building skills to the test with one of the largest LEGO models ever created!
Special elements include 6 blue 16×32 baseplates, white 1x5x4 bricks with bow, lots of transparent elements, 'Erling' bricks and 'jumper' plates.
Measures over 16" (43cm) high, 20" (51cm) wide and 20" (51cm) deep.
Available for sale directly through LEGO® beginning
November 27, 2017 via shop.LEGO.com, LEGO® Stores or via phone:
US Contact Center                             1-800-453-4652
CA (English) Contact Center             1-800-453-4652
CA (French) Contact Center             1-877-518-5346
European Contact Center                   00-800-5346-1111
LEGO, the LEGO logo and the Minifigure are trademarks of the LEGO Group. ©2017 The LEGO Group. All rights reserved.