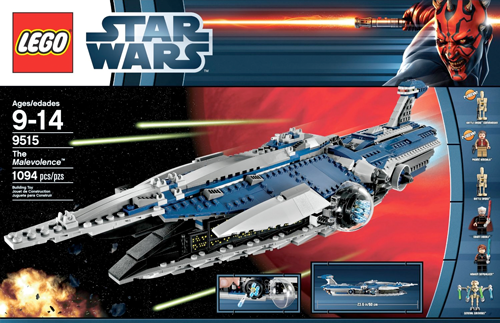 It was bound to happen and it finally did. Amazon is price matching Target's 20% off of LEGO Star Wars sale.
First up we have 9515 The Malevolence. This set finally dipped below the $100 threshold, down to $95.99, 20% off of MSRP.
9516 Jabba's Palace sees a similar discount at the same price point: $96 even, 20% off of MSRP.
All you holdouts for a cheap Gungan Sub can finally pickup Queen Amidala for 20% off. 9499 Gungan Sub is now $55.99.
I'm running out of witty things to say, so I'll just say this. Almost everything LEGO Star Wars is 20% off, like 9500 Sith Fury-class Interceptor for $71.99, down from $89.99
9496 Desert Skiff is $19.99, down from $24.99
9498 Saesee Tiin's Jedi Starfighter is $23.99 down from $29.99
9493 X-Wing Starfighter is $48.00, down from $59.99
7965 Millennium Falcon is down a whopping 27%, $101.60, from $139.99
9492 TIE Fighter is $35.20, down a mind-blowing 36% off of $54.99 MSRP
9491 Geonosian Cannon is only 17% off, $16.68 down from $19.99. Still a decent deal.
9490 Droid Escape is only 9% off, $18.20 from $19.99. Glitch?
Looking for older sets? Those are on sale too:
That's all I could find. Oddly enough, none of the battle packs or the planet series are seeing the same discount.