This mini is a… mini… version of the old LEGO set, 9525 Pre Vizsla's Mandalorian Fighter. There's another LEGO set out there right now of the same ship, 75316 Mandalorian Fighter (<= Amazon affiliate link). I haven't built either of the larger sets, but I hope they are better than this thing.
Sponsorship
This week's set of polybag reviews is sponsored by The LEGO Group which is sending me a few things this week ahead of the May the Fourth sale coming up next week. We'll have more details on what they're offering soon so stay tuned. If you click on this link for LEGO.com and make a purchase, we'll get a few pennies that go towards paying for my unexpected car repair bill. As always, we thank you for your support..
Want to sponsor a review? Send a pic to admin@fbtb.net or hit me up on discord of the polybag set you have that you want me to review. If selected, in exchange for the set you'll get a mention right here in the review post and a link to your website or social media account for the entire week. Nearly free advertising, so what's stopping you? And now onto the review.
Once built, and laid flat, it looks fine. But once you pick it up to rotate the wings, it immediately becomes something I hate to the point where I just want to throw it against the wall and hope it shatters in pieces. 'Cause I'd rather have to pick up those pieces than have to twist this thing back into alignment. If it's not a right angle, it's a wrong angle.
The two wings are connected to friction pin connector that also serves as an attachment point for the main fuselage. The cockpit and wings can rotate every which way and if my internet research tells me anything, there's only three poses that really matter: flat on the ground, vertical flight mode, and vertical on-ground mode.
The process of positioning the wings and cockpit into any of those modes is where my frustrations come from. The two wings rotate independently of each other which makes proper alignment an exercise in patience. I find the best position is flat on the ground where I can press down on each of the three ship parts to make it nice and flat and even. This is also the position where I think the ship looks the best.
I'm not a fan of the other two modes except maybe vertical flight but only because it feels like you can chuck it like a shuriken.
As with most of LEGO's spacecraft, this one is lacking any detail on the bottom of the wings and I'd argue that out of all the ships out there, this one kind of needs it the most. Since the wings can rotate every which way, I don't think there's really an up or down. So having one side completely blank just feels wrong. I mean, even the original LEGO set ship had plating on the bottom to mirror the top side. A couple of blue plates here would have really elevated this set and might have turned the thumbs down into a thumbs up but I guess we'll never know now. But not likely, cause I'm not a fan of the source material. I don't think I'd ever get 75316 Mandalorian Fighter to review but hey if any of you readers are feeling generous, I wouldn't turn down a donation.
Does It Suck or Does It Rock?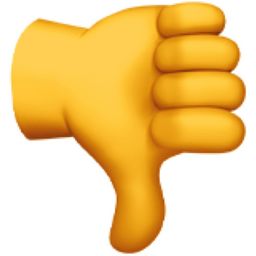 This set sucks! The mini was fighting a losing battle since it was based on something I don't find very appealing at all. The lack of blue plating on the bottom scream lazy. Just meh all around.
You Can Win This And Every Other Polybag I Review This Year
I'll be raffling every polybag I review this year in one big lot, all 260 sets (with the possibility of more). Each set will be individually stored in a ziploc baggie complete with the extra pieces, instructions, and the actual polybag bag it came in. The cost of a raffle ticket is just $1 USD and you can enter as many times as you want. Send a PayPal payment to paypal@fbtb.net for $1 USD for every ticket you want to purchase. DO NOT send one payment for multiple entries i.e. do not send one $5 USD payment for five tickets; five $1 USD payments must be made instead. Raffle is open to everyone in the world except where raffles are illegal. Be sure to put "POLYBAG RAFFLE" in the notes section of the payment in order to be entered successfully. Winner will be drawn sometime early January 2023 and contacted at the PayPal email address the payment was sent from to arrange for delivery. For a running list of all the sets that you can win, check this Google spreadsheet.