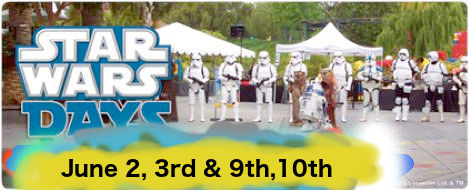 Talking about Star Wars Days is always a bit of a conundrum. Because there are two sides to the event. There's the public spectacle side where I can describe all the events that are going on in the park. And there's the volunteer side where I can talk about all the stuff that's going on for volunteers, specifically for the Fan Gallery where LEGO nerds can come show off their MOCs. That's the side I'm heavily involved in and when I would talk about that side, I think it confused a lot of people. It was evident last year when I had more than a couple of emails from people asking why they had to register to visit the park.
So with all that in mind, I'm going to try and make things as crystal clear as possible when I talk about Star Wars Days at LEGOLAND California.
This year's event will be spread out over two weekends: June 2nd and 3rd, and then again on June 9th and 10th. This is the first time the park in California is doing this (apparently, LEGOLAND Florida has had multiple Star Wars weekends already). I imagine this makes planning for the event a little easier as there are now two weekends to choose from. And the other good thing about it is that the park is planning the same activities and events for both weekends.
That is the general information for everyone. Now, specifically for the volunteers, and even more specifically for the fan gallery, this means that there are now two weekends that you have the opportunity to sign up for. For me and the events committee, everything will be doubled. For you, the experience will be the same should you sign up for one weekend or both. You may register for one or the other or both or none at all. We will still be displaying atop the Model Shop rooftop and get the usual volunteer goody bag. There are a couple of other things we are planning to make the weekends more interesting for everybody so I hope to see you guys during the weekends. I'll be sending messages to LUGOLA and SanDLUG later on today with more details. If you're not a member of either of those groups and would like to participate and display MOCs, send me a message through our contact form so I can keep you updated. And should I fail to do that, I'll be posting updates on this site so keep an eye out.