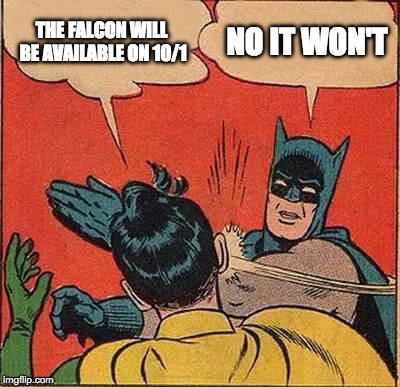 I saw a few tweets saying that the UCS Falcon will be in stock at LEGO on 10/1. Well, that is: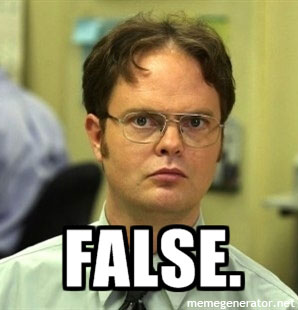 I called customer service yesterday and there will not be stock on 10/1 available for anyone. 10/1 was the official on-sale date for non-VIP members, but because of the demand, any stock that is coming in will be reserved for VIP members first until supply can meet demand, which won't be for awhile. And to help mitigate the wait for VIP members, LEGO has implemented a wait-list of sorts. If you're a VIP member and set to receive emails you should have gotten something that looks like this: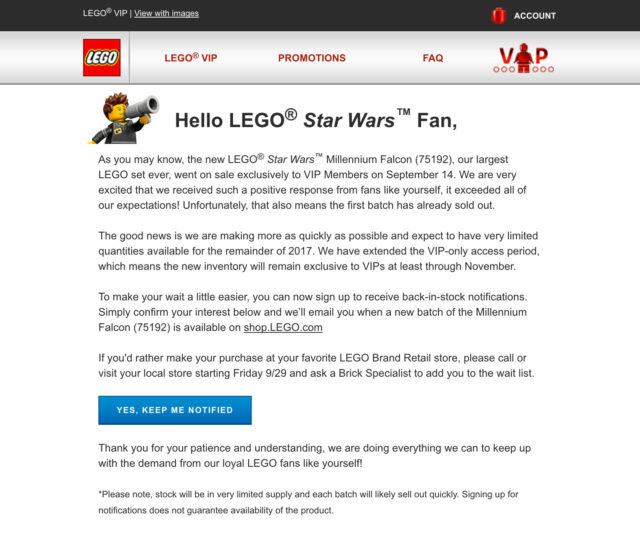 Strangely enough, my wife was the one that got the above email. For some reason, I didn't get it so I called and asked to start receiving VIP emails. The nice phone rep escalated my issue to ensure I get on that wait list. So, if you're a VIP member and didn't get the above email, it would behoove you to give LEGO Shop@Home a call at 800-835-4386.
Meanwhile, Falcon Watch 2017 will continue on our twitter account to entertain you while we wait.