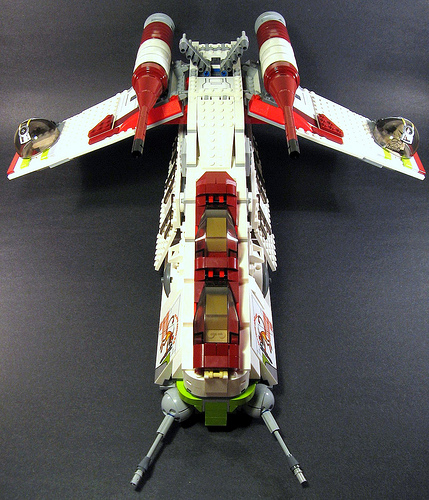 At long last, 7676 Republic Attack Gunship, we meet on the FBTB review battlefield. Nearly two years ago you came into my life, and I teased and flirted with this review. But no more! A gauntlet was thrown down by my benevolent taskmaster, and I must finally (finally!) step up. Are you awesome, or are you not awesome?

First, a little bit of history. When I first found FBTB back in 2003, I had just gotten into Lego via the Star Wars line and was overjoyed to find a community revolving around the product I was diving into again after a typical dark age. Not long after I started to post on the forum, I made my first online purchase ever in a deal with a member here. The set? 7163 Republic Gunship.
The RGS was the largest Lego model I owned for at least two years after I started into the hobby. I loved it. I took pictures of it, I swooshed it, modified it, had adventures with it. I cuddled with Jedi Jimmy. Some of my earliest MOCs utilized many of the gunship's pieces. 7163 is a very special part of my history as an AFOL.
How could 7676 Republic Attack Gunship possibly live up to the legacy left by it's predecessor?
Build Quality and Play Features: I vaguely remember the original gunship having some stability issues. That may have been what prompted my original mods to it. Ancient history. 7676 RAS is a solid hunk of fantastic plastic, although the wings flop a little more than I'd like, particular since we're dealing with the second generation of click hinges that have greatly reduced clutch power. That one complaint aside, this build is amazing. There are great building techniques which have so many applications in other creations.
Take this for example. We now use this trick with the hinge and cheese to add greater poseability and expression to minilanders in Legoland scenes.
There's so much going on in this set! I love the enclosed bubble gunner stations, the stowaway bacta tank, that control station La-Z-Boy, the secret hatches and speeder bike (with ramp! Yes!) This is what I really love about larger Lego sets in general: more room for play features and fun stuff stashed away in every nook and cranny, like the 4840 The Burrow, which we'll be posting a review of soon.
Swoosh Factor: Unless you fly upside down (and thus suffer from floppy wing problems) this thing is a swoosher's dream come true. Especially if you've been lifting weights lately. You puny basement-dwellers might have some problems.
Accuracy: Twi'Lek stormtrooper sticker. 'Nuff said.
Minifigs: This was the first set I owned that had Clone Wars minifigs. The new style was jarring to me at the time, and although they still don't mesh well with my other Lego figures, I've come to appreciate the CW figures for what they are. Asajj Ventress is hands-down one of my favorite minifigs ever, complemented by her unique skirt, lightsabers, and wicked head paint job. New Plo Koon, Obi, and trusty clonetroopers round out the super friends team. The original gunship may have had more figures (Jedi Jimmy! 4 clones! Droideka! 2 super battle droids!!) but I think the quality of the figures in the new set is much higher.
Value: In 2002 the original 7163 gunship was $90. In 2008, you could buy the 7676 edition for $130 USD. Today, you'd be paying at minimum $200 USD. At 693 and 1034 pieces for the old and new versions, respectively, the new gunship is a slightly better value! It's over the Golden Ratio, but this might be the last review you ever read from me referencing that ancient religion. Do I get $130 worth of value out of this set in parts, minifigs, fun design, play features, and running-around-the-house swooshing? Absolutely.
This review is likely 2 years too late to convince you to buy this set. I'm sorry. Every kid, MOC builder, and collector needs this kit. With my highest review score yet, 7676 Republic Attack Gunship easily assumes the throne of 7163 RGS and leaves it's own lasting mark on the Lego Star Wars line.
Build Quality: 10/10
Accuracy
: 10/10
Swoosh Factor: 9/10
Play Features: 10/10
Minifigs: 9/10
Value: 10/10
Reviewer's Tilt: 10/10
Final Score (Average): 9.7
images used in this review
(warning: hi res)