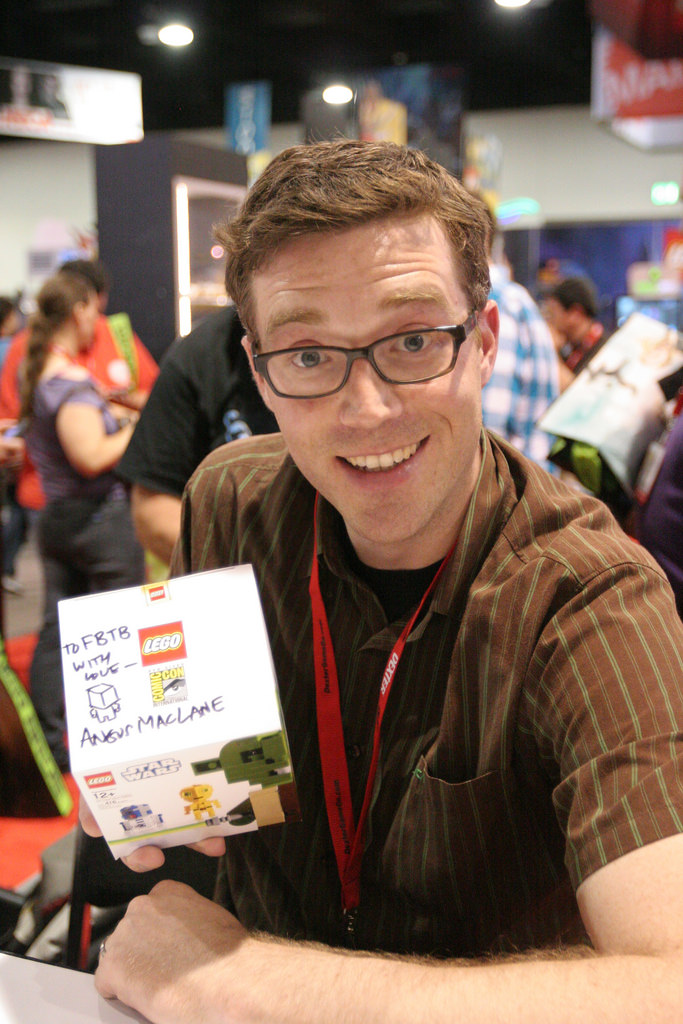 The San Diego Comic Con came and went and I had a blast this year, more so than any other time I've gone. This year, 2010, marks the fourth year that LEGO has had a presence at the Con and it just keeps getting better and better.
I got to meet the father of the Cube Dude movement, Angus MacLane, and got him to sign an exclusive with a special message.
Greg Hyland was also there doing sketches and signing autographs. He was there for three days staying past his allotted time slot making sure each everyone who was in line got a sketch and an autographed print:
In addition to the exclusive, LEGO was selling Star Wars and Toy Story sets except for the summer wave, so if you needed a fix for some brick you needn't travel far. It was surprising to see they had stacks of the LEGO Harry Potter game available:
Finally, LEGO was giving away one of these bad boys:
A nicely framed trio of the original Boba Fett figure: a white one, a 14 karat gold one, and a solid sterling silver one. The gold and silver ones are limited 1 of 2, the other of which will be given away at Star Wars Celebration. Sadly, I don't think I won.
I met a lot of cool people who were fans of the site; even ran into Mos_Eisley from our forums doing his duty of helping out fellow members by not only picking up the exclusive set, but also getting them signed by Angus. All that being said, the greatest con moment was arranging a meeting between our very own Chief and the inspiration behind his 'net persona: Aaron Douglas a.k.a. Chief Tyrol from Battlestar Galactica:
Just Epic.
If you're interested in some of the other sights of the con, take a look at my flickr set.
Another year, another con in the books. Can't wait for next year.