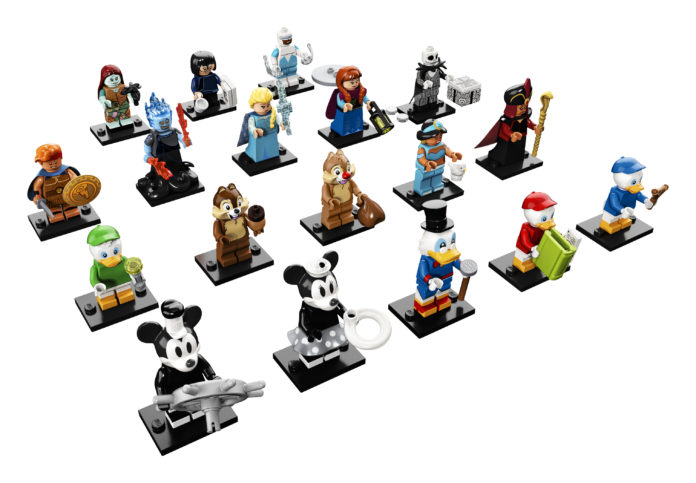 And in more Disney news, we've been given the green light to finally reveal series 2 of the Disney Collectible Minifigures. There was no PDF file included with the assets so details other than full color pictures are scant. The email did contain the cast of characters though, and here they are:
Disney classics including:Â  Vintage Mickey, Vintage Minnie, Scrooge McDuck, Huey, Dewey, Louie, Chip and Dale
Disney movie favorites: Jasmine and Jafar from the Aladdin™, Anna and Elsa from Frozen™, Jack Skellington and Sally from The Nightmare Before Christmas™, Edna Mode and Frozone from The Incredibles, and Hercules and Hades from Hercules™
Some observations:
Vintage Mickey and Vintage Minnie look nearly identical to the ones included in 21317 Steamboat Willie. The pants print on Mickey looks lighter here, and the flower on Minnie's hat seems lighter as well but that may just be a photo issue than an actual difference in print. Even if they are different, Steamboat Willie just became a lot easier to not buy if you're just into the figs.
Edna Mode here is superior to the promotional one that came with the LEGO The Incredibles II game. The glasses are molded onto the hair, and the eye print is printed on the glasses. She has a double-sided head with two different mouth expressions, which begs the question of the head element has eyes printed on there or if it's just a flesh-colored head with two mouth prints.
When did short legs become bendable? Dewey's leg is bent but that may just be for packaging purposes, but still….
Choosing Hercules and Hades seems a bit out of left field. Out of all of the "Disney move favorites", these guys made the cut? Nothing against Hercules, but it doesn't rank all that highly on the list of Disney favorites.
Despite the weirdness of the previous bullet point, I can see future Disney Collectible Minifigures series totally becoming a thing, and I'm totally okay with that. Bring on Snow White and the Seven Dwarves, minifig versions of all the princesses, Big Hero 6, Zootopia, and the list goes on, and on, and on….
My pick for best figure? Without a doubt it would have to be Jack Skellington.
These minifigs will be available officially starting on May 1st and will cost $3.99 per pack.
Full gallery of images below: