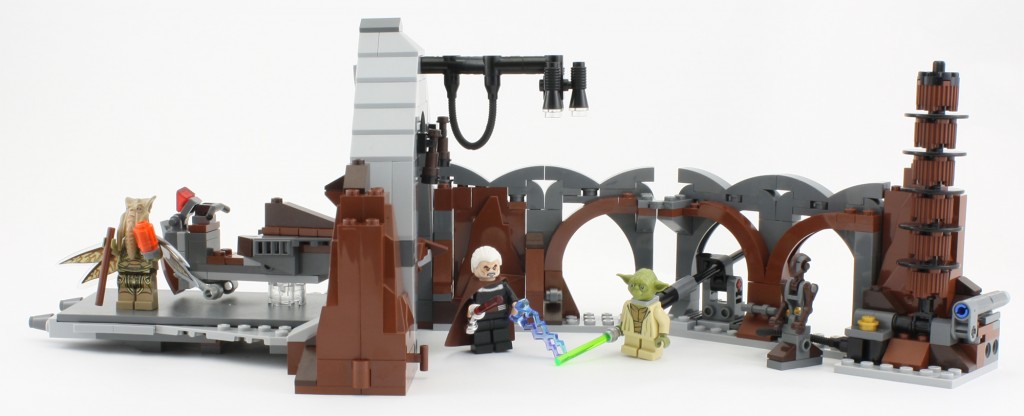 I have a bit of a history of tearing into Episode I, something which it still richly deserves. Recently, I decided to give all six movies a run-through, from start to finish. There was a momentary break between Episode II and III for me to sleep off a pretty massive "headache" (let's just call it a side-effect of the process of fortifying myself for six hours of Jar-Jar). Once the screaming inside my skull stopped, I produced a pretty amazing realization: Episode I isn't the worst Star Wars film… Episode II is.
Episode I is the "Star Trek V: The Final Frontier" bad. It was a bad film, it had some bad characters, it didn't properly use the actors that were in it, and it had all kinds of dumb references. But there was an actual conflict in the movie. There was an invasion of a world, there were actual ramifications to what happened, and people actually died. And I'm pretty sure there was a Gungan fan dance in there somewhere.
Episode II is more like The Motion Picture, which was just terrible on all levels. The Clone Wars had no risk to anyone except to a few small groups (the Jedi, politicians, Geonosians that got cut to pieces). It was robots vs. clones, two groups that only existed to fight each other. Beyond that, as stupid as I thought midichlorians was, the whole "truly wonderful, the mind of a child" is absolutely worse. Midichlorians was bad because it tried to explain away something that didn't need to be explained. That whole missing planet thing was horrible because it revealed that the Jedi are basically dumber than a poorly-watered potted plant. What, the planet isn't in the archive? Maaaaaybe someone erased it. I get that they were trying to paint the Jedi as overconfident or oblivious or something, but come on.
What? Oh, you want to know about the set? This was actually the set in the entire lineup, when I first saw it, that had me most excited. A new Yoda, finally, a proper Christopher Lee, and an update to a very underrated set from the original Episode II set, what's not to like? Dooku had almost as long of a "yellow or Clone Wars" run as Padme did, with no real updates despite many opportunities to do so. And his Clone Wars figure was particularly bad, so I was excited to see him. The time was obviously right, given that the head was already done for the Lord of the Rings stuff.
At $40, this set isn't cheap, but it's hard to not ooh and ahh at some of the pieces just at your first glance. Brown round grill bricks? Lots of arches? Poggle the Lesser (seriously, what did you do to get that name)? You can be forgiven for not noticing that this set isn't just a remake of Dooku's speeder… it's also "inspired" by one of the worst Star Wars LEGO sets ever made…