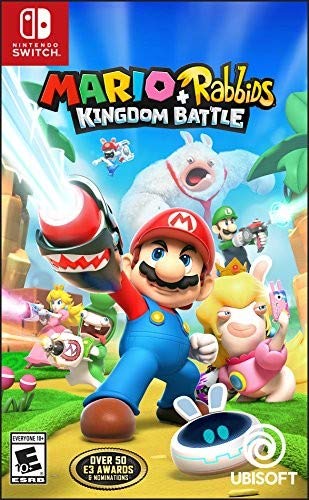 Mario + Rabbids Kingdom Battle is one of the most highly rated games for the Nintendo Switch. This is one of those games that was a true labor of love. How do I know? The game's creator, Davide Soliani, was memed as Crying Ubisoft Man at E3 2017. You can see the pure joy, the pride, relief, and sense of accomplishment on this man's face as the game was revealed.
DON'T CRY UBISOFT MAN pic.twitter.com/UtzJa2WUfW

— MSZ-006 Kyou (@ningiou) June 12, 2017
I read this story about the origins of Mario + Rabbids Kingdom Battle a long time ago, and it's stuck with me ever since. I LOVE stories like this. You can watch the reveal with the actual moment captured in the meme right here in the Ubisoft E3 Mario + Rabbids presentation.
You too can own this great turn-based tactical RPG game for cheap. It's on sale for just $19.99 over at Amazon. The price is for a physical copy of the game. Digital will still tap you for full MSRP so make sure you have the correct version selected. There is also a Season Pass for $19.99. Together that's a full game + DLC for less than the original cost.