Even though today's polybag, 30406 Unikitty Roller Coaster Wagon, says "Roller Coaster Wagon" on it, it doesn't actually contain the roller coaster car you'd think it would contain. I'm talking about this piece, image courtesy of Bricklink:
It's not like they were released at different times either. Both the Unikitty theme and the roller coaster car element were released in the same year, 2018. In fact, the Unikitty theme had a roller coaster set that had two of these in them, 41456 Unikingdom Fairground Fun. So given all that, I don't think it's unreasonable to think that a polybag that has "Roller Coaster Wagon" would actually contain a wagon. In fact, I don't think it's unreasonable to think that one would want to get a couple more wagons to make a longer wagon train to augment the one in the set, or even get some new colored cars for the bigger coaster set, 10261 Roller Coaster (which also came out the same year).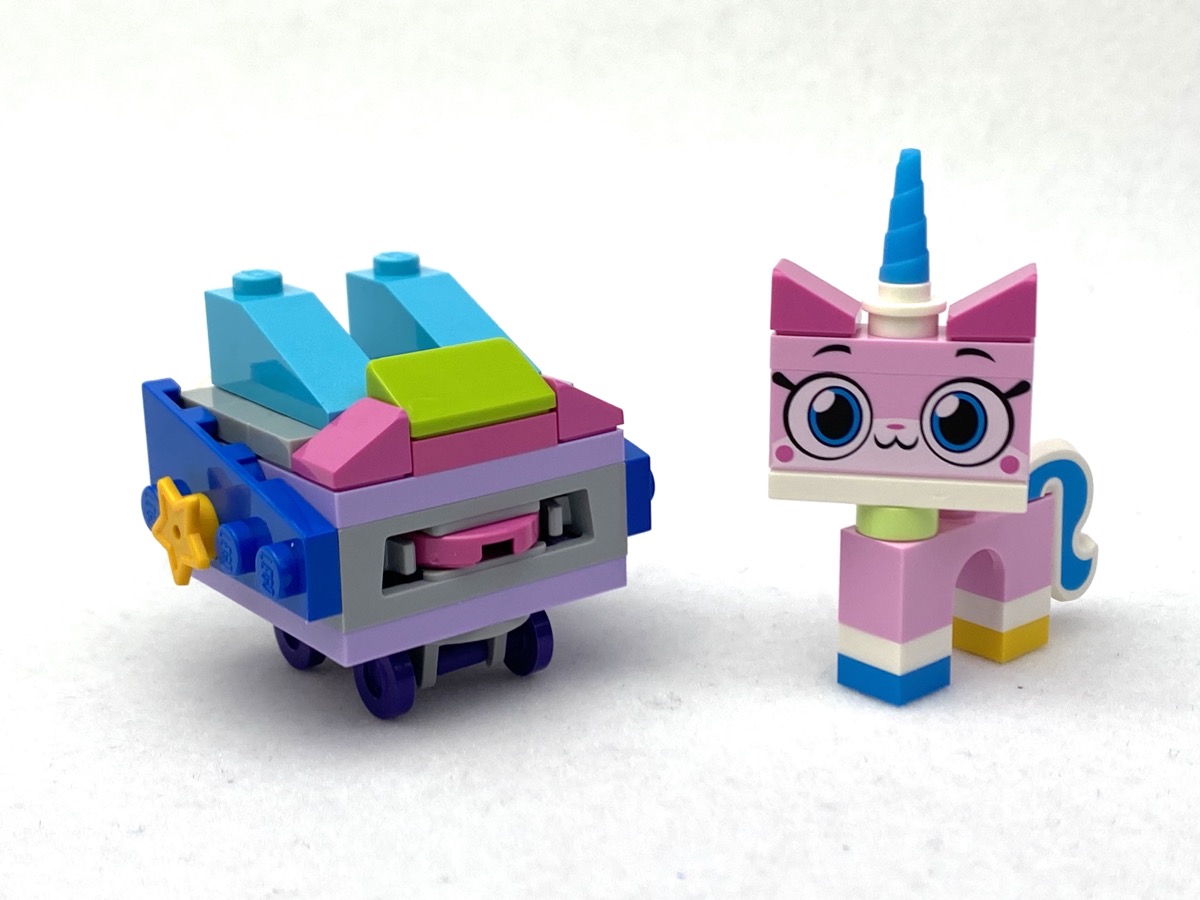 But no, instead you build a brick-built coaster car that also… launches 2×2 tiles. They're both 4-studs wide so it's not like the car could have been used as the base, but whatever. I'll stop beating a dead horse.
There's a plunger in the back to activate the launching mechanism.
Unikitty doesn't actually attach to the car. There's a set of jumper plates that two 1×3 slopes mount on, providing a space in between for Unikitty to slot into. The front of the car has a wedge plate to stop Unikitty from sliding forward but no such thing in the back so she's very prone to sliding off at just even the slightest movement of the car.
Given the tile launcher and the plunger, I can understand maybe why they didn't go with the standard car. You wouldn't be able to attach it to an existing coaster train as doing so would impede on the tile-launching play feature. But then I don't think LEGO should have had "Roller Coaster Wagon" in the name. This polybag might be based on some event in the cartoon, but then they should have just used the actual car element.
One other note about this set is that all of the instruction's steps are to build the car. There are no steps to build Unikitty. I get that she is the minifig equivalent for this theme, and there aren't instructions to build minifigs (unless there are some extra accessories that need to be attached), but Unikitty's a bit more complicated than a minifig. I just found it funny that step 0 was build Unikitty and steps 1 through 11 were for the car.
Does It Suck or Does It Rock?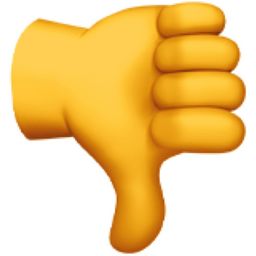 This set sucks! There's absolutely no reason anyone would want this set. Well, maybe if someone wanted a Unikitty minifigure but didn't want to buy any other set or any of the blind bags to get one. The version of Unikitty you get is not unique to the polybag, and the "roller coaster car" is not an actual roller coaster car element. That last point is a bit irksome because it almost feels like false advertising. This would have been a great way to get some extra cars for the various roller coaster sets that were released that year but no, you have to build some weird little car instead.
Sponsorship
There's no sponsor this week, and with sponsorships lasting a whole week, you can get plenty of exposure for mere pennies. Pennies I say! Want to sponsor a review? Send me a message to admin@fbtb.net or hit me up on discord of the polybag set you have that you want me to review. If selected, in exchange for the set you'll get a mention right here in the review post and a link to your website or social media account or just about anything else.. Nearly free advertising, so what's stopping you?
You Can Win This And Every Other Polybag I Review This Year
I'll be raffling every polybag I review this year in one big lot, all 260 sets (with the possibility of more). Each set will be individually stored in a ziploc baggie complete with the extra pieces, instructions, and the actual polybag bag it came in. The cost of a raffle ticket is just $1 USD and you can enter as many times as you want. Send a PayPal payment to paypal@fbtb.net for $1 USD for every ticket you want to purchase. DO NOT send one payment for multiple entries i.e. do not send one $5 USD payment for five tickets; five $1 USD payments must be made instead. Raffle is open to everyone in the world except where raffles are illegal. Be sure to put "POLYBAG RAFFLE" in the notes section of the payment in order to be entered successfully. Winner will be drawn sometime early January 2023 and contacted at the PayPal email address the payment was sent from to arrange for delivery. For a running list of all the sets that you can win, check this Google spreadsheet.