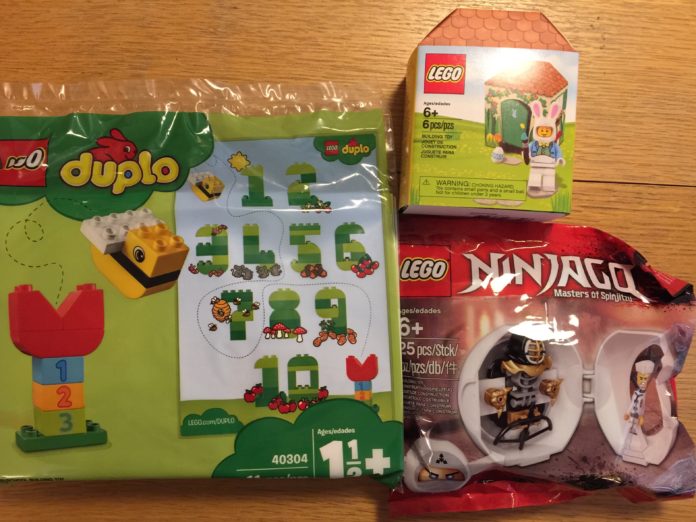 I had some packages by the front door and one of them was from LEGO Shop@Home that had all of March's GWP sets. Let's break them down:
Zane Training Pod
This one is free any purchase of $35 or more and is valid from March 1-15 while supplies last. I cracked open the Kai one I got from TRU and I honestly think these are great for kids. These pods are small enough to carry a minifig and some accessories in a compact case for to keep them busy during extended road trips or destinations that would be boring to them. Like dinner out.
DUPLO Learning Number
This one's free with a $25 purchase of DUPLO sets and good from March 5-31 while supplies last. There are lots of ways you can engage your kids with this one and its free!
Easter Bunny Hut
These little boxes that (usually) feature a collectible minifig are okay. The two that I remember are the chicken suit guy and the gingerbread man. Chicken suit guy, I think, was just a re-release of the original CMF, but the gingerbread man was a different color which I am totally okay with. This Easter Bunny dude seems is, I'm pretty sure, unique because I don't ever recall seeing a bucktoothed minifig head before. I can dig it. The only thing that bugs are those cardboard packages. Are we supposed to keep them? Can we throw them away? Are they part of the set? I get small does of anxiety just thinking about it.
The Easter Bunny Hut is available starting March 16th through March 31st while supplies last and is free with any purchase of $35 or more.
Zane and Bunny Hut don't overlap, but the DUPLO one overlaps both in case you were wondering.
Take advantage of these deals at LEGO Shop@Home.