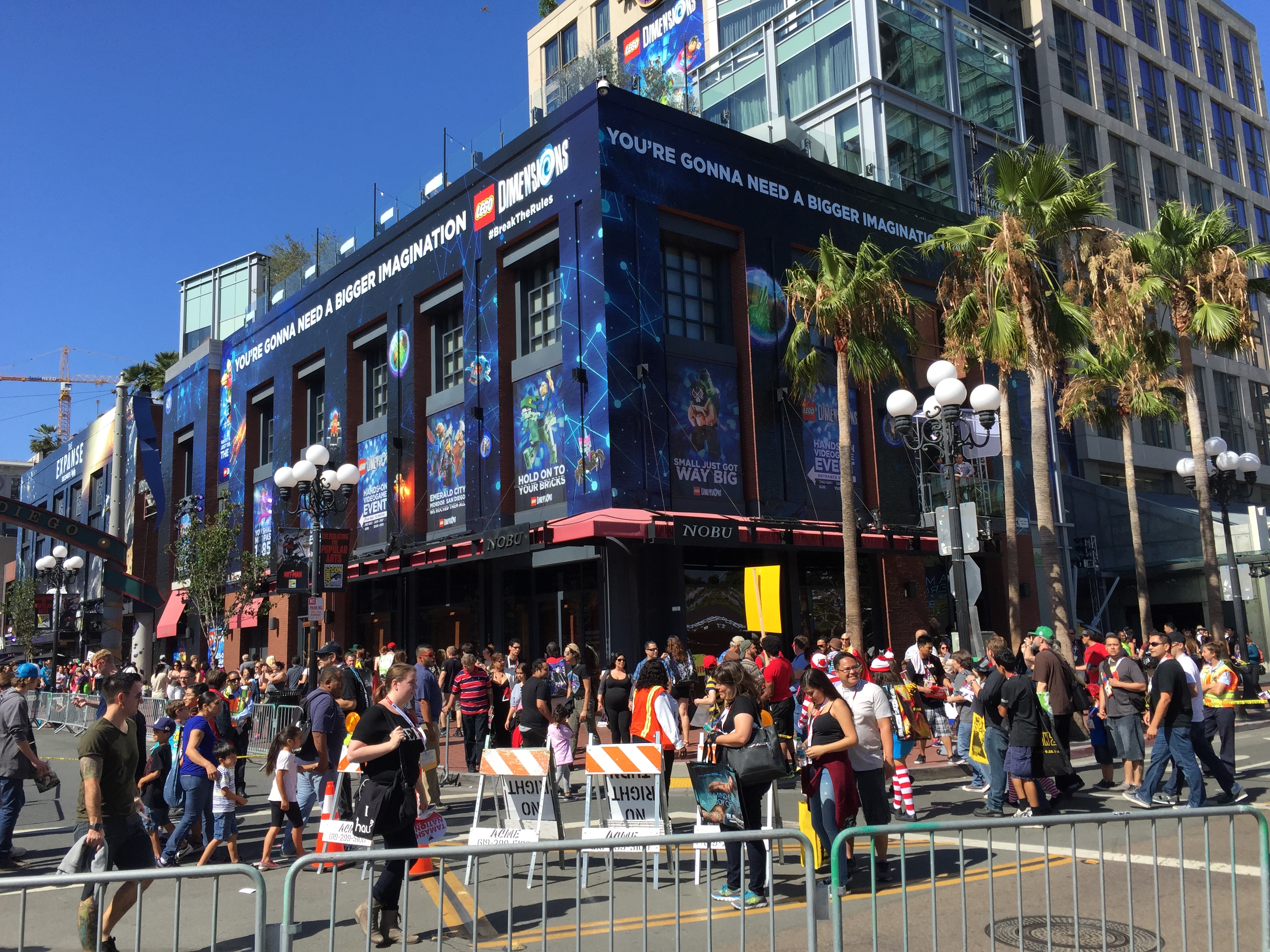 I can't believe it. The last day of Comic Con is finally here! Looking for LEGO related stuff to do? Lots of panels today, so here's what's going on:
7:00am – LEGO Retail Exclusive Ticket Distribution
Upstairs in the Sails Pavilion
It's the same process as the other days. Today's loot are the sets that were not picked up the previous days, so theoretically you could have your choice of any of the three sets. There's one small twist. I heard one of the employees in the LEGO booth tell an attendee that 100 of each of the three sets were purposefully held back for Sunday's drawings. So if you were unlucky and missed out one of the sets then Sunday is your best chance to fill the hole in your collection.
Also, there is no 12:30 giveaway today.
10:00am to 2:00pm – LEGO Dimensions Hands-On Demo
Legends Ballroom, Hard Rock Hotel
The Scooby-Doo photo op is also occurring all day today.
11:15am to 12:15pm – World Premiere of LEGO DC Comics Super Heroes: Justice League: Attack of the Legion of Doom
Room 6BCF
Crime is on the run as the newly formed Justice League keeps Metropolis safe, and this makes evil genius Lex Luthor very unhappy. Together with Black Manta, Sinestro, and a gang of ruthless recruits, Lex builds his own league and declares them the Legion of Doom. With this super-powered team of terror and a plan to attack the top-secret government site Area 52, can Lex finally be on the verge of victory? The bricks are gonna fly when Superman, Batman, Wonder Woman and the rest of the Justice League face off against the world's greatest supervillains. Catch the premiere, and then enjoy an entertaining panel led by actors Troy Baker (Batman: Assault on Arkham), Josh Keaton (Green Lantern: The Animated Series), and Khary Payton (Teen Titans Go!), producer Brandon Vietti (Batman: Under the Red Hood), director Rick Morales (Beware the Batman), and writer Jim Krieg (Green Lantern: The Animated Series). As always, surprise guests might pop up, and there will definitely be exclusive prizes for some lucky fans. LEGO DC Super Heroes Justice League: Attack of the Legion of Doom will be released August 25, 2015 via Warner Bros. Home Entertainment on Blu-ray Combo Pack, DVD, and Digital HD.
1:00pm to 2:00pm – LEGO Ninjago
Room 7AB
The LEGO Ninjago team returns to discuss the Ninjago TV series and product line. Tommy Andreasen (senior creative manager, The LEGO Group), Dan Hageman (writer, Ninjago TV series), Kevin Hageman (writer, Ninjago TV series), Keith Malone (content development director, The LEGO Group) Simon Lucas (creative lead, LEGO Ninjago), and Maarten Simons (senior designer, LEGO Ninjago) discuss developments in the world of Ninjago, offer sneak peeks and host a Q&A session, moderated by Brian Bowler (marketing director, The LEGO Group).
2:45pm to 3:45pm – LEGO Marvel Super Heroes
Room 5AB
Get an exclusive, inside look at the development process of recently released LEGO Marvel Super Heroes products, special LEGO Marvel Super Heroes animated content, and the upcoming LEGO Marvel Super Heroes console video game with Marcos Bessa (senior designer, The LEGO Group), Adam Corbally (senior graphic designer, The LEGO Group), Jason Cosler (senior manager content development, The LEGO Group), Cort Lane (VP animation development and partnerships, Marvel), Mike Jones (executive producer, Marvel), and Arthur Parsons (game director, TT Games). Discover how the toys, animated content, and video game come to life with the teams behind their development. Moderated by Brian Bowler (marketing director, The LEGO Group).