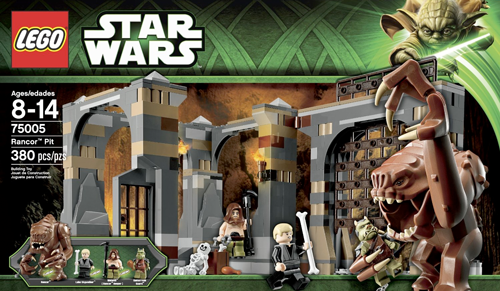 The headline may not sound like much, but bear with me. If your shopping cart reaches $100 or more, you will save an additional 20% off of LEGO items, even items that are already on sale and discounted. Example: I added 3x 75005 Rancor Pit to my cart. Each set is priced on sale for $38.95 and my cart total is $116.85 before any tax. After the 20% discount, the total drops down to $93.48 bringing the price per set down to $31.16. I use my REDCard to save an additional 5%, bringing the cart total down to $88.81, or just $29.60 per set!
You'll notice that after Amazon's crazy Cyber Monday prices, a lot of the more popular items are out of stock and now being offered by third party resellers. Target still has a lot of good stuff available and on sale across a variety of themes so click around and you might find something worth getting. aa
There is one small catch with their promotion: the larger sets such as the 10188 Death Star, 10937 Arkham Asylum, 10232 Palace Cinema, etc., seem to be excluded from the 20% off sale even though I cannot seem to locate any sort of exclusion list. Here's the exact text:
Offer Available Online Only. Save 20% when you spend $100 on qualifying LEGO items. Quantities limited. Discount applied at checkout. May not be applied to previous orders. Clearance items excluded. Offer expires 12/3/2013 at 11:59pm PT.
Still, a good sale. Sale ends tonight at midnight Pacific.