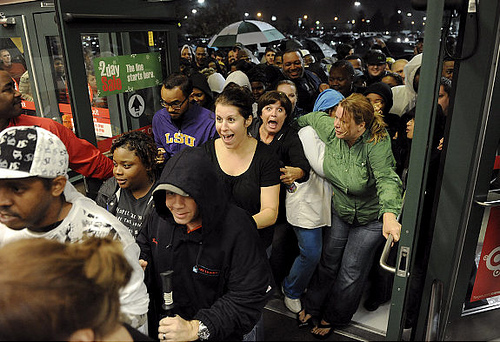 Update 2: Updated Toys'R'Us; added Barnes and Noble, Kmart
Update: Added Toys'R'Us, Meijer, Overstock
Just like last year, I'll be compiling all of the Black Friday deal that mentions LEGO into one post. Forum member ufjason already started a thread about it and from the looks of it, there aren't any wallet-breaking deals that are worth going after. I'll be updating this list as more ads come in so keep an eye out.
Barnes and Noble
Printable coupon for in-store use. Use code T9P3E3W online. Valid through Sunday November 25
Kmart
Friday Doorbuster deal good from 5am to 11am: BOGO 50% LEGO City, Monster Fighters, and Hero Factory
Deals will start at 12:00am Friday Easter/9pm Thursday Pacific
· 10% off all orders of $149 or more
· Free Limited Edition Holiday set with orders of $99 or more.
· FREE Shipping on all orders of $49 or more.
· All offers Valid: Nov 23rd – 26th
· Offers Combinable – No Code Required
Starting November 26th, the free shipping threshold will be $99 and will continue until December 18th. Also, prices should be good in store as well should you be crazy enough to brave a mall on that day.
Meijer
Doors open Friday 6am
Overstock.com
Lord of the Rings 9472 Attack on Weathertop $47.99
Target
Doors open on Thursday at 9pm.
4184 Black Pearl $75
Duplo deluxe motorized train $75
Toys'R'Us
Doors open on Thursday at 8pm.
Unsure if the deals are only for those pictured, or for all LEGO, but my money's on just the ones that are pictures. My money's not on them literally, because, after their markup and the discount, it's only like… 23% off. Maybe less. Thanks to ufjason for doing the math.
Doorbuster Deals for Thursday 8pm to Midnight: BOGO 50% off regular-priced LEGO Star Wars. Beware of their holiday markup which would affect potential savings.
Walmart
Doors open on Thursday at 8pm.
Duplo 5748 (86pcs) and Creator 5749 (650pcs) cardboard buckets for 14.99