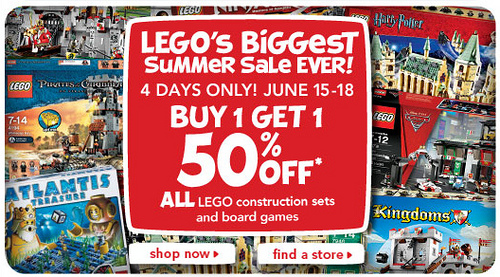 TRU online and in store is having a BOGO 50% off sale for the next 4 days, June 15 through June 18. Free shipping applies to orders $100 or more. Also, there's an in-store offer of a free LEGO Creator 30022 MINI Lighthouse set with your LEGO purchase of $30 or more.
The ad, shown above, has an asterisk next to the text so some restrictions may apply, but it is not detailed on the online version of the ad. So far, the BOGO discount applies to LEGO Star Wars items as well. Just be aware of the TRU's markup over MSRP as that will cut into any potential savings. Still, aside from the Death Star Set, the rest of the big guns are showing up as in stock such as 10215 Obi-wan's Jedi Starfighter, 10198 Tantive IV, and 10212 Imperial Shuttle.
It's a shame we're no longer part of their affiliate program.