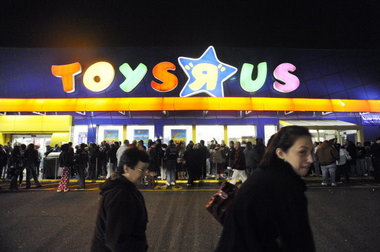 And so it begins… It was my original intention to post this on Wednesday before Thanksgiving, but this year I decided to post on Monday so that everyone can devise a tactical plan for Black Friday. I'll probably repost this on Wednesday with any last minute changes. Kind of ho-hum deals this year, nothing beats the LEGO Star Wars deals from years past. Hopefully, some of you will find this information useful. Good luck and be safe!
K-mart
BOGO 50% off on LEGO Atlantis, City and World Racers. Discount applied to item of equal or lesser value.
LEGO Brand Retail
LEGO Brand Retail locations will be handing out scratch'n'save cards where your discount can be anywhere between 10% to 50% off your purchase. Thanks combattank.
LEGO Shop@Home
All Weekend:
Free shipping on orders of $49 or more.
10% off on orders of $149 or more.
Friday:
Saturday:
Sunday:
Monday:
Meijer
BOGO 50% off on all Star Wars, City, Atlantis, World Racers, Harry Potter sets. (Thanks Drock)
StarWarsShop.com
25% off all in stock items. No coupon code necessary, discount is automatically applied at checkout.
FREE Peek-a-boo Princess Leia pen with every order.
Offer ends November 29th.
Target
Space Police 5974 Galactic Enforcer will be on sale for $64.99.
Castle 7097 Troll Mountain Fortress will be on sale for $64.99.
LEGO Batman for Nintendo DS will be $7.00.
LEGO Battles for Nintendo DS will be $7.00.
LEGO Harry Potter for Nintendo Wii will be $27.00.
LEGO Star Wars Minifigure Alarm Clock for $19.99.
Toys'R'Us
Doors open 10pm Thursday. Doorbuster deals on LEGO are good Friday 5am to 1pm.
Lego Alarm Clock or AM/FM Radio – $9.99
LEGO City 7743 Police Command Center – 30% Off
LEGO Creator Family Home (6754) – 30% Off
LEGO Duplo LEGOVille Fire Station (5601) – 30% Off
LEGO Play and Build Remote for Nintendo Wii – 30% Off
LEGO Power Miners Titanium Command Rig (8964) – 30% Off
Selected Lego Construction Sets – 33% off. Discount applies to LEGO Atlantis 8061 Gateway of the Squid, LEGO Space Police 5973 Hyperspeed Pursuit, and LEGO City 7642 Garage. Be wary of TRU markup over MSRP on these sets as it will affect the potential discount. Sale prices on these sets are good Thursday 10pm through Friday 1pm.
Walmart
LEGO 6166 Large Brick Box for $15.00. Pathetic.