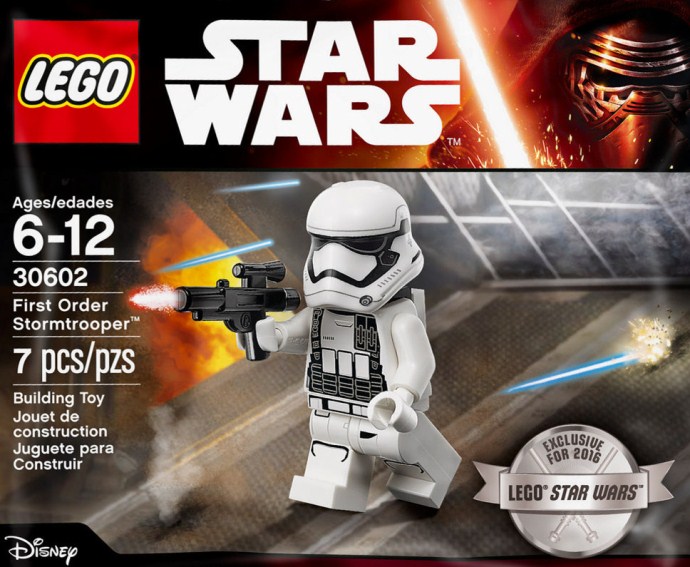 LEGO sent over the details for its May the Fourth sale. Here's everything you need to know.
Right off the bat I'll say that this year's sale is way better than last year's offerings. There is a blanket 20% discount on just about every non-Falcon, non-UCS LEGO Star Wars item that is currently out on the market. Aside from the Falcon and UCS sets, there are a few odd exceptions to the sale like a couple of Battle Packs and maybe a microfighter or two but pretty much a lot of good stuff can be had at a decent discount. The full list of everything on sale is posted below.
Also for this weekend, LEGO is offering the following:
– Free shipping on all orders with no minimum.
– Free 30602 First Order Stormtrooper (pictured above) with your order of $50 or more of LEGO Star Wars products.
– Double VIP points on all LEGO Star Wars products.
– Free LEGO-fied Star Wars The Force Awakens poster with all LEGO Star Wars purchases.
In addition to the items on sale, the newest UCS set 75098 Assault on Hoth is supposed to go on sale starting May 1, but it may go on sale at the same as the start of the sale event, April 30th. I'll update this post once I get clarification.
All offers are good from April 30th through May 4th while supplies last at all LEGO Brand Retail Stores and online at LEGO Shop@Home.
LEGO Star Wars May The Fourth 2016 Sale List
Item name – US MSRP / US Sale Price / CA MSRP / CA Sale Price
Other Sale Items
If you've made it this far you should also know that there are additional non-Star Wars items going on sale during the same sale period, from April 30th through May 4th. The items on list, too, will see the same 20% discount applied and free shipping with no minimum, but unfortunately there are no other perks to this list. Here are the items on sale:
Item name – US MSRP / US Sale Price / CA MSRP / CA Sale Price