Here it is, the one you've been waiting for LEGO Star Wars…
STATUES!
Look at all those sweet statues!
Phasma is even built with pearl bricks!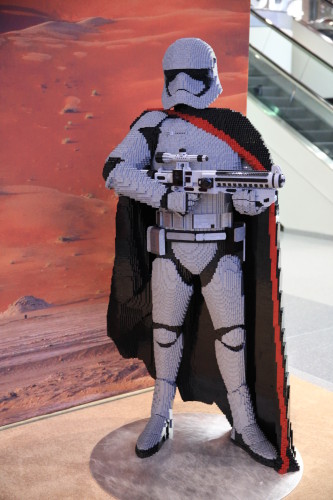 PEARL!
Alright, let's get on to the actual sets, if you're into that kind of thing.
Lots to cover in Star Wars and it seems there was a shipping issue and some figs were not present, so there are stand in figs for some sets. That's fine, nobody's in this for the figures anyway.
75145 Eclipse Fighter
363 pcs
$29.99 USD
Available in June
75146 Star Wars Advent Calendar 2016
282 pcs
$39.99 USD
Available in September
75147 Star Scavenger
558 pcs
$49.99 USD
Available in June
75148 Encounter on Jakku
530 pcs
$59.99 USD
Available in June
75149 Resistance X-wing Fighter
740 pcs
$79.99 USD
Available in June
75150 Darth Vader's TIE Advanced and A-wing Fighter
702 pcs
$89.99 USD
Available in June
75151 Clone Turbo Tank
903 pcs
$109.99 USD
Available in June
75157 Captain Rex's AT-TE Walker
972 pcs
$119.99 USD
Available in June
75134 Galactic Empire Battle Pack
109 pcs
$12.99 USD
Available in March
75133 Rebel Alliance Battle Pack
101 pcs
$12.99 USD
Available in March
75135 Obi-Wan's Jedi Interceptor
215 pcs
$24.99 USD
Available in March
75136 Droid Escape Pod
197 pcs
$24.99 USD
Available in March
75137 Carbon-Freezing Chamber
231 pcs
$24.99 USD
Available in March
75138 Hoth Attack
233 pcs
$24.99 USD
Available in March