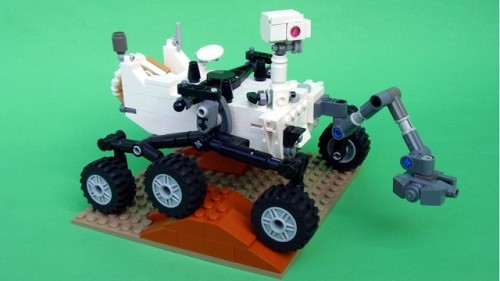 Moments ago, LEGO CUUSOO announced on their blog the results of their Fall 2012 review cycle, and the team has chosen the Perijove's Mars Science Laboratory Curiosity Rover as the winner! Everything is still pending including the final name, price, and purchase details but you can view the announcement video and full post (reposted) below.
Results of the Fall 2012 LEGO® Review

We're excited to share the results of the Fall LEGO® Review. In September, three LEGO CUUSOO projects entered the second quarterly review period for projects that successfully reach 10,000 supporters. These three projects—the Mars Science Laboratory Curiosity Rover, UCS Sandcrawler™, and Thinking with Portals!™—have been being considered for production by the LEGO Review Board.

21104 Mars Science Laboratory Curiosity Rover- pending final name confirmation

It is with great pleasure we reveal that the next LEGO CUUSOO set will be the Mars Science Laboratory Curiosity Rover, based upon the LEGO CUUSOO project by Perijove.

This project rose to popularity in late summer 2012, when the real Mars Curiosity Rover approached and landed on the planet Mars in its historic mission. The model designer, LEGO CUUSOO user Perijove is a Mechanical Engineer who worked on the actual Curiosity rover at NASA's Jet Propulsion Laboratory. Perijove writes that he built and submitted the rover to further the educational outreach of the Mars Curiosity rover's incredible mission, and to encourage greater public support for space exploration.

The final product is still in development. Exact pricing and availability is still being determined, so stay tuned for an update on when you can buy your own Mars Science Laboratory Curiosity Rover in the coming months.
As part of Fall 2012 cycle, there were two other sets up for review: UCS Sandcrawler, and Thinking with Portals.