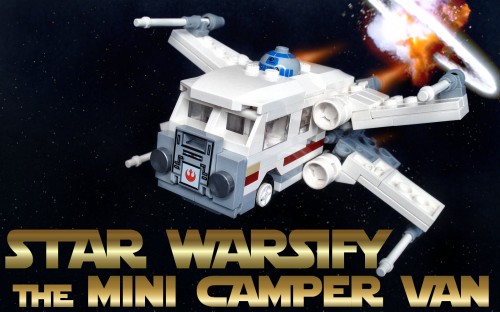 If you haven't ordered from Shop@Home to get yourself a Mini Camper Van set, or the regular Camper Van set, or don't have enough money to do either, then now is your chance to win one! LEGO Shop@Home is sponsoring this contest offering prizes of 5 copies of 40079 Mini Volkswagen T1 Camper Van and 1 grand prize of 10220 Volkswagen T1 Camper Van! All you have to do is Star Warsify the Mini Camper Van.
You may take as many liberties as you wish when adapting the Mini Camper Van, but it must be a prominent part of the model and instantly recognizable. You can download the scanned instruction sheet for the Mini Van to start. Piece substitution will almost be necessary as this piece in white only appeared once in a white in one very expensive set. Don used this piece instead.
Your final model must be in scale to the MINI Camper Van proportions. The model must be based on anything in the Star Wars universe that has appeared in any of the six movies and/or The Clone Wars cartoon series. Don turned it into an X-wing, but the skies the limit.
Entries for the contest will be accepted from now until 11:59 PST September 30, 2013. Take pics and post no more than 2 in the contest thread to enter. Voting will follow immediately after (and by immediately I mean probably a day or two after for us to set up the poll) and will last for 1 week. First place with the most votes will win 1 copy of 10220 Volkswagen T1 Camper Van and 1 copy of 40079 Mini Volkswagen T1 Camper Van. That's right, first place gets both! Second through fifth place will get 1 copy 40079 Mini Volkswagen T1 Camper Van.
This contest is only open to residents of US and Canada everyone.
Questions? Leave them in the contest thread and we'll answer as best we can.
Standard Contest Restrictions:
No more than one entry per person.
No modified parts or cut stickers.
No unofficial elements.
No pre-existing or virtual models.
No changes allowed after the deadline.
Submission Guidelines:
Simply post your submission photos in a reply to this thread before the deadline.
You must have a forum account to enter. Entries by proxy will be not be allowed.
Optional: include a link to a gallery or MOC Showcase post with more images.
Do not post non-entry photos to the contest thread unless you want to be disqualified.
You must use Flickr to host your entry pictures because we rely on the built in image resizing feature. If you do not have an account, you can sign up for free, or ask someone to upload it for you. Once uploaded you will need to embed the photo in the forum. To do so:
go to the flickr photo page for your image
click the Share button
click "Grab the HTML/BBCode" from that drop down menu
check the bubble next to "BBCode" (HTML will not work) and select "Medium" for the image size
copy the code from the box above and paste that into a reply here
do not add any more code tags
click Preview to verify that it worked, then Submit.
If it didn't work, PM Don.
Photography note: be sure to submit the best pictures possible. Color and contrast correction is recommended if necessary. The only other image enhancement allowed is replacing the background with either a solid color or simple gradient. Your photo cannot be altered in any other way. For example; no composite views, special effects, text, graphics, or scenery will be permitted. Remember, the contest is about the models – not your image manipulation prowess.