Out of all the things coming out on September 1st (HP (hopefully), Star Wars), 60271 Main Square from the CITY theme should be on the bottom of your hit list. In fact, it probably shouldn't even be on your list AT ALL. LEGO sent over an email promoting this seemingly overpriced CITY set. Why does it seem like it's overpriced? Well, for starters, it's $199.99. Most of the top end CITY sets that didn't include a train have never broken over $149.99 for the past couple of years. Take a look:
2019 60229 Rocket Assembly & Transport $149.99 1,055 pieces
2018 60200 Capital City $149.99 1,211 pieces
2017 60162 Jungle Air Drop Helicopter $149.99 1,250 pieces
2016 60125 Volcano Heavy-Lift Helicopter $149.99 1,277 pieces
2015 60097 City Square $189.99 1,683 pieces
2015 was an exception but it was justified by the piece count (kinda; the final build of that set is just as terrible as this year's Square set). That's just the last five years. I think that's enough of a baseline to make my point that this year's top-end set:
2020 60271 Main Square $199.99 1,517 pieces
seems overpriced. 2015's City Square is the most comparable because they look very similar and weigh in pretty closely when it comes to piece count. And speaking of pieces, looking at those sets, it seems that there was a downward trend when it came to how much you would get out of the box. So this year LEGO added about 500 more pieces and raised the price by $50.
Now I get that there's inflation and all and things can't always be the same price forever, but if you compare it to the Modular Building series' 10270 Bookshop: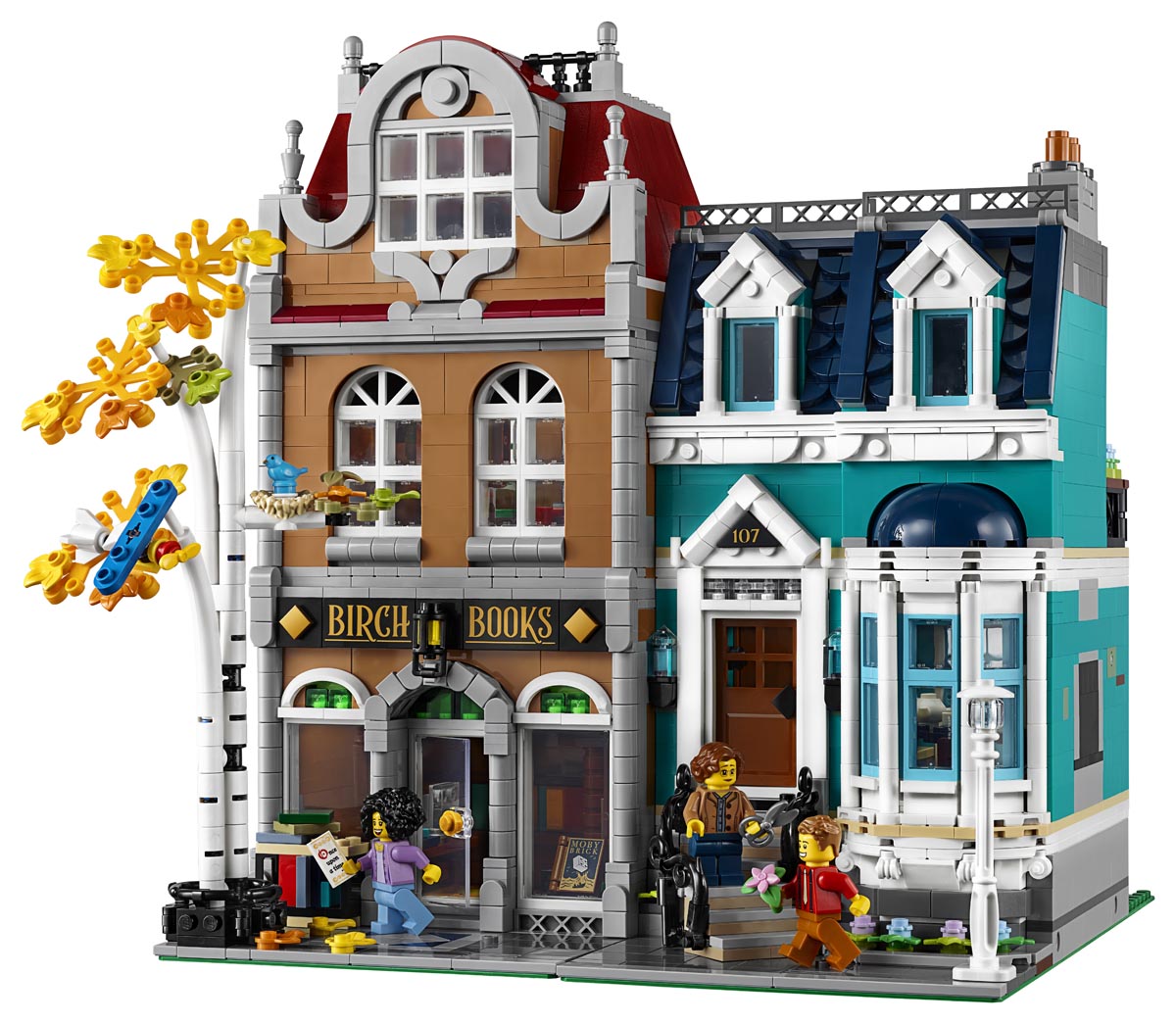 2020 10270 Bookshop $179.99 2,504 pieces
it really makes me wonder what the appeal would be for Main Square. Bookshop is $20 bucks cheaper comes with almost a thousand more pieces. You can take that $20 bucks and buy another set. Main Square looks like a bunch of $20 – $30 dollar sets crammed into a box. In fact, a lot of those top end sets from the past few years look like that, just a bunch of small builds.
It might be the age thing. This shouldn't come as a surprise, but LEGO has been charging more for less on sets targeted to younger age groups. The Junior sets with the gigantic 4+ on the front of the boxes are a prime example of that. The Main Square set has a suggested age of 6+ whereas the Bookshop is for 16+. So the older you get, the quality of the set goes up, and prices seem more reasonable? I can maybe understand that logic. Maybe.
But still that doesn't really justify why LEGO can't offer a really nice building for the top end CITY set that isn't a shell of a dollhouse-style building like their Fire Stations and Police Stations and Super Hero Headquarters. There seems to be this huge gap in design and quality between a building you can get from the CITY theme and something that actually looks like it belongs in a city from the Creator Expert Modular Building series. There's no middle ground. It's either a bunch of crappy small builds or a really nice, really big building with nothing in between.
Except 60125 Volcano Heavy-Lift Helicopter. I'll make an exception for that one because that big ol' chopper is pretty sweet.
tl;dr: 60271 Main Square is a rip off.