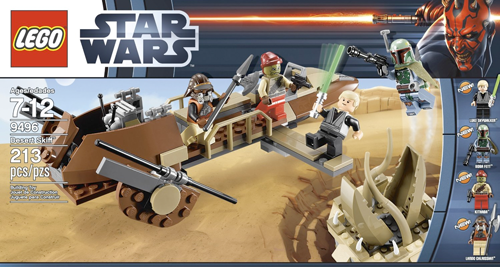 Today is one of those days where Amazon will offer Gold Box discounts on LEGO
every hour starting at 10am EST until 2pm EST. There are three licensed sets that are on the discount block: 9496 Desert Skiff, 79111 Constitution Train Chase, and 79010 The Goblin King Battle. These discounts are on top of their everyday low prices. Here is the schedule:
10:00am EST – LEGO Star Wars 9496 Desert Skiff
11:00pm EST – LEGO Chima Lennox Lion Attack 7002
12:00pm EST -LEGO Bricks and More DUPLO My First Build 4631
1:00pm EST – LEGO The Lone Ranger Constitution Train Chase
2:00pm EST – LEGO Chima Eris Eagle Interceptor
4:00pm EST – LEGO SpongeBob Bikini Bottom Undersea Party 3818
6:00pm EST – LEGO The Hobbit The Goblin King Battle
7:00pm EST – LEGO DUPLO Play with Letters 6051
Be fast with your mouse. Gold Box deals on LEGO tend to sell out in minutes. Good luck!