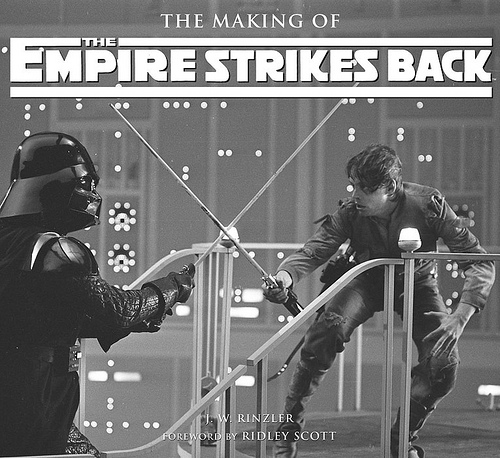 A few days ago, LucasBooks released The Making of Star Wars: The Empire Strikes Back by J.W. Rinzler with a forward by Ridley Scott. Normally, I'm not all THAT interested in the "making of" side of film making but this is Star Wars we're talking about. And a film from the OT to boot! Also, that L.A. Times article with Gary Kurtz? It's piqued my interest on what exactly went on behind the scenes during the filming of the greatest trilogy ever. StarWars.com did an article interviewing the author about the book. An excerpt:
It was always surprising that the bank just bailed. Bank of America just said, I'm sorry, we're out of here. I mean, they're two-thirds of the way through the movie and suddenly you have no financial backing with a million -dollar payroll to meet. I can't even imagine what that kind of pressure would have been like.
See? Interesting, right? I think so. You can buy the hardcover from Amazon.com
for $49.72 as of this writing. An autographed version also available through StarWarsShop.com
for $84.99. If you're like me and haven't picked up Rinzler's first book, The Making of Star Wars: The Definitive Story Behind the Original Film
, it, too, is available from Amazon.