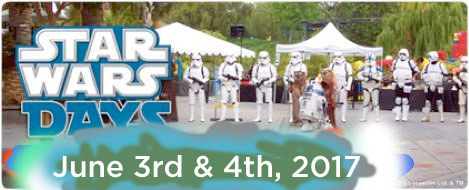 Registration is now open for Star Wars days! I'll be revealing the goody bags soon as soon as a few other items are confirmed but you should register yourself as soon as possible. We will be capping registrations once it gets too full so the sooner you're in, the better.
We are also announcing the themes! There are five different themes you can build towards:
Rogue One Vignettes
Build a scene from the latest movie on a square base of 16×16 studs with minimal overhang. These will be arranged chronologically to hopefully show off the whole movie in vig format, as we've done in previous years for other films.
A New Hope
2017 marks the 40th anniversary of the film that started it all. Build anything you'd like relating to episode 4 before it was episode 4. Vignettes, full scenes, starfighters, mosaics… everything is welcome.
Micro/Midis
Microfighters are those little ride-on ships Lego has come out with in recent years. Sort of chibi-fied looking with minifig pilots. Midi-scale is a nebulous size range that's bigger than micro-scale, but smaller than minifig scale. Check out official sets 8099 and 7778 for the general idea and this hangar scene by Sparkart from a few years ago.
Battle Beasts
We're bringing back this old project: Battle Tauntauns! But not just Tauntauns, any beasts (Wampas, Rancors, Dewbacks, etc). Think Dino-Riders meets Star Wars.
General Star Wars MOCs
Everything else that doesn't fit in those categories above is covered by this, but be sure it's related to Star Wars seeing as this is a Star Wars specific event.