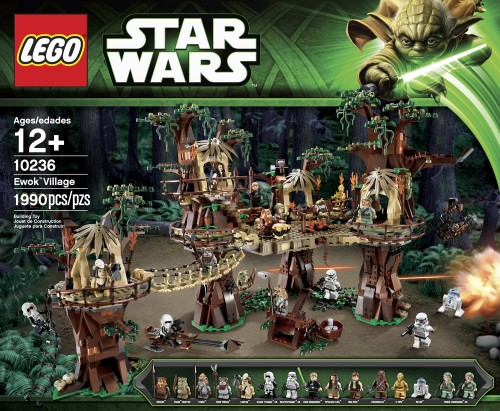 Revealed today at the Lipno Event in Czech Republic, LEGO is pulling the curtain back on their newest Shop@Home exclusive, 10236 Ewok Village.
In a nutshell, the set consists of 1,990 pieces and will set you back $249.99 US / $299.99 CA. Once you get over the sticker shock, you can check out the , the designer video, gallery of images and the official press release below. On sale date is set for September 2013.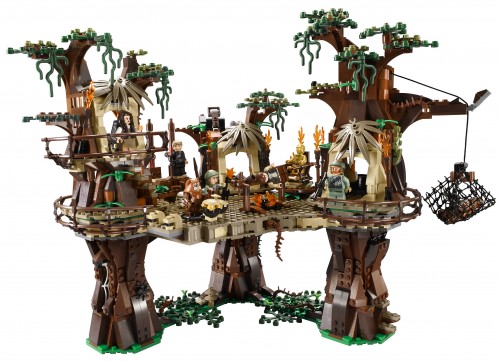 My initial impression? I think LEGO's hit it out of the park. For too long have we suffered mediocre set designs constrained by a price point. 10236 Ewok Village looks like they threw any consideration of budget out the window. With 16 minifigures, most of which are exclusive, this set is on par with 10188 Death Star in terms of depth and quality. The trees are suitably chunky and are loaded with play features. You can relive lots of scenes out of the movie since LEGO included a fair number of Imperial troopers. I think the only thing that's missing is 8038 Battle of Endor from store shelves to nicely complement this set. Oh, and more Ewoks. Should have come with more Ewoks.
You can get your hands on this set in September. September can't come fast enough for me.
10236 Ewokâ"¢ Village

Ages 12+. 1,990 pieces.

Recreate classic scenes at the Ewokâ"¢ Village!

US $249.99 CA $299.99 DE 249.99€ UK 199.99 £ DK 2,099.00 DKK

Travel to Endor™ and visit the treetop home of the Ewoks. Just like in Star Wars™: Episode VI Return of the Jedi, this recreation of the Ewoks' forest dwelling is packed with cool functions, including the tree-trunk hideout, secret Lightsaber stash, spider web, net traps, slide, catapults and an elevating throne. Use the rammer function to take out the Scout Trooper's speeder − just like in the movie! Realistic details include rope walkways, vine and leaf elements, kitchen, food storage area, bedroom and a planning room. The Ewok Village set is the perfect addition to your LEGO® Star Wars collection. Includes R2-D2™and 16 minifigures with weapons: Luke Skywalker™, Princess Leia™, Han Solo™, Chewbacca™, C-3PO™, 2 Rebel soldiers, 5 Ewoks™ (including Wicket™, Teebo™, Chief Chirpa™ and Logray™), 2 Scout Troopers and 2 Stormtroopers™

• Includes R2-D2™ and 16 minifigures: Luke Skywalker™, Princess Leia™, Han Solo™, Chewbacca™, C-3PO™, 2 Rebel soldiers, 5 Ewoks™, 2 Scout™ Troopers™ and 2 Stormtroopers™
• Features tree-trunk hideout and secret Lightsaber stash, spider web and net traps, slide, catapults, elevating throne, speeder rammer function, kitchen, food storage area, bedroom and a planning room. Speeder also included.
• Weapons include a Lightsaber, 3 blaster pistols, 2 blasters, 2 blaster rifles, 2 spears, bow and a crossbow and also includes 2 staffs
• Collect hard-to-find Endor Princess Leia, C-3PO, Luke, Han Solo and Wicket Ewok minifigures
• Measures over 1″ (35cm) high, 21″ (55cm) wide and 13″ (35cm) deep