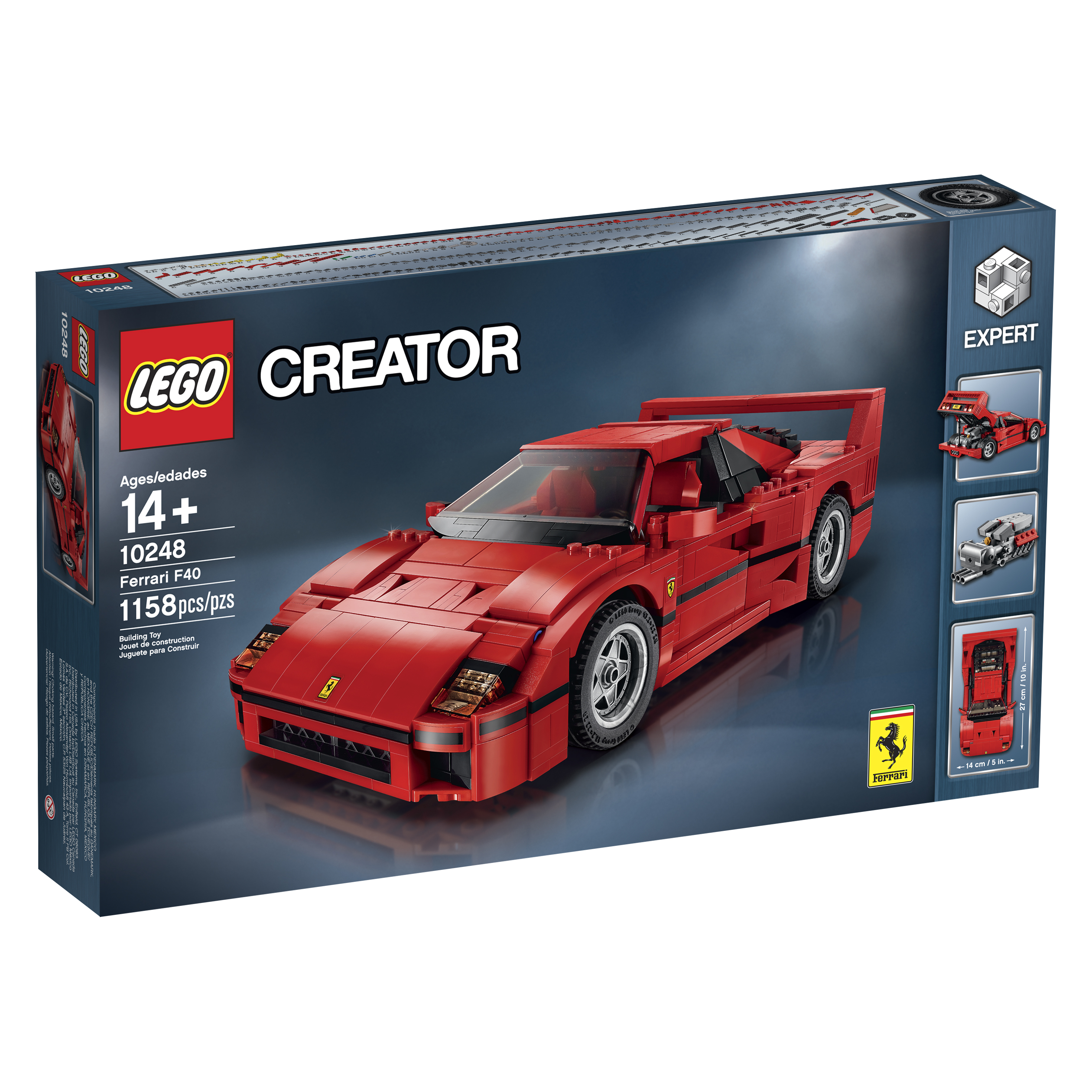 LEGO sent me the following assets to the newest addition to its Creator line: 10248 Ferrari F40. The F40 is one Ferrari's most iconic vehicles. It was the last model that Enzo Ferrari saw go into production before his death in 1988. Now, LEGO has immortalized the vehicle as a 1,158-piece Creator set which will be available starting in August. The set will cost USD 89.99 / EUR 89.99 / GBP 69.99 / DKK 799.00. VIP members will be able to enjoy Early Access to this set starting July 15th. This thing is packed full of details including a brand new windscreen element, printed A-pillar element working trunk lid with detailed engine, and more. There's an accompanying Designer Video below, with more details and the rest of the images at the bottom of this post.
LEGO Ferrari F40 Specs:

The LEGO® Creator expert replica of the iconic sports car with its sleek aerodynamic lines, distinctive rear spoiler and racing-red bodywork is packed with authentic brick-built details, including on the outside:

– Pop-up headlights
– Side air intakes
– Special windscreen element with printed A-pillars
– Custom-made, molded rim inserts with sturdy, road-gripping tires
– Vented rear hatch that opens to reveal a twin-turbocharged, 90-degree V8 engine

Open the doors and you'll discover complete authenticity:

– Crafted cabled door handles
– Steering wheel with Ferrari logo
– 2 red racing seats
– While under the hood you'll find a luggage compartment and tools

Whether inside or out, this intricately designed model is a must-have for all Ferrari and car fans.
And yet, another press release:
The dream of owning your very own Ferrari F40 super sports car turns real with the highly detailed LEGO set

One of the most desirable sports cars of all time, the Ferrari F40, is now appearing for the first time as a LEGO product; available from 1 August 2015 online from the LEGO.com/shop, as well as in the 13 LEGO stores in Germany and Austria.

Munich, 25.06.2015

The LEGO set of the cult Ferrari F40 sports car, which was manufactured from 1987 to 1992, guarantees building fun across many generations. Just like the legendary original, the LEGO model fascinates with sleek, aerodynamic lines and a distinctive rear spoiler, as well as the bright red racing body. The super sports car replica is being released in the LEGO Creator Expert product line, and was developed by the LEGO Group in collaboration with Ferrari. The LEGO Ferrari F40 features numerous details, recreated with LEGO bricks. Looking through the car's hinged doors, you can quickly see that even the interior of the sports car is originally equipped. From door loops and a steering wheel with a Ferrari logo, to two red racing seats. Below the lift-up bonnet lid, there is the luggage compartment with a toolkit. A special windscreen element with printed A-pillars and tailor-made, cast wheel inserts with road-going tyres give this meticulously emulated model the final touches.
More LEGO Ferrari F40 product highlights for master builders aged 14 and above include:

• 1,158 LEGO elements
• Lift-up tailgate with vents
• V8 engine with two turbochargers and quick release function
• Flip-up headlamps
• Air louvers at sides

The LEGO Ferrari F40 is 8 cm tall, 27 cm long and 14 cm wide.