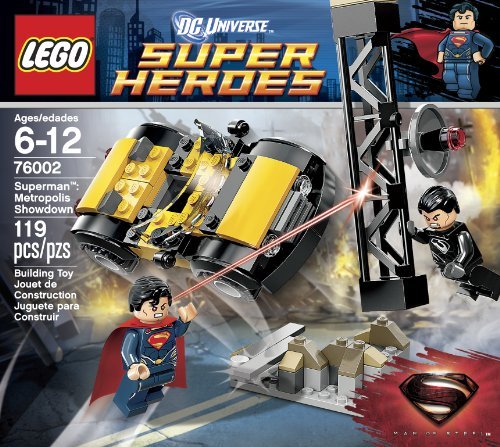 Star Wars isn't the only theme getting hit by the discount hammer as Amazon is also discounting many Super Heroes sets. The discounts may not be as great, ranging from 10-15% but there are a few sets worth mentioning outright.
LEGO Superman sets are brand new, and I'm assuming they're on sale to help promote the movie. In any case, if you were waiting for a sale to pick them up, maybe now's the time. The best deal is on the cheapest set. They have 76002 Superman: Metropolis Showdown
discounted down a whopping 23%, down to $9.97 from $12.99 MSRP.
They also have the other two on sale: 76009 Superman: Black Zero Escape
is down to $17.00 (15% discount) and 76003 Superman: Battle of Smallville
is down to $42.97 (14% discount). Still looking for non-movie Supes? 6862 Superman Vs Power Armor Lex
is also discounted 15% down to $17.00.
On the Marvel side, 6869 Quinjet Aerial Battle
is discounted 24% down to $53.19 from $69.99 MSRP.
And finally, 6866 Wolverine Chopper Showdown
. I've been keeping my eye on this one and this set is finally seeing a decent sale price of $16.14, a 19% discount off of $19.99 MSRP. You get Wolverine, Magneto, and Deadpool all in one set with a great dark red parts pack helicopter model.
Most everything else hovers around a 10% discount, so check out LEGO Super Heroes on Amazon
for more deals.