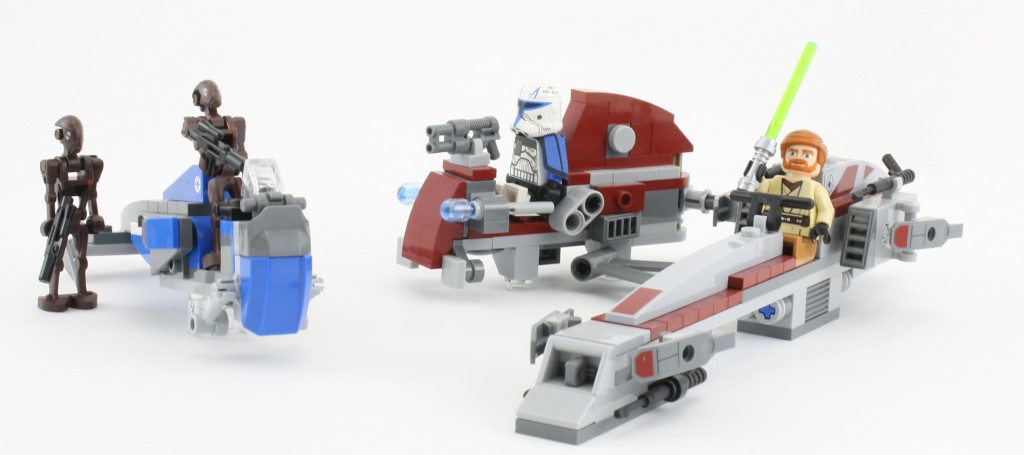 The original BARC speeder was a minor add-in with the 2005/2006 Clone Turbo Tank that was probably actually the best part of the set (given that LEGO has yet to make a version of the CTT that looks at all like the CTT in the movie or cartoon). In this set, the BARC is the feature player, complete with a little sidecar, to go up against a Separatist Speeder (basically Dooku's speeder but in blue – that's how we know it's evil, at least in the absence of a goatee).
Having not seen the Clone Wars cartoon yet, and not really feeling like making any excuses or jokes about it (just go read some past reviews, there are plenty to choose from), I'll cut to the chase. This is a $25 set, which in the modern market puts it squarely on the low-price category. In some ways that's sad, but it's only like two-and-a-half action figures (or 1 and 1/4 if you go with the 6″ black series ones).
I liked the AT-RT well enough, which competes with this on price (and fits in the same general theme), so the question is, at 226 parts and a low price, does it really live up to it. In the US, this is a Walmart exclusive, so your choices are there or Shop@Home. Is that money better spent on getting another A-Wing?