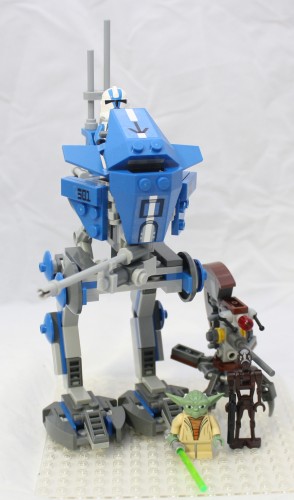 There is nothing more absurd in the Star Wars universe than the idea of a walker as an effective and terrifying weapon of war. Not midichlorians, not Gungan fart jokes, not the idea that a bunch of Gummy Bears defeated an Imperial battalion. Not even the fact all it takes to redeem someone who spent a few decades murdering and torturing everyone he could find, including a whole bunch of children and more than a few officers, is a single action of not being a jerk and turning your murder-y tendencies to your boss (really, who hasn't had that temptation before).
Walkers are structurally compromised, they put the pilot often out in the open or in an exposed place. It's true that you always want the high ground in any fight, but it's not so true that you stand on top of said high ground and hold a big banner that says "put lasers here" and expect to win. After all, those Ewoks managed to fell these walkers with the basic arsenal of any elementary school kid that's looking to play a prank on a friend.
Yet, knowing all of that, I loooooooooooove me some Walkers. Sure, the B-Wings, A-Wings, and X-Wings are all cool (Y-Wing, you get back in your room and you stay there), but when you're a little kid, something about the menace of an AT-AT walking towards you, blasting everything, is just awesome. Sure, it was eventually taken down by a jump rope, but it was still awesome.
The AT-RT set from the beginning of this year is the latest in a long line of expansions of the idea of the walker that came with the PT and Clone Wars. In the movie, these were seen in Revenge of the Sith as delivery mechanisms for jedis to get fragged, but were still cool. This is the second version of this particular walker (the original was 2005's "Clone Scout Walker"), and is considerably bluer and more sticker-y than that old version. It's also twice the price, about 50% more parts, and distinctly more Yoda. The real question is would something like that be worth it?