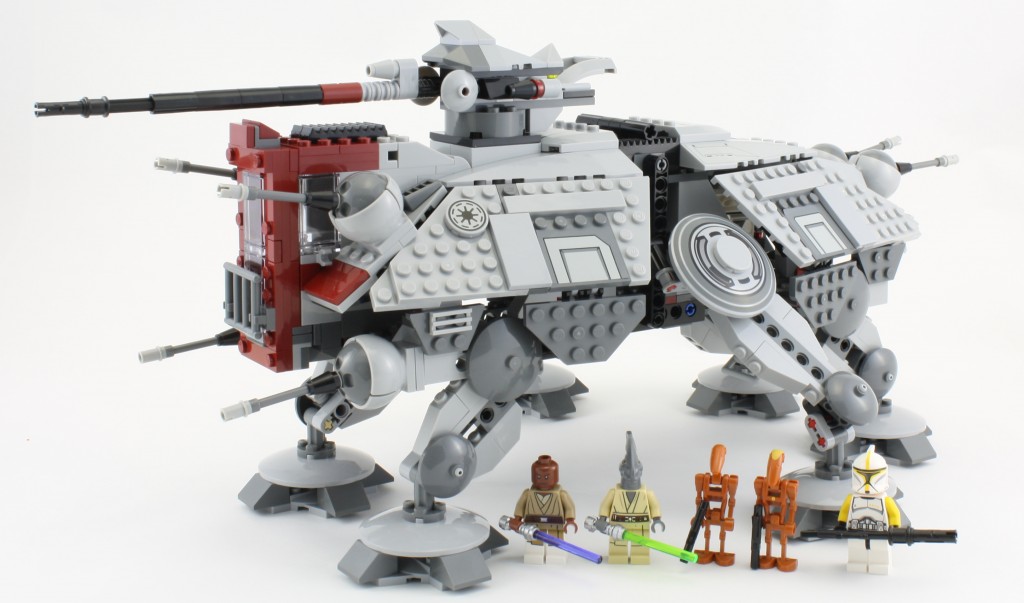 Ah, the AT-TE, otherwise known as "you know what was cool, the AT-AT, we need more of that in the Prequels" walker. As I talked about in the AT-RT review, I love me some walkers, and this thing is no different. It also marks the one big set that I own all three varieties of, so for the purposes of this review, I didn't bother to photograph the other two. Okay, to be fair… they were packed up while getting carpet installed, but still.
This is the biggest of a whole series of Episode II sets we got with the fall release. We haven't seen much in the way of leaks yet for next year, but given what we've seen, you sort of have to assume we'll get an Episode III wave some time between now and the Episode VII / Rebels sets start to land. Hope you like some Clone Turbo Tank sets. Well, and that one AT-PT walker we've seen already.
At $90, this set manages to occupy the exact same price point in all three iterations (though the other two were $80, inflation and what not). Along with the Gunship, it's a pair of big sets that you'd think would fit together (but don't, that's a whole different dropship). While the RGS was featured prominently in Clone Wars as the chariot that took Anakin to his surgery date, the AT-TEs were mostly background fodder for the CGI guys to play with. The last AT-TE was a wonderful big set, even being Clone Wars, and the original was one of the better first release sets (though it had to get a service pack to make it work). The question is, how does this guy stack up?