Last week saw a ton of new information coming out for Spider-Man: Miles Morales Ultimate Launch Edition for PlayStation 4 and 5. And I may or may not be writing this post more for myself to keep track of all the changes. When I found out that the Miles Morales game was going to be a standalone game, I was okay with that. When I found that there was going to be an "Ultimate Launch Edition" that included a remaster of the original Spider-Man PS4 game, I hesitated. Do I want to play the original game all over again with enhanced graphics? Man, I don't know it feels like a chore but the game is so fun and enjoyable it might actually be worth it. Anyways, here's what's been revealed recently.
Spider-Man PS4 Is Remastered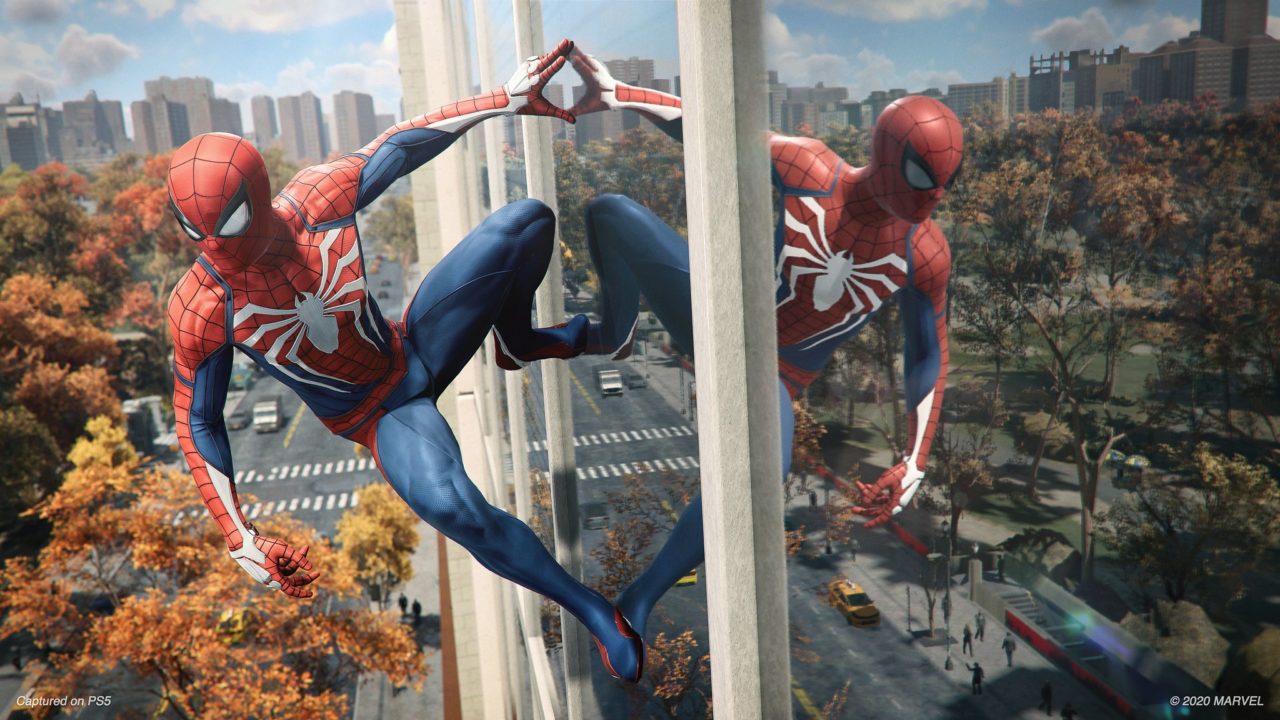 Yes I already said that. The PlayStation Blog made a post with a bunch of details and included a screenshot of the original game running on PS5 taking advantage of the new ray-traced reflections.
They Redid Peter's Face
This is probably the biggest, most jarring change. The game's director claimed in this tweet that they wanted to match the face closer to the voice actor who portrayed Peter, Yuri Lowenthal. To do that, they used Ben Jordan's face? Why not just use Yuri's face? Or, I don't know, NOT CHANGE IT AT ALL? It's a dumb retcon for absolutely no reason.
And no, that is not Tom Holland. You wouldn't be the first person to make that connection and certainly won't be the last.
IGN posted a side-by-side video of old and new Peter Parker that's worth watching:
Is Peter Parker's new face in Marvel's Spider-Man: Remastered for PS5 still weirding you out?

Well, here's how it looks compared to the older model. pic.twitter.com/e19kLB93Ck

— IGN (@IGN) October 2, 2020
Call me crazy but the original version looks better. But that assessment is just based on this one clip.
New Spidey Suits
The Andrew Garfield movie, The Amazing Spider-Man, may have been pretty forgettable but it did give Insomniac an opportunity to include a new suit in the game.
In fact, we'll be getting two new suits in addition to the Amazing Suit. We'll be getting a T.R.A.C.K. Suit:
The pre-order bonus applies to both the digital and physical editions of the game. You'll also get 3 skill points right off the bat to get a head start on completing the skill tree, and the Gravity Well Gadget. Don't worry, none of these are locked in as a pre-order bonus only. They're just early unlocks so you can enjoy the suit and combat advantages right off the bat.
The second suit will be revealed closer to the game's launch.
The Different Versions of the Game and the PS4 to PS5 Upgrade Path
This is where it gets really confusing, but I think I have it nailed down. Here's how the different versions break down:
PlayStation 4: Only Spider-Man: Miles Morales Launch Edition will be available both physically and digitally. Cost is $49.99. This version includes a free upgrade path to the PS5 Standard Edition. This is just the Miles Morales game and does not include the remastered Spider-Man PS4 game, but there will be a paid upgrade to get it. You need to make sure you match your media type. If you have a PS4 disc of the game, and get a PS5 Digital Edition, you can't take advantage of the offer. You need to insert the disc into the PS5 to qualify.
PlayStation 5: Both Spider-Man: Miles Morales Launch Edition ($49.99) and Ultimate Launch Edition ($69.99) will be available, physically and digitally. The Launch Edition is just the Miles Morales game. The Ultimate Launch Edition includes a voucher to download the remastered original game.
Which Version Should You Get?
If you didn't score a pre-order for a PS5, you only have one choice: Spider-Man: Miles Morales Launch Edition. And depending if you get the Standard or Digital Edition of the PS5, you should get the same edition for the PS4 only if you want to eventually play/replay the first game in its remastered state.
If you managed to score a PS5 system, obviously you'll want to want to get the PS5 version. Between Launch and Ultimate Launch edition, the main question is if you want to slog through the first game again. And obviously if you pre-ordered the Digital Edition of the console, you'll only be able to get the digital copy.
I wrote all that above and I still don't know which version to get.