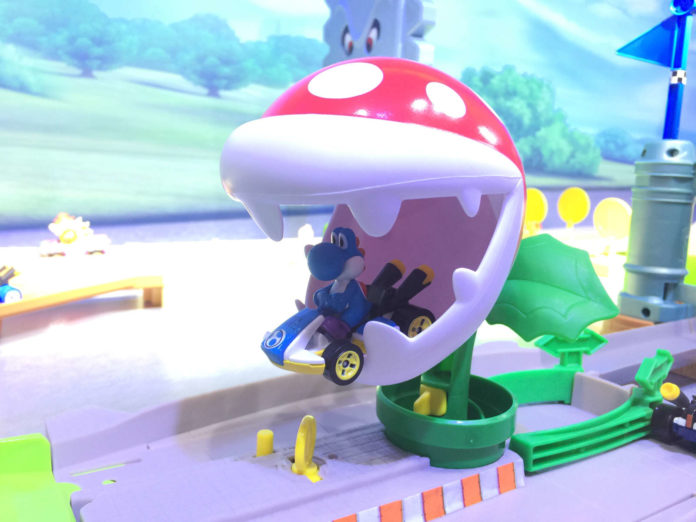 Over at the Nintendo Gaming Lounge at the Marriott, representatives from Mattel were on hand to show off and demo their Mario Kart 8 product offerings. I didn't know what to expect, but I gotta say these things are legit.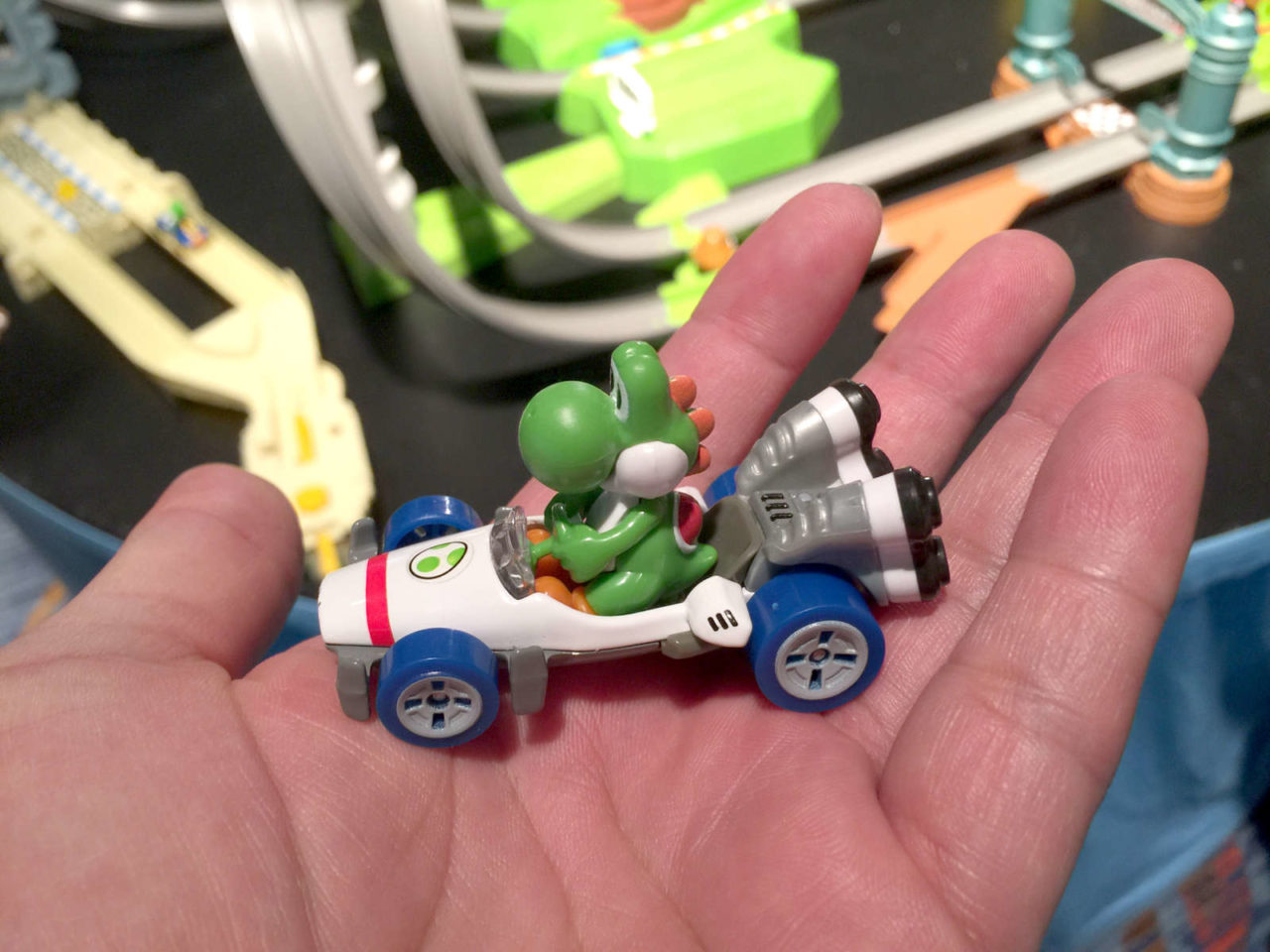 Die cast cars, with metal chassis. If I'm remembering correctly, the bodies of the characters were plastic. That's not a bad thing. The vehicles already had a good enough weight to them. The paint jobs were done really well. There have been Mario Kart 8 vehicles done before but not to this degree. They have a good enough weight and are compatible with most of the Hot Wheels track systems. They are priced at $4.99 MSRP but once you pick one up yourself, you'll realize it's a steal.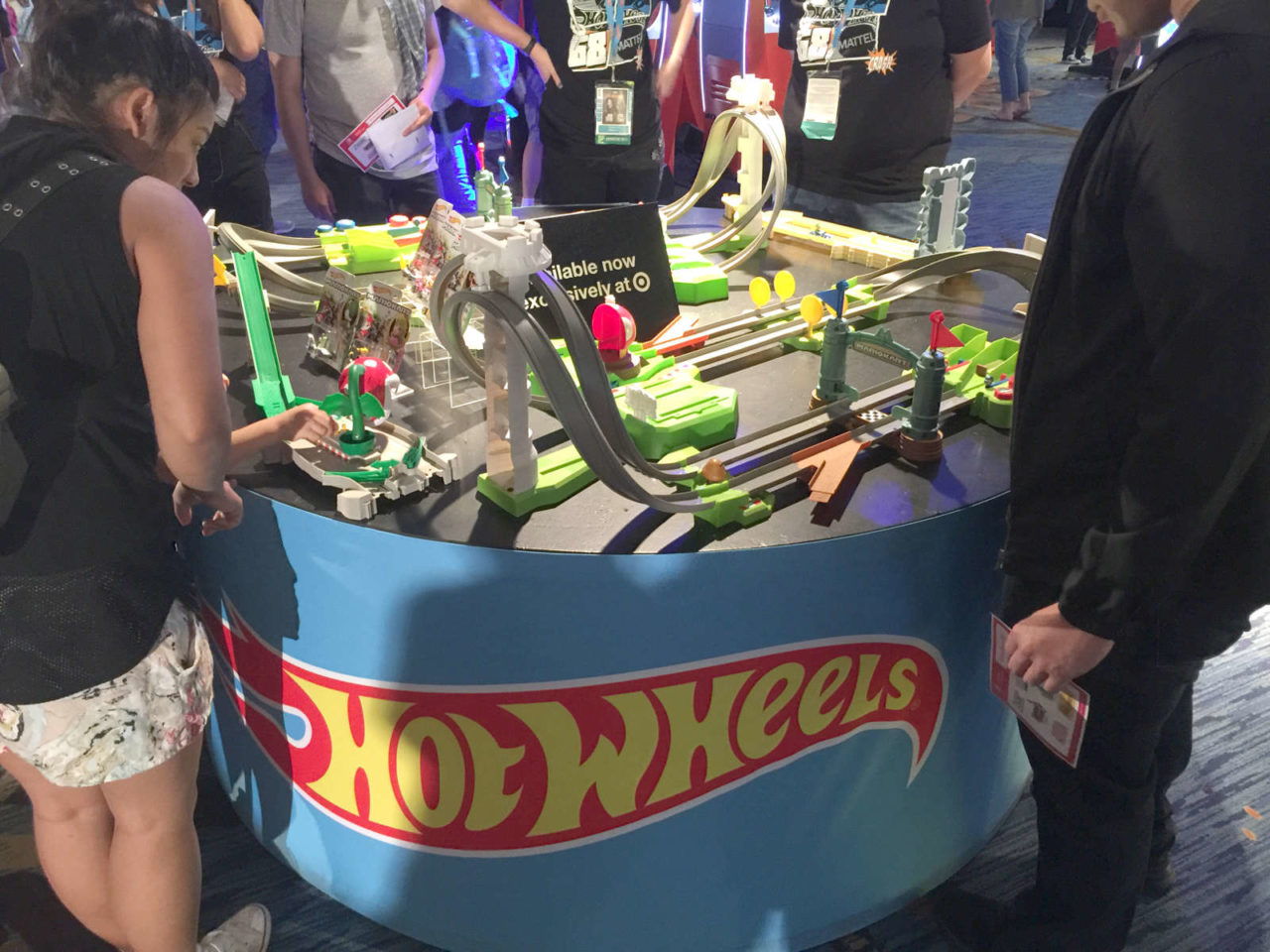 Of course, if you're at all interested in getting the Mario Kart Hot Wheels cars and actually playing with them instead of keeping them mint in package hoping to turn a profit off of reselling them someday, then you're probably interested in picking up the official Mario Kart 8 Circuit Track Set and add-ons as well. The $80 set includes Mario and Yoshi in Standard Karts for instant, out-of–the-box fun without having to purchase any more cars or accessories. There is a lite version which runs for about $45 and has less track and takes up less real estate.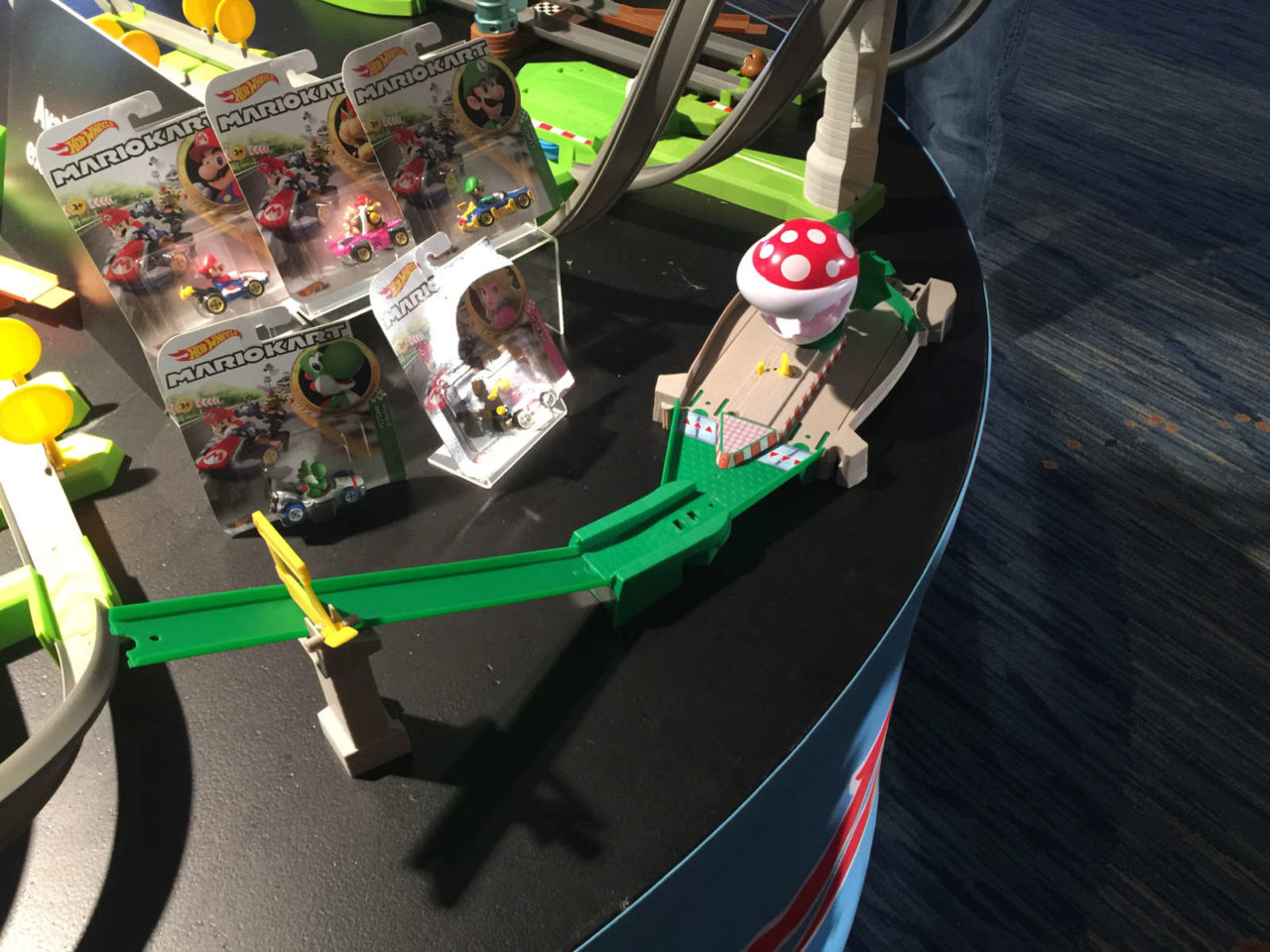 If you wanted to add some more excitement to an already great track set, you can pick up the Piranha Plant Slide and Thwomp Ruins hazards. They are sold separately and will run you about $19.99 each. Piranha Plant will come with Luigi in his Standard Kart.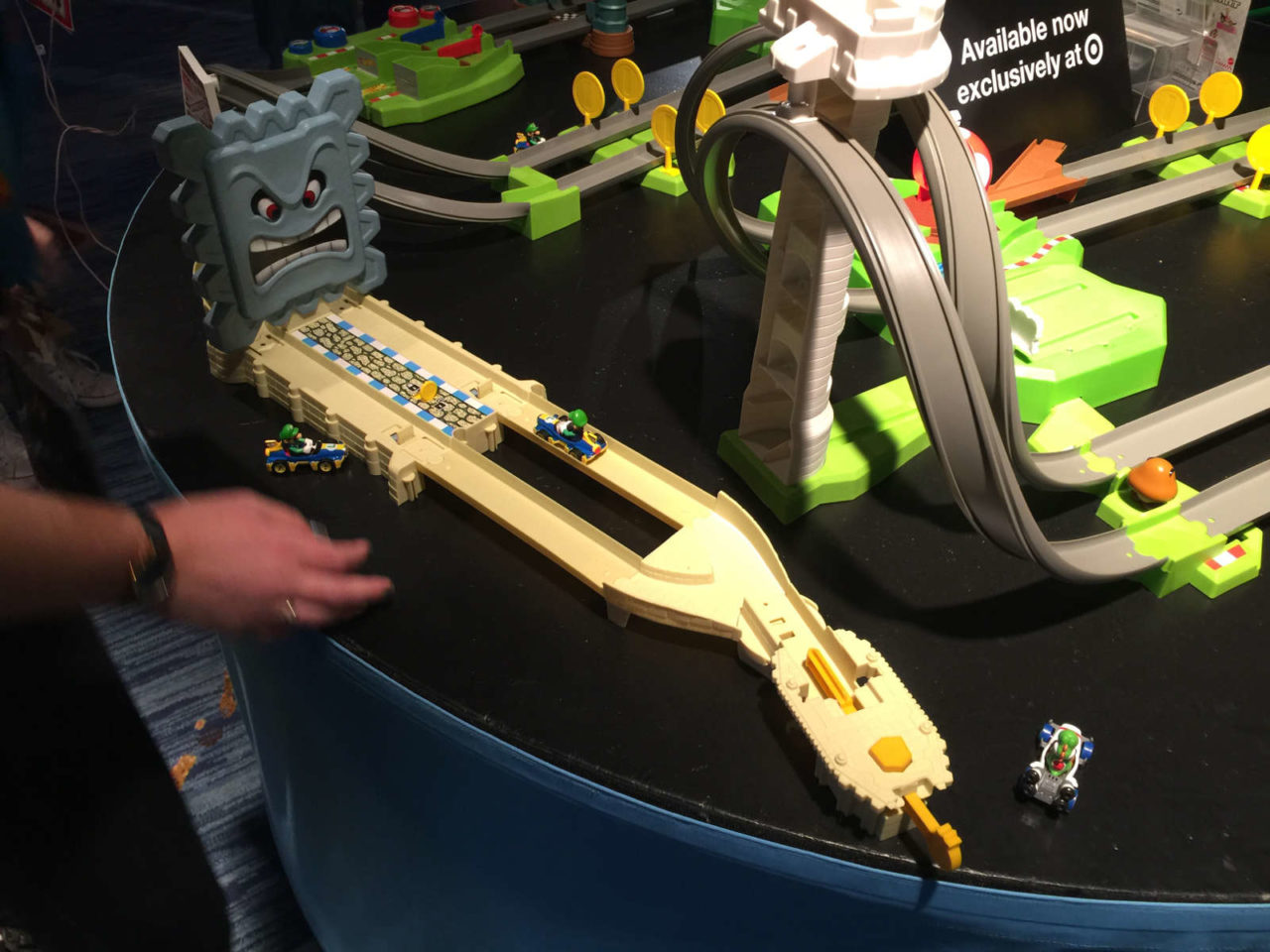 The Thwomp set will include Yoshi in Mach 8. They can easily slide right into the bigger track set. The only thing I didn't like about the hazards, and this applies to both sets, is that they are not battery powered. Instead, you wind up a key for a couple of seconds of action. Thwomp is activated when a Kart runs over a switch; it may or may not make it drop. Piranha Plant sort of spins and spins and dips his head but will eventually stop once the stored energy is spent. Kind of a drag if you ask me; you'll have to stop what you're doing and wind them up again. Having them motorized would have been way more fun.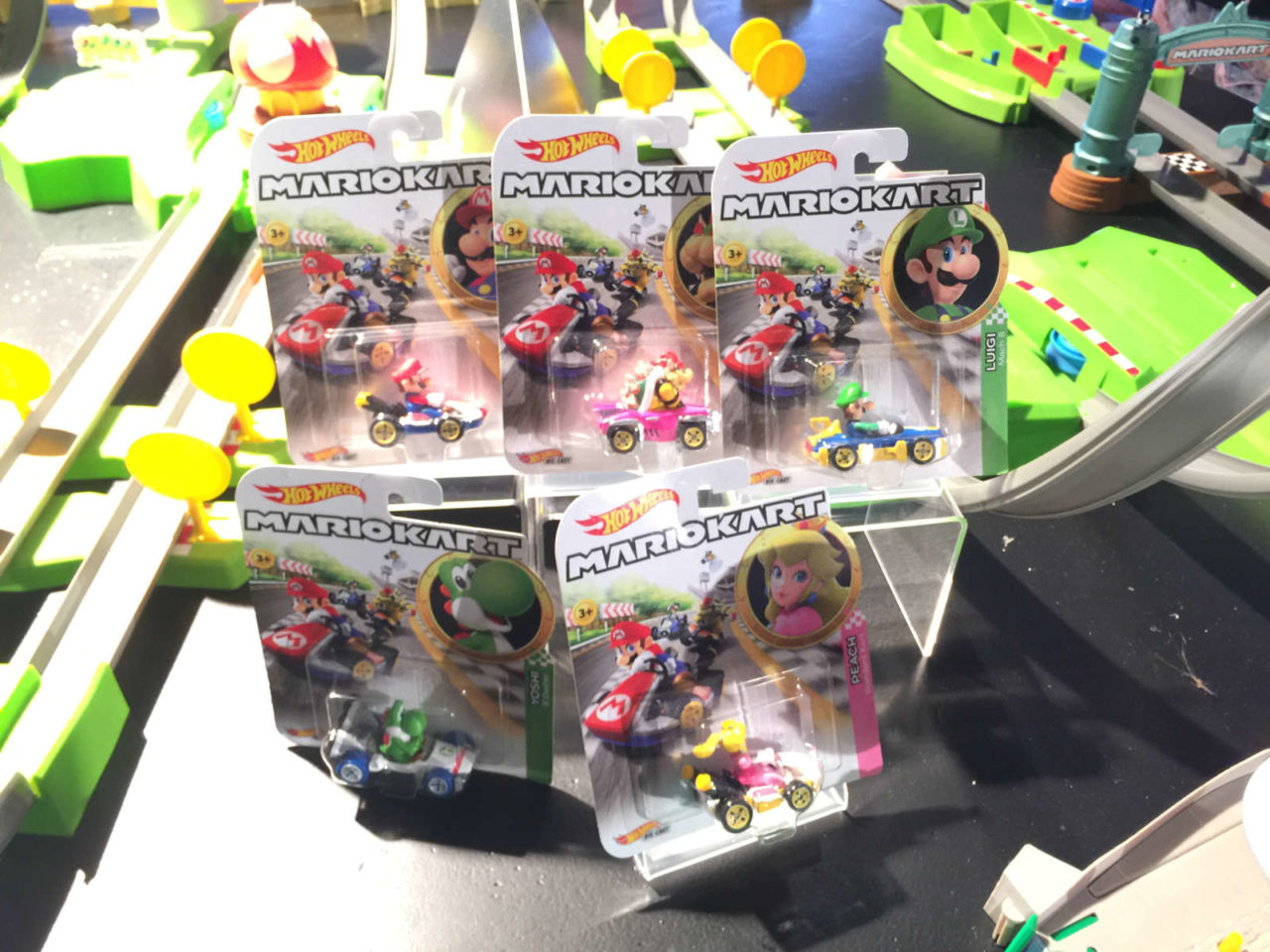 Aside from track sets, you can also purchase individual cars. Shown here are the first wave of vehicles: Yoshi in B Dasher, Luigi in Mach B, Peach in Standard Kart, Bowser in Badwagon, and Mario in Standard Kart. At the Mattel booth in the main convention hall, they had in a display case Donkey Kong in Standard Kart, Blue Yoshi in Standard Kart, and Mario and Toad in Sneeker. Clearly there are plans to make more, and variants even.
Mattel was also selling a Mario Kart 8 exclusive at their booth at this year's San Diego Comic Con. It's a silver Metal Mario in Standard Kart with Super Glider flying over a Rainbow Road backdrop. The package design is absolutely gorgeous! One in ten sold would be a chase version consisting of Gold Metal Mario with in a gold Standard Kart with Gold Glider. I was not lucky enough to get a gold one and I am okay with that… I think…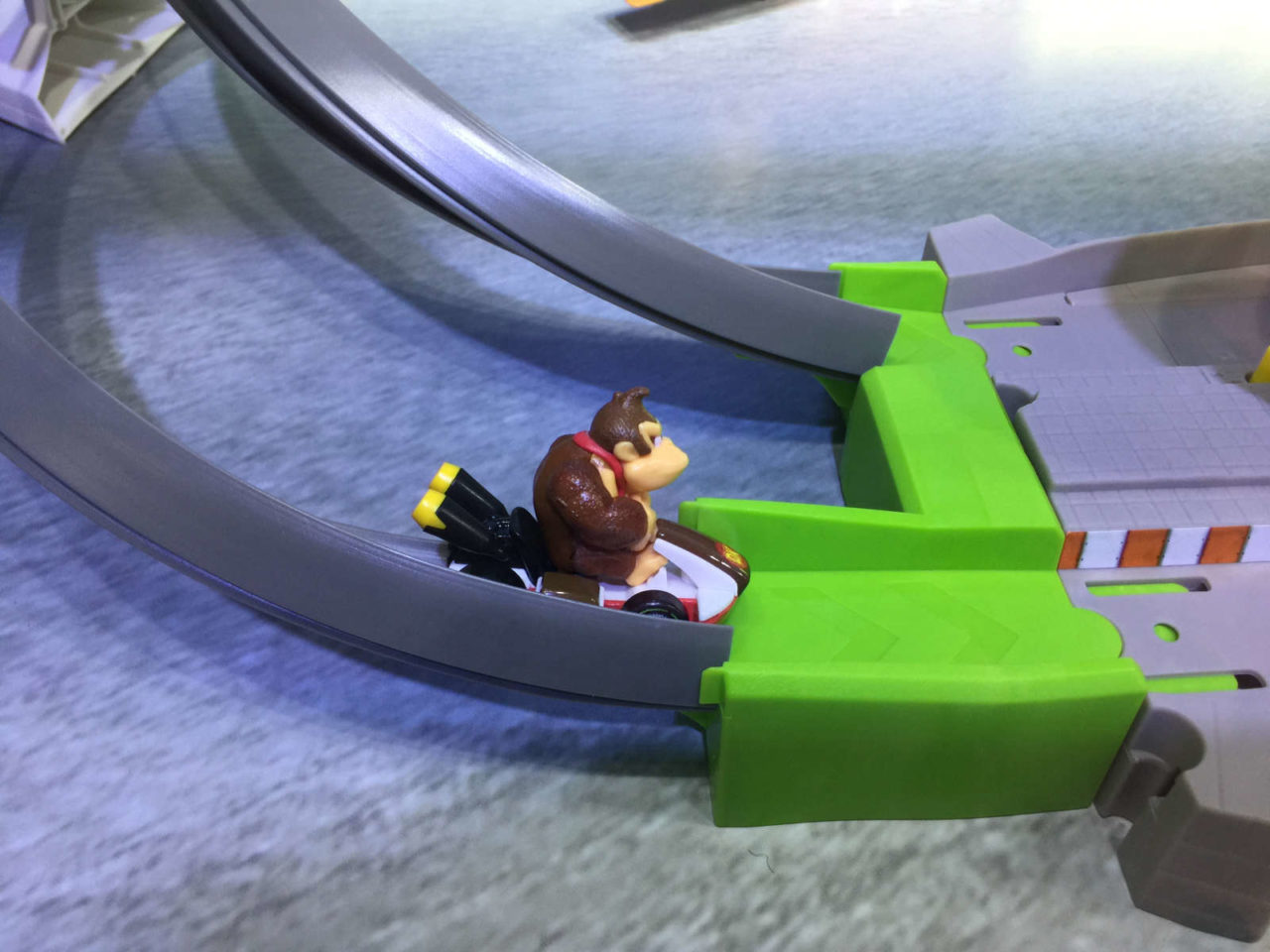 Target has a timed exclusive on these for now with only the Circuit Set showing up on their website for full MSRP at $79.99. If you're jonesing for them and need to have all the other sets and vehicles right now, you may have to take a trip to your local Target store to see what you can find. If you can wait, however, this pre-order listing for the Thwomp Ruins on Amazon lists a ship date of January 1, 2020, which means Amazon will probably sell the other sets. The official Mario Kart page on Mattel's Hot Wheels site pretty much confirms that they will be a retailer for this stuff. And another thing, if you want to save some coin, there is a "lite" version of the Circuit Track set for a $44.99.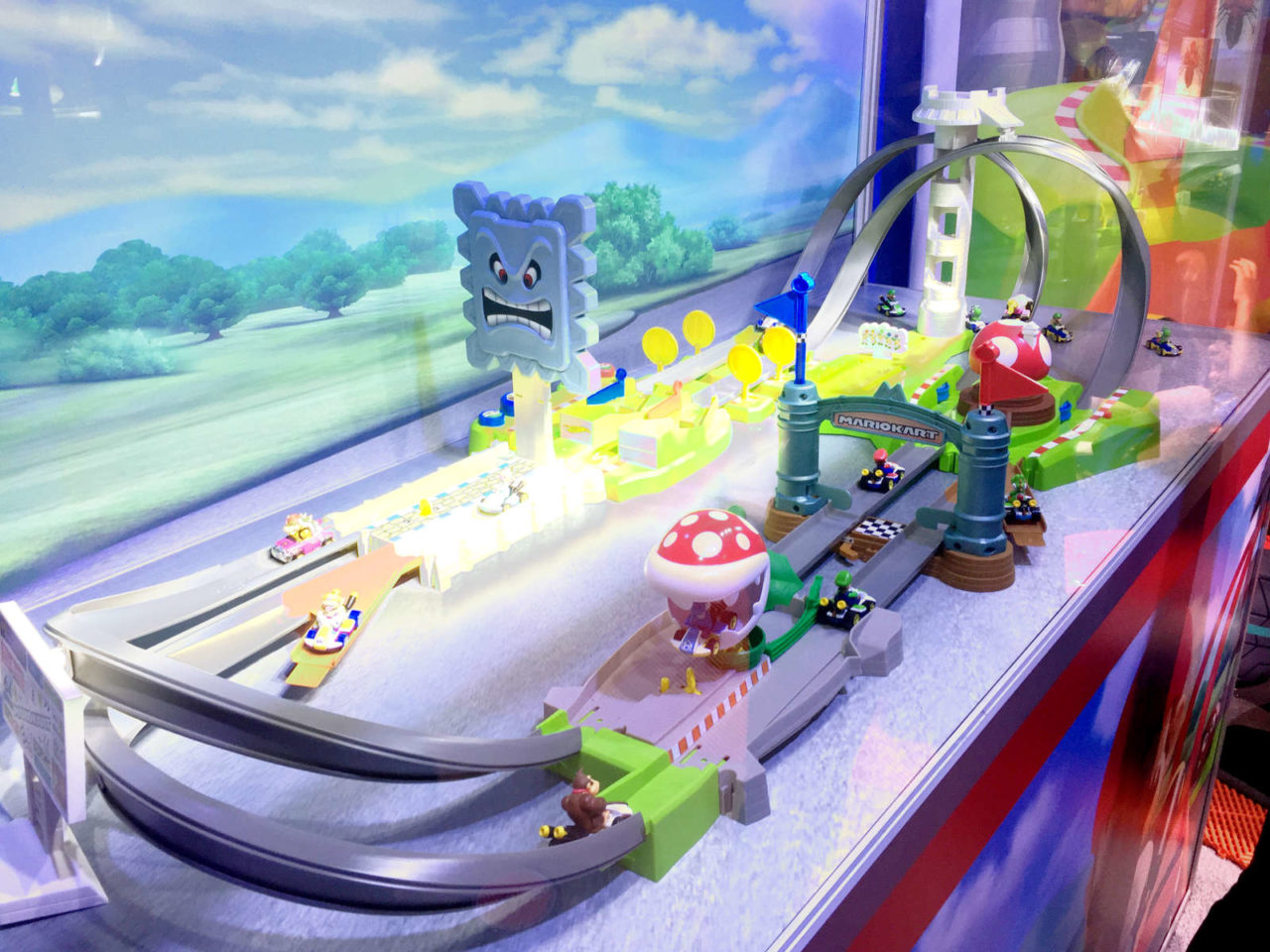 The future's looking pretty bright for Mario Kart fans.