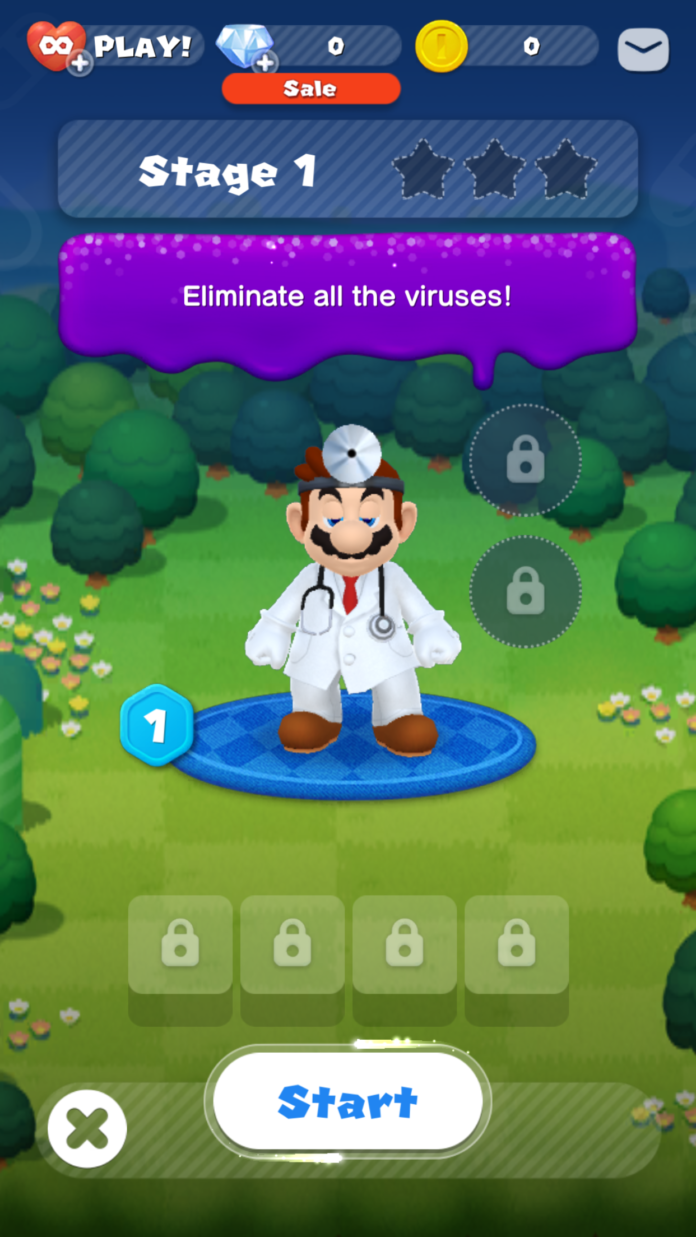 Dr. Mario World was supposed to come out tomorrow, July 10th. But I got an email saying that my pre-purchase was available for download today, a day early. Well I downloaded it, played a couple of levels, enough to write a review so here it is.
Dr. Mario is a puzzle game series that cast Mario as a doctor that needs to eliminate viruses by tossing medicine capsules into a jar. You can rotate the capsule as it falls and move it left and right to line it up against colored viruses. Matching three colors in a row in any combination of virus and capsule halves will clear that trio. If there is an unused half of a capsule it continues to free fall until it lands.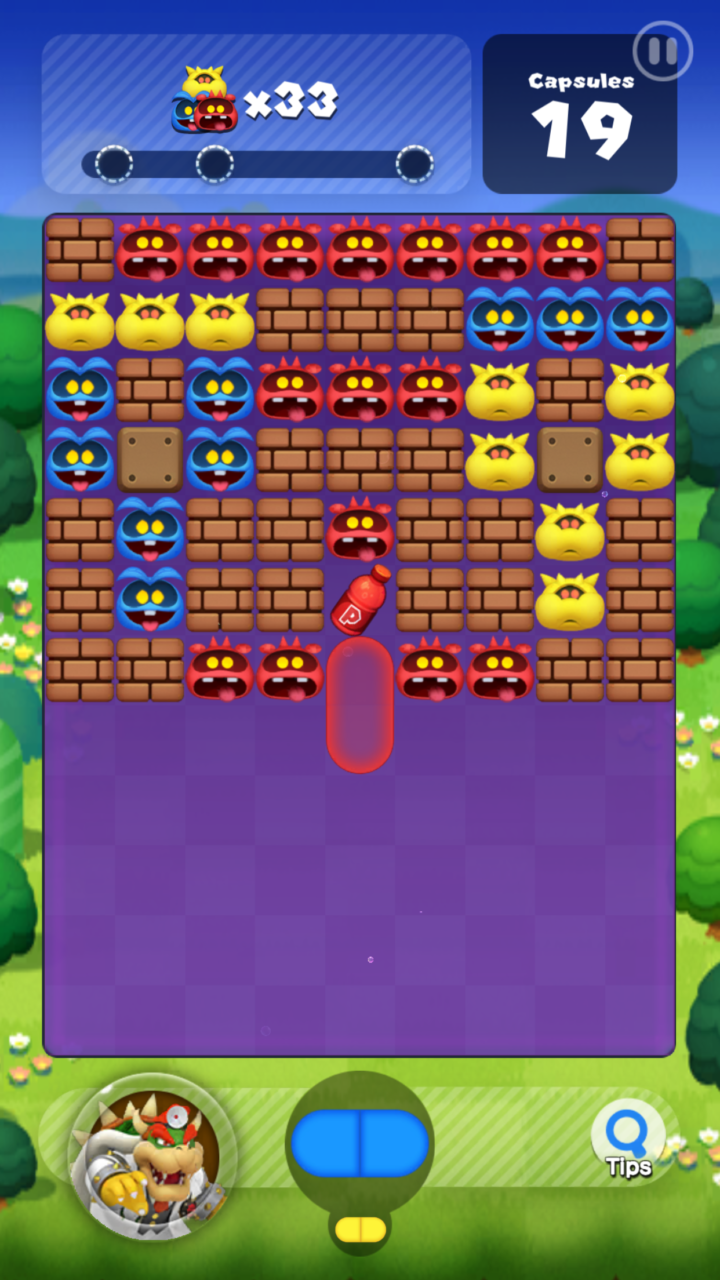 Dr. Mario for mobile has the capsules rising upward instead of falling downward. The change in direction is a bit jarring but given the platform and human interface, it makes sense. It rises at a pretty slow pace but you can use your finger to move it up higher. Capsules cannot be pulled back down. You rotate capsules while they are in the hold area by tapping on them or while they are in the field floating upwards. Half-capsules can also be moved around.
Aside from the game board, there's a world map where you clear levels and progress higher and higher. You can collect coins by clearing levels or by tapping on them from the world map. Coins are ridiculously easy to get. After 20 levels I ended up with a little over 3,700 coins. There's also a secondary currency aside from coins, diamonds, which cost real money to get. You use coins and diamonds to purchase power-ups that can be used on a level. There's a heart meter. Hearts are spent to play a level and replenish over time. Once you start the game it's set to infinity until you reach level 20.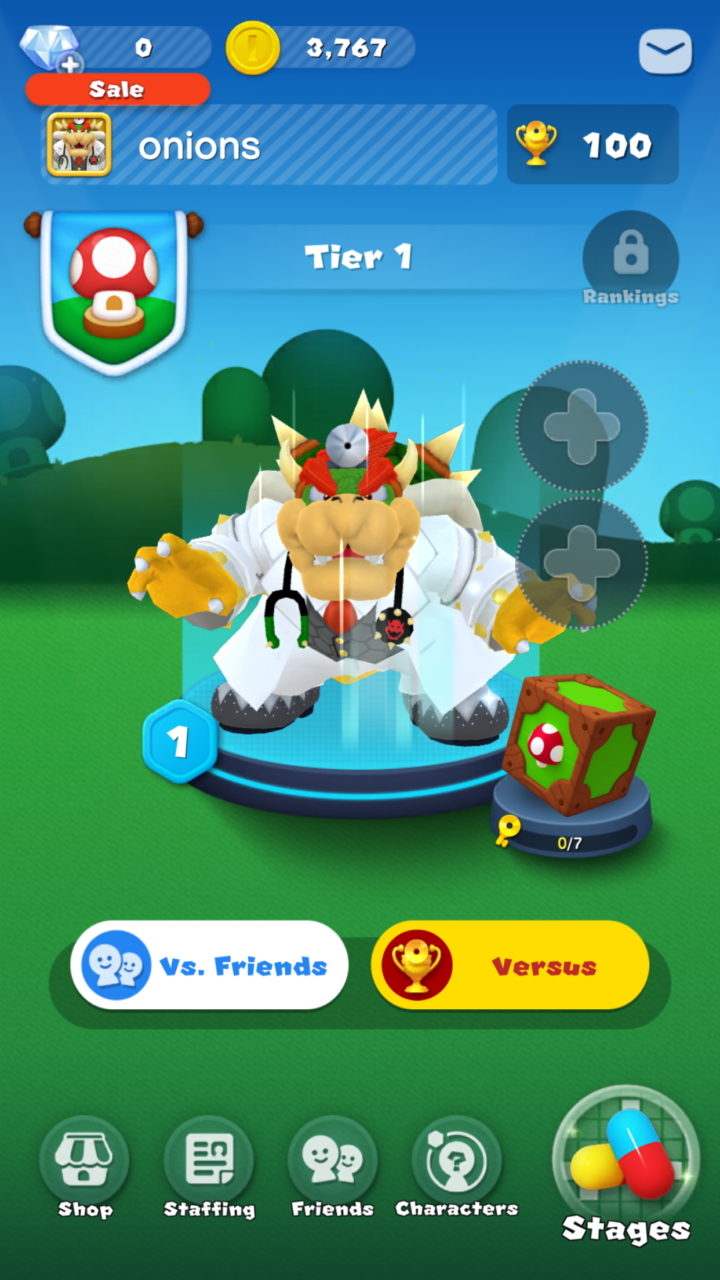 After clearing 10 levels you have access to two more doctors: Dr. Peach and Dr. Bowser. Each doctor has their own special ability in solo games and versus games. In solo games Dr. Mario can clear a row, Dr. Peach can clear a column at random, and Dr. Bowser can clear two rows at random. As you progress through the level you build up a skill meter. Once the doctor's portrait glows, you can activate their respective power. Selecting one locks the other two so be careful who you select. Even after 20 levels, it's unclear to me how to unlock more doctors.
After 20 levels the full game unlocks. The heart meter went from infinity to it's max number, 5. You also unlock the next area which is another 20 levels. Versus mode is now available. Play and win enough games your ranking goes up and you get better rewards. There are other buttons that become unlocked but I decided to stop exploring to finish writing this review.
A couple of non-gameplay related quirks that bothered me is that the game is a huge battery suck. Also, you need to be constantly connected to their game server to play. No offline mode exists. One perk I found is that if you have a MyNintendo account and connect to it from the game, it backs up your save data. This is quite useful should you lose your phone, delete the app, or whatever. It allows you to pick up right where you left off. While that does explain the need to be connected to the internet, the game should still function while offline.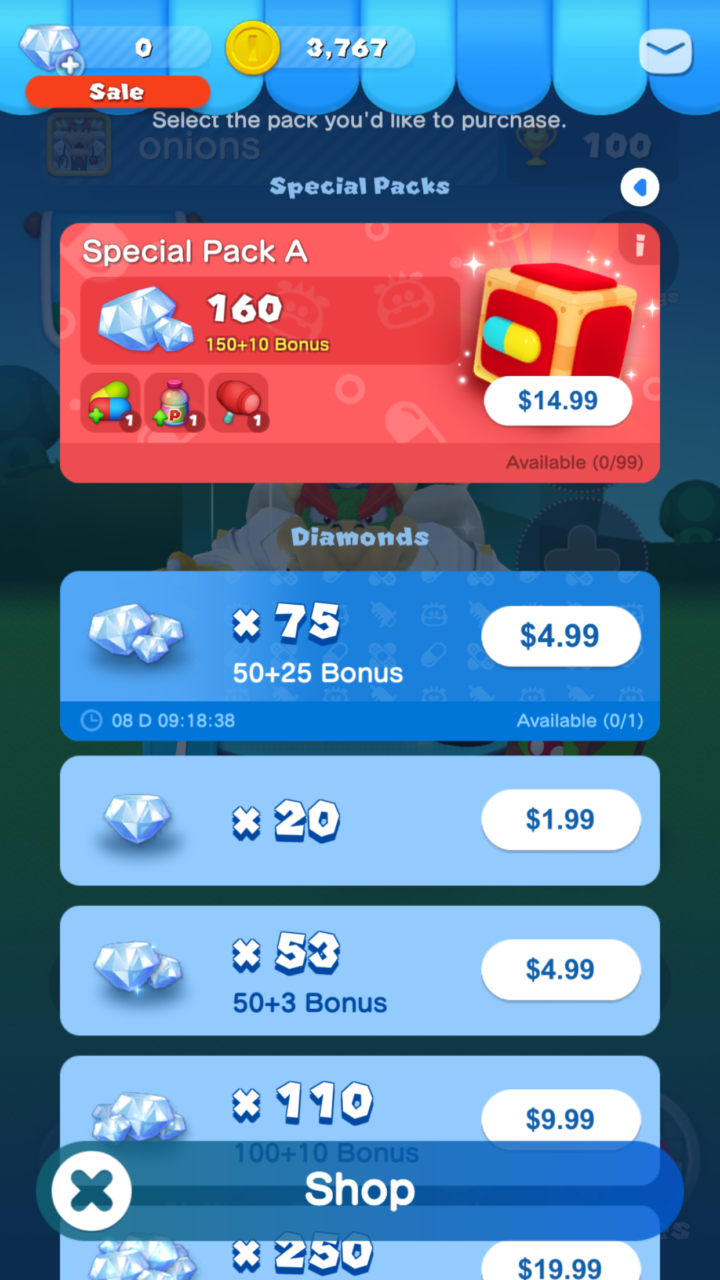 I don't know enough about mobile games to accurately describe this kind of game beyond a "match 3" game, but a "Candy Crush clone" is probably the best descriptor. And as much as I love Nintendo, I can't really recommend this game. But this is admittedly coming from a more personal bias than anything. Once I realized exactly what type of game Dr. Mario World was, I was filled with a sense of dread more than anything. There's a science and psychology behind these kinds of mobile games to try and keep you on your phone playing the game for as long as possible. The same science tries to make micro transactions as enticing as possible by offering bonuses and discounts. I'm trying to stay off of my phone and limit my screen time as it is; I don't need this to suck me in or drain my bank account or take hours away from my day.
Dr. Mario World is as polished as any other Nintendo game. The entire presentation is VERY Mario, and that's a good thing. The game play puts a spin on the Dr. Mario formula, but with all the little power-ups, the world map, micro-transactions, all the little things you can do and keep track of and collect, it's not something I, personally, will be turning to when I need a distraction. It's certainly not the worst way to waste time, but I'd rather do something else. And for that, it gets 2 out of 5 stars.