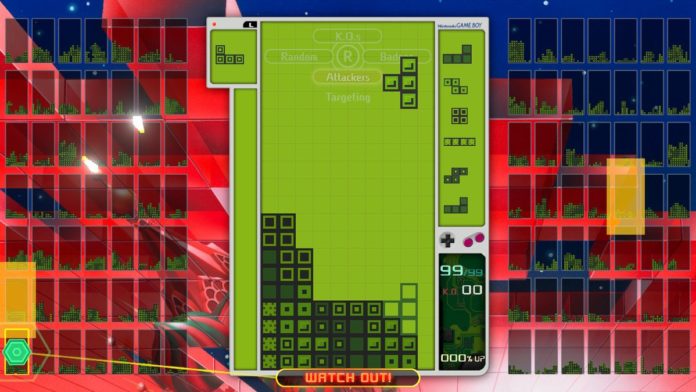 PUBG. Fortnite. Apex Legends. They all have one thing in common: they suck.
Alright, alright, I admit that is an incendiary comment but it doesn't make it any less true! There's really only ONE Battle Royale game you need in your life and that's Tetris 99. Why? Let me count the ways:
There is no delay between matches. Whether you're among the first 5-10 players to go out, or manage to place in the top 10, there is no delay to queue up the next match. Just press the 'A' button and you're good to go for the next round. No waiting 'til the end.
No penalty for quitting early. What if you're playing in a waiting room, using your mobile phone's hot spot connection, and your name gets called? Just put the Switch in sleep mode and you'll automatically drop. No penalty, no foul, no negative consequences. In fact, the other 98 players will probably thank you for it.
You can see all 98 other players' boards. This may not seem like a big deal but you can see the other thumbnail-sized boards and get a gauge as to how a particular player is doing. And should you desire, you can target your attacks against someone struggling to stay alive.
It's free with a Nintendo Switch Online subscription. That's right, it's free. In addition to access to the NES classics library, your Switch Online Subscription will let you download this game for free. And the Subscription is dirt cheap: $20 a year! You can also get your first year for free if you're an Amazon Prime member.
Two fairly-priced, unlockable game modes in the Big Block DLC. The base game is free, but if you want solo or offline modes, it's a fair price for just $9.99. Solo mode, labeled as "Marathon", has you clearing as many lines as possible. Offline mode, aka "CPU Battle", has you competing against 98 bots in place of real players. Again, this DLC pack is completely optional and not required to enjoy the base game.
No microtransactions. There are no microtransactions to constantly tug at your wallet. Other than the two game modes from the DLC described above, which are completely, 100% optional, there's no other paid content to be had.
Kids on the street won't be doing Tetris 99 dances. Unless dropping a Hero into a column to get a Tetris can be translated into a dance which, on second thought, would be great because the annoying dancer would just disappear, just like those four lines you just cleared.
The Tetris 99 Maximus Cups are free online events. Collect enough points and you can get free stuff. The 3rd Cup happened this past weekend, and if you scored at least 100 points, you unlocked a free theme which changes your board into the original Game Boy Tetris game, complete with sound effects and a Game Boy-style skin (pictured above). No dancing Russians or space shuttle though. The previous two Cups awarded 999 MyNintendo gold coins to the top 99 players. How cool is that? And you know what you can do with gold coins? Buy games! I honestly can't think of anything more rewarding. Free game, compete and do well and get free store credit. It pays for itself practically.
Okay, that's 8 reasons why Tetris 99 is the best Battle Royale game. I tried to come up with 10 but I'll stop before I sound like I'm scraping the bottom of the barrel. I do think reason number 7 is the best reason though.
If you're a Nintendo Switch Online subscriber, there's no reason not to own this game. Tetris 99 is free for subscribers. It compiles all of the best tweaks to the game play (up for fast drop, ghost piece, hold spot), and drops you in with 98 other players. I've never had a single instance of stutter or lag, and getting a Tetris (clearing four lines at once) is even more satisfying than before as an attack or counter-attack.
I owned the original Game Boy and loved it. I drained so many double-A batteries on that thing. Tetris couldn't have been a better pack-in title as it provided an endless amount of fun. The same can be said about Tetris 99 on today's Switch (with a subscription of course). A solid 5 out of 5 stars.