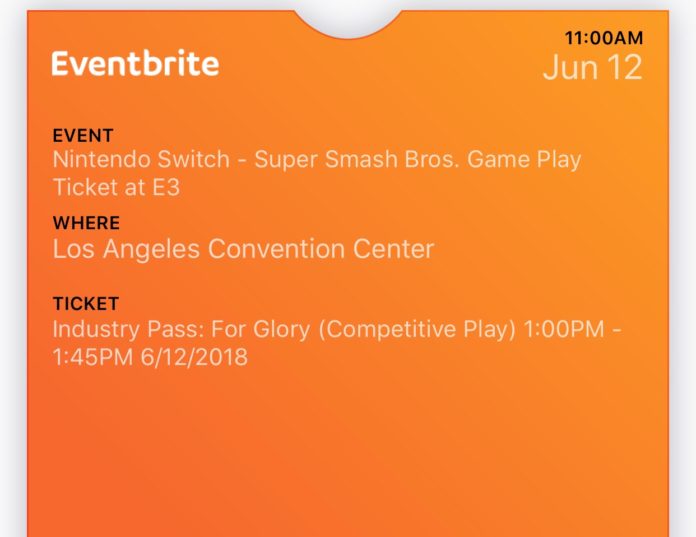 With all the hoopla surrounding the back-to-back Star Wars Days at LEGOLAND Ca last weekend and this, I have my sights set on E3. E3 is next week starting on Tuesday June 12th through Thursday June 14th at the L.A. Convention Center.
It's no secret that we are big fans of Nintendo, and that is where I'll be spending most if not 100% of my time. New this year is a reservation system to play one of their most highly anticipated games, Super Smash Bros. for Nintendo Switch. If you were registered for E3 by May 31st, you qualified to register for a ticket to play. I secured my ticket for a "For Glory" match which, as I understand it, is a sort of micro tournament. I suspect that winners in each time slot will walk away with a shirt or something. I probably read that somewhere too. You can see my time slot above so if you're headed to E3 and want to see me try and win a shirt, come on by.
Other games I'm interested in seeing is Shadow of the Tomb Raider (I love me some Lara Croft), The Last of Us II (I love me some Naughty Dog), Metroid Prime 4 (I love me some Samus), and… that may be it.
WBGames will be in the Colosseum to talk about the newly announced LEGO DC Super Villains game. I'm sure they're going to do an exposé on just how different this game is compared to all the other games they've put out. Right? As a LEGO site, I should make every effort to be there, but if Nintendo's got something else going on their booth that I'd rather be doing, then all bets are off.